Well, I feel very productive at the conclusion of this weekend. Though I did intend to do much much more, I am happy with my results. Lately, I have been seized by this urgency to redo every piece of furniture in my house. That is a huge undertaking, and I am quite sure that it will not really happen. Then again, I do have about 6 months of nesting energy, so you never know! However, for the time being, I want to at least makeover some really desperate members of the living room, and so this weekend I started with a thrift-store find. I got this little dude at my favorite Goodwill for $10. Isn't he cute?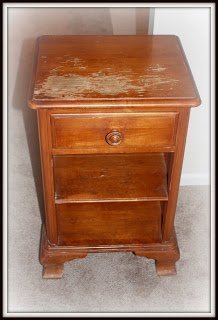 Though slightly worse for the wear, this guy seems pretty legit–all made from wood, and even boasting a cool little logo on the inside: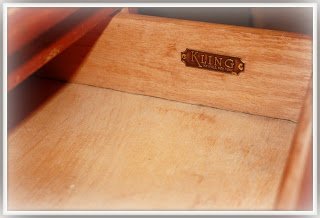 Is it better to have one child?
Turns out, this is an antique that I have. I looked up the logo and its style indicates that the piece is from 1947-1962. Apparently this company was bought out by Ethan Allen (who seems to be dominating the Target aisles these days). I found this cool picture when researching Kling history–pretty sweet, huh?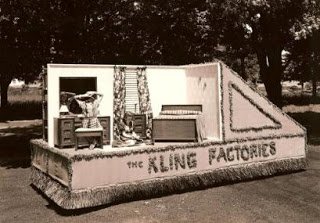 This is a float from a 1940 parade in Mayville, NY. I just love my little nightstand/endtable so much more now!
Ok, only an English nerd would make a research project out of a Goodwill find. Enough on that. Though its a small piece, it wasn't an easy task to transform it. I even had to enlist the good ol' hubby in sanding it, because that proved to be a little taxing on my preggo bod. Also, since I know this may be the next thing that comes to mind: I had him spray paint it for me.
I really like the antiqued look, so after four coats (yes, four) I took some more sand paper to it and roughed it up again. Maybe thats a little disrespectful to Kling, but if its going to stay in my house it must abide by my decorating rules. Here are the results: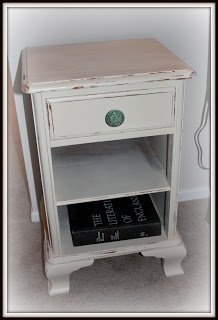 Oh, and the little drawer knob was on clearance at Anthropologie for $3! I think its a squirrel holding a key, so its just perfect! haha. Random.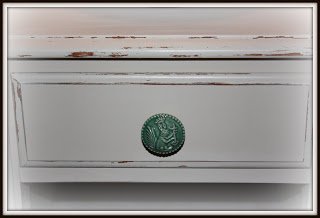 Thank you, Kling and Goodwill! Oh, and Matt too ????
The other thing I tackled this weekend were some of my pillows. I have a hodge-podge collection of them (all about 4+ years old), and since I don't sew, I have never attempted to fix them. I just keep buying more, and now have way too many. Fortunately–via the internet, I figured out how to make covers using no sew bonding tape! I bought this fabric the other day (again, on clearance) and am in love with my new pillows! I think this shall be a seasonal exercise now! I will put up the other ones whenever I figure out what they're going to look like!