Ok, so I found this lamp at Goodwill for $6 and it promised great things even as it sat there all humble.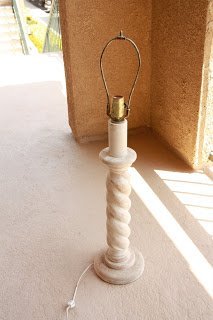 I've had it for a while, but haven't been able to do anything to it. Yesterday, I devoted my day to it—and it literally took me most of the day. That's partly because I had Coco with me as I ran around getting paint, the shade, and something to distract her. And then there was a fiasco with the shade, but all was resolved by 11 pm last night.
I found my inspiration at
All Things Thrifty
, and I was planning on doing a mustard yellow, but after I found the shade I decided the blue was a better choice.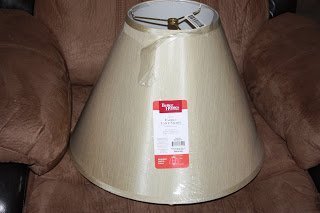 Unfortunately, the stinkin shade was $14 at Walmart–but I looked high and low for a large one and this was the cheapest I could find new. I just know that sometime in the near future I'm going to run across a $5 one. I just know it….So, the fiasco was that I attempted to paint a quote around the bottom of it. Fiasco because, I am not an artist, and it just looked goofy. Therefore, to cover up my $14 mess, I decorated the shade with a bazillion fabric circles that I individually frayed. Can we say tedious? Yes. But the effect was worth it–to me.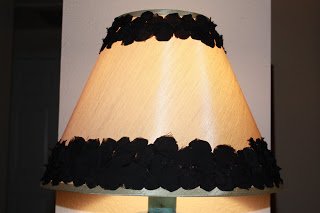 I just hot glued them on one by one (and because I know he's going to want to be included, Matt helped me TREMENDOUSLY by fraying the fabric).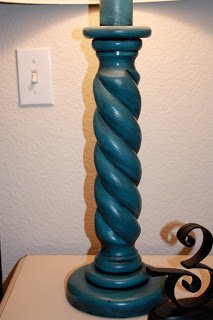 Here's a close-up of the paint-job. Thank you, All Things Thrifty.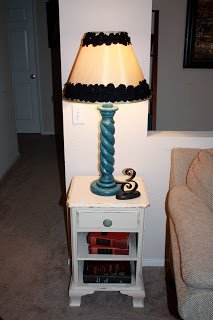 And, the finished product! Sitting on top of my other Goodwill jewel ????
Finally, the most important part—I kept my daughter busy with stacking toys.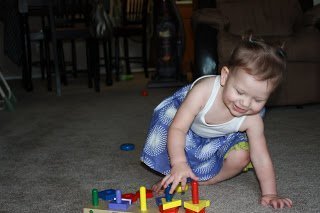 …which still did not stop her from being crazy and destroying my house while I worked. Oh well. If you notice, the vacuum is in the background strategically placed by the highchair. That is pretty much its permanent abode.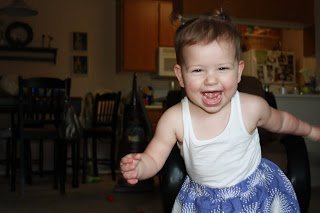 Anyways, I'm happy with my little lamp. Cheers!