Hey Guys! So, if you have a Blogger dashboard you were probably flooded with all of my posts yesterday because I made the big switcheroo to WordPress! I am so excited to finally have a fancy schmancy website, courtesy of Cynthia from NW Designs ???? Now, there is a slight glitch in that the old blog is still up. I guess there's some magic word that is supposed to make it disappear, but someone changed the word, so the old blog is still up and kicking. But I want you all here, not there.
Now, onto more important things…ahem. Guys? I almost stole a goat last week. Here's the story.
So last week, Coco went on her first field trip to a pumpkin patch/animal farm. It was all so official with forms, chaperones, and name tags. I guess this whole growing up business is really happening.
The moment someone's calling you a chaperone signifies that yep, this is the real deal.
Anywho, besides having my own silent, existential crisis on the hay ride, it was a pretty fun day.
I wanted to go on this trip because well, duh, I was NOT going to miss her first field trip. But the other part of my agenda was to secure a couple pumpkins. Guys, I like the expensive pumpkins. The Cinderella pumpkins. Of course I do. Champagne taste on a beer budget, as Grandma Shirley always said.
Is it better to have one child?
Therefore, it's probably a good thing when I was deterred from my expensive pumpkin shopping extravaganza.
Instead, the agenda became: how can I simultaneously "chaperone" a dozen preschoolers and shoplift a baby goat? I mean, LOOK at this little guy! Look at him!
I had it all worked out. My purse was probably big enough.
We would keep him as a house-pet until he becomes big and obnoxious and attempts to eat toys, tampons, and the stuffing of my favorite chair. While the pellet poop will be tolerable for such a cute widdle baby (he'll have a diaper, obviously…cloth? Oh, of course) the wild pellets, my carpet, and Buddy's penchant for eating rocks/dirtclods is all too frightening.
He'll just have to go away then.
I'll drop him off right where I found him. One less baby goat for the farm to feed, and a house-trained, cloth-diapered, breastfed goat will be returned within the year.
That's right. If it's all good in the hood to breastfeed a four year old in public then by golly I'm gonna nurse my little baby goaty goat. Take that, Time Magazine.
Don't worry, I didn't go through with it. I chickened out with the poop. I just can't handle any more poop in my household. Pellets or no. And yah, goat teeth would destroy me. As in Texas Chainsaw Massacre destroy me. My bosom just cried of its own volition.
Question: do people ever nurse animals? I mean, have you read The Grapes of Wrath? That last scene…the starving man and the lactating woman in the boxcar. It just gives me paws (get it, paws? pause) to wonder if anyone's ever done that. Fret not. I would never. Ever. But when I looked upon those bite-sized goats something leaped within my womb. Do you think it's time I have another baby? Can animals give you the baby bug?
Alright, I'm done with this weird one sided conversation. Please answer me in the comments. I'm dying to know I am not alone in this quandary.
So. Needless to say, we didn't shoplift the goat. We did walk away with a pumpkin…No, not the one I wanted. But this was her pumpkin anyway and I was so distracted by my evil plan that I didn't even take a second look at the Cinderellas.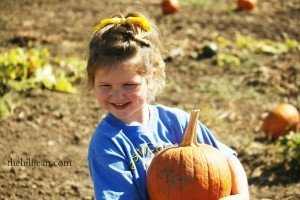 Look at how happy she is with that pumpkin. Good thing I didn't tell her she almost had a pet goat.