Did you notice I've been awfully quiet about my freezer cooking? Did ya? Did ya?
We went through our month of freezer food. Actually, not the entire month's worth. There is a bag of thawed Hawaiian Chicken thats been sitting in my fridge for the last three days. Because transferring it to the crockpot would be oh-so-difficult.
Make that thawed Hawaiian Salmonella Chicken, thank you.
Today I am reporting back to you after a solid month of consuming freezer food. I know you have questions.
Will I do this again?
Was the food good?
Did I really eat all the freezer food?
Is. It. Worth. It?
Hang tight, I will answer in the order received.
The first question, will I do this again? Yes and no. I believe that having a stocked freezer and a master-plan was WONDERFUL and really simplified my month. You can hear me wax romantical in this post. Yes, freezer food can be romantical.
Is it better to have one child?
So I will do some of it again, but this brings me to the next question. Was all the food good?
No. While certain meals were delicious, there were just as many merely "decent" ones.
And then…some of the meals were positively revolting.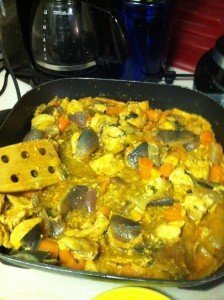 Like this disgusting coconut chicken curry. Blech.
I'm not gonna lie. Just the other day I made a video, got down with my folksy self, and told you I will always strive to be real on this here blog.
So here's me being real: some freezer meals are so gross that they're not worth the effort, the freezer space, or the thought that went into it.
Did we eat all the food? Um, no, not the gross stuff. And when something is merely "decent," I will always, ALWAYS opt for cold cereal or ice cream. Always.
I am not going to plan another full month of just freezer food, but I am going to implement some of the things that definitely made life easier.
Here's what I will do again, possibly every month to simplify my cooking.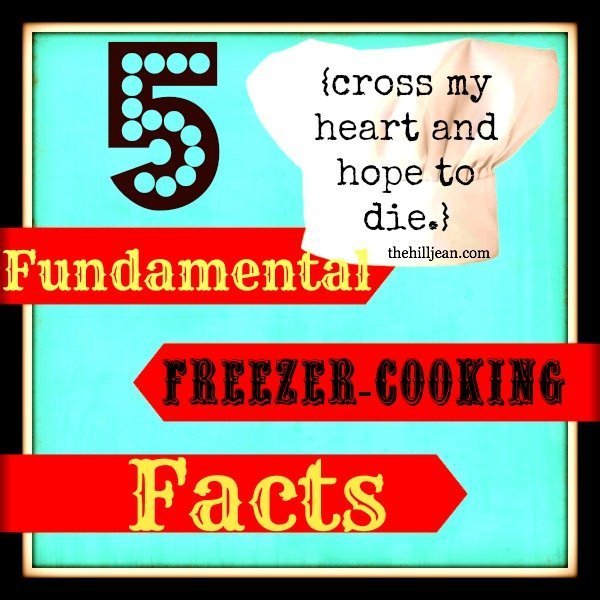 1.) Season, bake, and individually wrap chicken breasts.
I loved having already-cooked, individually-wrapped chicken. I would just pull out a bag for my lunch the next day and there was no mess, no hassle when I put together a salad.
The chicken was also used in sandwiches, burritos, pasta dishes, and for the kids' "snacky lunches."
2.) Assemble multiple bags of spaghetti meat.
My kids go nuts for spaghetti. If Coco had it her way, we would eat it every day. Spaghetti meat sauce freezes great! I threw in extra veggies and let it sit in the crock pot all day. I think the flavors came together really well this way. Making a quadruple batch is fairly simple, and I believe it's worth the work to have some no-brainer, yummy dinners later.
3.) Assemble individual servings of HillJean's Beef and Black Bean Freezer Mix.
Matt never got sick of this stuff. Neither did Chaucer. As long as it was around, Matt had it every. single. day. for lunch.
4.) Incorporate a few "tried and true" bomb freezer-crockpot meals, such as Hungarian Goulash and Buffalo Chicken Tacos. Yum.
5.) Have a variety of frozen fruit on hand for smoothies and dessert.
Maybe you have your stuff together and always have stuff like this on hand. I, however, am a scatterbrained chicken and only buy smoothie ingredients when the mood hits me. The rest of the time, I forget about smoothies. Until I get on Pinterest and see the circulation of "green" smoothies and see delicious things like banana-Nutella smoothies, and think, "oh yah! Smoothies!"
Do you think I used the word "smoothie" enough?
But, because I was planning for a whole month and not just for a whim, I bought a variety of frozen fruits and guess what? We had a lot of smoothies! Until our blender–our brand new blender–bit the dust. Stupid blender. And just when I had gotten all hooked on green smoothies.
So there you have it. Five freezer-cooking tips that are 100% guaranteed. By me.
Now, have I got you convinced? Have any of you tried the freezer cooking method?