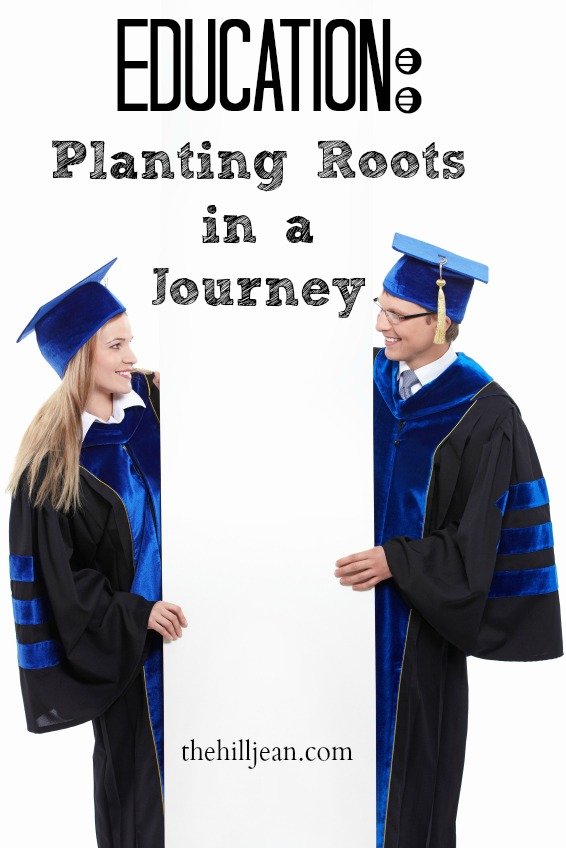 Folks, I am married to an education addict. My husband is in the middle of his second round of grad school and can sometimes be found daydreaming about a postdoc. The passion, energy, and diligence required for his academic journey is somewhat akin to that of an athlete—at least, that's what he likes to tell me.
We are both in our late twenties, have two small children, and while most of our off-campus friends are planting roots and building their homes, we are still in what I like to call "the great transition." Contrary to what you might believe, I am not bitter about this extensive transitional period. I know my husband will be successful and realize his goal of being a professor of philosophy. This transition, though lengthy, is merely a transition.
Sometimes, though, it is good for me to get a little "refresher course" on why we're not yet planting those roots and signing a mortgage. Here's our recent refresher dialogue.
Me: Darling, could you remind me again why we're still in school.
Him: Because school is so fun! I'd be in school forever if I could.
Me: Not an option. Try again.
Is it better to have one child?
Him: Ok, it's not necessarily 'education' that I am addicted to. What I'm addicted to is asking questions and finding answers. As Socrates said, "The unexamined life is not worth living." I want to live that examined life.
Me: You have been in school too long. Try again.
Him: I want to spend the rest of my life doing what I love. Getting to talk philosophy and igniting that passion in others is what this is all about.
Me: You know, you will have been in school long enough to be a doctor.
Him: Well, I am going to be a doctor. Doctor of philosophy. Boom!
Me: I meant, like, you know a medical doctor. The kind that drives a BMW and has a lake house. Oh, and heals people.
Him: I don't recommend this career choice for everybody, but for me it just makes sense. Honestly, can you see me doing anything else?? I know I won't be rich, but I see the perks as loving my job, getting to wear a tweed jacket, and having summers off. It's a pretty sweet gig.
Actions speak louder than words, right? Even without all the words from our discussion, one thing was clear to me: my husband LOVES what he is doing right now, and if he can stay within the realm of education for the rest of his life he will be a very happy man.
This passion for education does not belong to him alone. I actually had both my kids while in grad school. That's right. I did grad school, too. Unfortunately, I have yet to finish my degree.
I have taken all of the coursework for an MA in English Literature. I loved going to class and being part of a community of fellow learners. Grad school is way more fun than undergrad because everyone is passionate about their studies.
Why haven't I finished?
Well, its actually quite difficult to have TWO people in school when you have small children. My plan is to finish my thesis when I have both kids in school. Finishing strong is a huge priority for me–one that I think about often. I come from a family where education is highly valued, and now I want to instill that passion in our children. Shouldn't be too hard considering how hyped up their daddy is about learning.
If there is one thing I want my kids to take away from this part of their childhood its that education is a sacrifice, but it is also exciting.
Living on a university campus is a very inspiring place to be. I get to see people work towards their dreams, and sometimes, I get to see those dreams come true. I remember when we first moved here watching a husband come home from defending his dissertation. His wife met him on the playground with a bottle of champagne.
Just yesterday I watched as another one of my neighbors ran out of her house to tell her husband some good news. She could barely get the words out, she was so full of emotion. After much sacrifice, she has finished her Ph.D. program and got her dream job as a tenure track professor at a UC school.
My eyes filled with tears as I watched the two of them hug and cry on our weathered playground. They have both worked so very hard for this dream. Being married to someone with the same dream, it was extremely encouraging to get to see them shine.
I've changed my mind. We don't have to wait for a house payment to plant roots. Our roots have already been planted in this fabulous journey called education.
Change is inevitable. But, making change happen when you want it to can be hard. And when you want to make a real change, you need to learn something new. Because education is the key to change, Kaplan has spent 75 years re-writing the rules of education. Because they believe that education is not one size fits all. A system focused on the needs of individuals can give students the power to change their lives. Kaplan wasn't satisfied with the status quo, and you shouldn't be either. To jumpstart your change, we encourage you to watch Kaplan's video series, Visionary Voices, to hear the latest insights on emerging trends from notable thought leaders; participate in Kaplan's ADVANCE: Career. Education. You. group on LinkedIn to connect with professionals committed to life-long learning; and connect with students, alumni and educational professionals at StudentAdvisor.com, Kaplan's one-stop-shop for the latest education news, reviews, and advice.
I'd love to hear from you and learn how education has given you the power to change! Leave a comment below and be entered to win a $100 VISA gift card!
Official Rules:
No duplicate comments.
You may receive (2) total entries by selecting from the following entry methods:
Leave a comment in response to the sweepstakes prompt on this post
Tweet (public message) about this promotion; including exactly the following unique term in your tweet message: "#SweepstakesEntry"; and leave the URL to that tweet in a comment on this post
Blog about this promotion, including a disclosure that you are receiving a sweepstakes entry in exchange for writing the blog post, and leave the URL to that post in a comment on this post
For those with no Twitter or blog, read the official rules to learn about an alternate form of entry.
This giveaway is open to US Residents age 18 or older. Winners will be selected via random draw, and will be notified by e-mail. You have 72 hours to get back to me, otherwise a new winner will be selected.
The Official Rules are available here.
This sweepstakes runs from 3/7/2013-3/31/2013
Be sure to visit the Kaplan Brand Page on BlogHer.com where you can read other bloggers' reviews and find more chances to win!