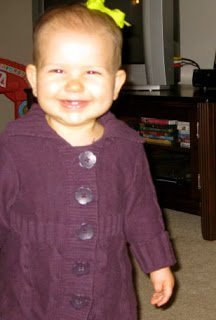 Beyond all the fun pictures I post on Facebook and this blog, I think I've failed documenting the little interesting facts about Coco as she grows up. When she was an infant, and definitely before she started crawling, I fastidiously journaled about all the developmental changes that took place. Things like "today she grabbed for her toy," or "rolled over for the third time in her life!" and of course all the mommy ins and outs of scheduling her sleep and breast feeding. Well, once our little girl began to crawl, and then start pulling herself up like the very next day, I've become negligent about documenting her changes. She's been walking for about two months now, and so acts more like a toddler than a baby these days. I wanted to brag a little (for the benefit of her grandparents and aunties) and just talk about the cute little personality traits that are coming out…
Is it better to have one child?
First of all, this stage is so fun because she is becoming more and more affectionate. If we tell her to "give loving" to anything from the remote control, to her doll, and even food, she'll press whatever she's holding to her ear and hug it. Its so darn cute! You just have to be careful with what you tell her to love!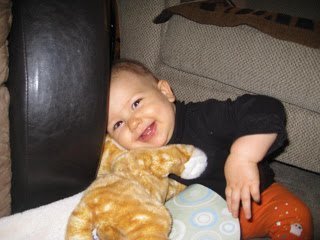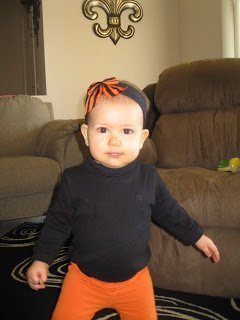 Another new development, and its quite recent–is what I am calling the "Linus trajectory," or, the blankie. She just started walking around with her blanket held up to her ear, dragging it all over the house. Occasionally, she'll throw it on the ground and then fall on top of it to "relax." She kind of reminds me of our late cat, Little, in that if there is anything on the floor she automatically assumes its for her, so if a pillow happens to fall off the couch, Coco will lay her head on it til we notice and smile at us. She loves her audience.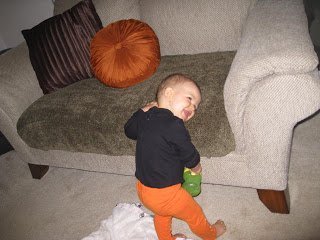 "There's more?" you ask. Yes, but you don't have to read it. Remember this is for the benefit of grandmas and family, and they gobble this stuff whole. So–another thing thats come out with the advent of toddlerhood is the word, "No." She manages to get into just about everything thats off-limits, so we are trying to train her to listen. At first, I used the old swatting method. But to be quite honest, it seemed to make things worse. She would hit back and get real feisty, but wouldn't cry. So after some trial and error, and "accidentally" discovering what works for now, our method is simply to say "no" extremely sternly while looking her straight in the eye. I don't know what it is, but Cosette crumbles each time. Its really sad/cute, because she'll stop dead in her tracks and just fall apart, and then come up to Matt or me and put her head on our chests. It works amazingly well, and the only catch is just to stay firm when she gives you a totally pathetic mini-meltdown.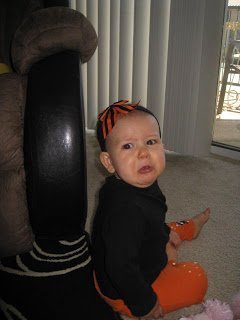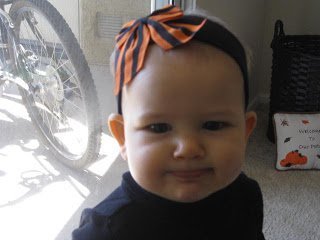 I think that she just loves positive attention so much that it devastates her when it becomes negative. Now, I'm not saying I've got it nailed and this is what we're doing for every kid, forever. I strongly suspect that one of these days we'll have a little battle, and if not with her, with another child. I was a she-devil, and Matt, from what I understand, was kind of like Curious George. He had tons of energy and managed to get into everything. So, with that combo, we're certain to have at least one ornery stinker! But for now, I am enjoying having an 11 month old that obeys when I say "no"! Go ahead, you're allowed a smug response. Just know I am not swearing by this method or trying to proselytize anyone else.
One last thing–especially for the grandparents ???? We have a photograph of the four of them on a table in our hallway. Several weeks ago, Cosette noticed this picture and got very excited to see their familiar faces. She's taken to walking around the house with it, "loving it," and most recently pointing to "pa pa." Sorry Jack, first she pointed to my dad and called him Papa. Sorry Dad, now the entire picture is Papa. She loves that photo though, and if I ask where Papa is, she'll hurry down the hall to point to their faces.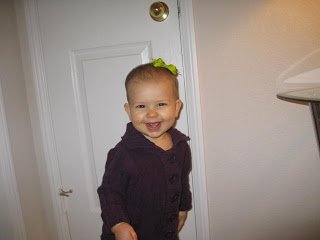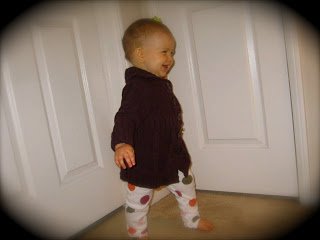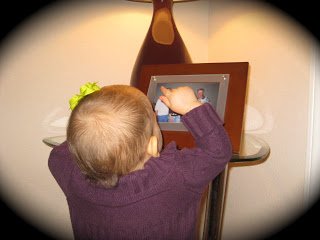 So, that's pretty much the latest developments. I'll keep you posted on language development…I'm sure you now eagerly await the day she tells ME "No!"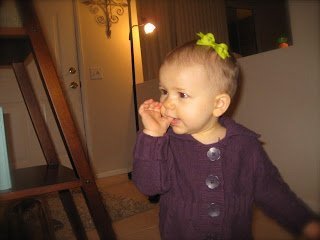 More to come…