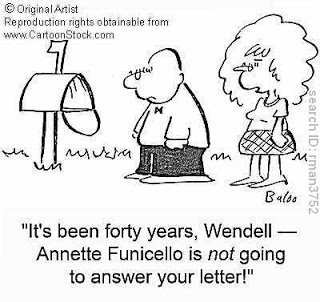 I'm not a fanatic when it comes to celebrities. Honestly. I usually could care less about what is going on in the lives of our supposed elite.
But.
When it comes to the blog world, I've always had this "thing" for the Pioneer Woman. I adore her.
I love her writing.
Her food.
Her photography.
Her total take on life.
Yah, you could say I'm a fan.
Last night–we drove to San Francisco with the chillens, waited in line for three and a half hours (yes, with both kids) and I got to MEET REE DRUMMOND—THE PIONEER WOMAN!
Let me just take a brief moment to brag on my husband.
He's not obsessed with her like I am, although he does love her food. He knew that this was something I really wanted to do. So, as soon as he got out of class, we piled into our Cockroach (the car) and he drove us there.
Not only did he chase our psychotic daughter around a crowded book store (think 400 people crowded), but he took her to the bathroom twice (once was a fake-out power play by the little miss), changed a poopy diaper, got interviewed by a wacko fan–truly, and had only 3 minutes to himself to sit down.
Someone, give this man a Klondike Bar!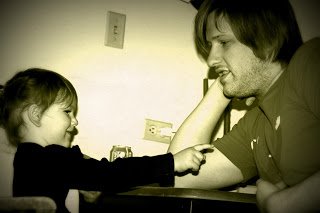 [I love you, babe. But don't think this lets you off the hook for Valentines Day.]
Ok, enough of the wordiness. There is no literary/film quotes for today. It's unnecessary. I took pictures with my favorite celebrity and they can stand alone (except for my explanatory captions).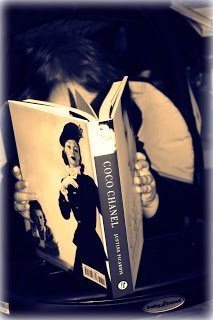 Coco doing her homework while we were in line.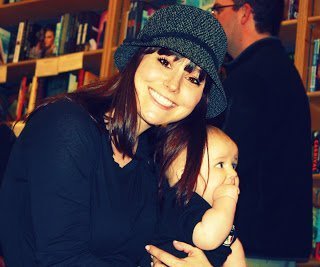 Chauceman being an angel.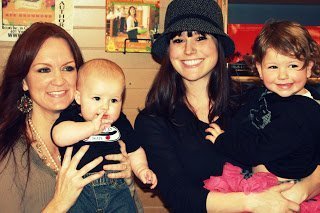 Yah. She's holding my kid. Be jealous (Candace ;))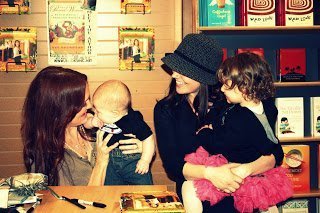 Coco wishing she could get in on this celebrity attention.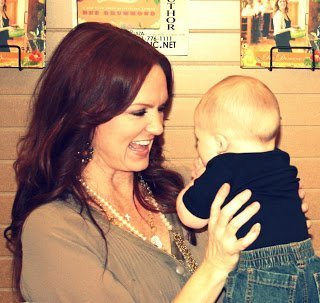 This is going in his baby book. I think its pretty obvious what she's saying here, but I'll quote her on this one,
"This is the sweetest little guy ever!" Then she got teary eyed and said she was "having a moment." Woohoo! Chauceman worked his little charms on Ree! It might have been one of the proudest moments as a mom. Don't judge.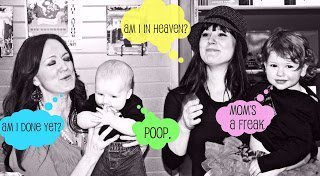 This is me reveling in the fact that Chauceman made her cry.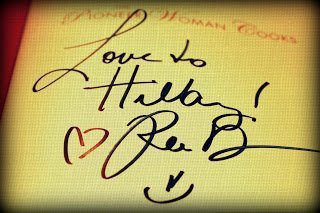 See? It says, "Love to Hillary." She loves me. Clearly.
All in all, it was a fabulous night! I even met some other bloggers and got to hang out with a bunch of people who are just as obsessed as me ????