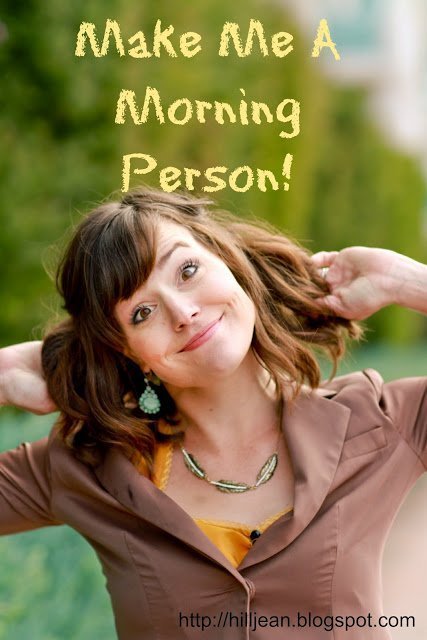 I want to make my life easier. Don't you?
There are things that make my life difficult. You probably have your own list as well. I have spent the last week lamenting the difficulties instead of accepting them. The nerve of me, right?
Not to get all Winnie The Pooh on you, but isn't that what life's about? Dealing with what's been handed to you, finding the joy in it, and thanking God for it.
Preach it, sister.
Easier said then done.
My specific set of "difficulties" could be less complicated if I were more organized with my time. For example, I am the absolute worst person in the morning. It is SO hard for me to get moving before 9:00. I know, I know. That is embarrassing to admit. Most people are up and running by 7:30, but I am most productive late at night. I get a second burst of energy around 10 pm and love to clean my house at this time. I also get creative and crafty and then stay up far too late with my glue gun. Or I write blogs. Like this one right here.
I'll pay for it in the morning, fo sho.
Is it better to have one child?
Anywho, I'm really motivated to change my life. Not in the Jenny Craig sort of way, but in the being-a-morning-person sort of way. I want to be more of a morning person. I want to be that chipper, obnoxious mom that bounces into my children's room singing, "Good morning, good morning, good morning! It's time to rise and shine! Good morning, good morning, good morning! Get out of bed on time!"
Cause my mom did that. I should get to do that too, don't you agree? If Coco is the retributive justice of my own ornery childhood, then by golly I get to play the part of my mom as well. Not that she was annoying…always. Just when she sang that song. Oh, and maybe when she would say things like, "Someday you're gonna have a little girl that does exactly what you're doing to me right now…"
That always rubbed me the wrong way. Now I know why.
Enough about my darling Ma. Back to changing my life.
After reading some brilliant posts from Money Saving Mom on how to The Most Of Your Mornings, I think I've figured out what I need to do to get my butt in gear. You really should head over there and read the series. Crystal, THE mom who saves money (and makes money saving money) is like the epitome of productivity. Really, she is. So she shares some great ideas on how to transition yourself from Gremlin to Goddess in three weeks. I don't believe she ever uses the words Gremlin or Goddess, to be clear, but that is what I envisage when I think of my current state as a non-morning person.
Here's my plan of action:
1.) Buy some really seriously ridiculously yummy and expensive coffee. I always buy good coffee, but I think this transition calls for some nurturing from ye olde bean. I want that stuff to be strong as an ox but gentle as a doe.
I am on fire right now, aren't I?
2.) Buy a really awesome mug. I have a lot of awesome mugs. One of these days I'll get around to photographing my collection thus far. I bet you can't wait to see my mugs, huh? In my book, the mug has everything to do with the way the coffee goes down. I want to commence my new ritual with the perfect mug. I will seek it as one seeks the Grail.
I'll let you know what I come up with, assuming I don't burst into flames upon first contact.
3.) Ok fine. I'll go to bed a little earlier.
4.) Figure out my Top 5 Evening Must-Do's (so far all I have is take a long bath, drink herbal tea, and watch Downton Abby…I think I'm supposed to fit housework in there as well.) Look over at Money Saving Mom for the explanation of the Top 5. Seriously, so brilliant.
5.) Suck it up. I have to just get up earlier. It's not going to be fun. It's going to suck, but I have to do it. They say it takes a fill-in-the-blank amount of time to form a habit. So I'm going to have to spend fill-in-the-blank amount of time subjecting myself to forming this habit.*
That is all for now. I will keep you posted on how this enterprise goes. I'm starting it on Monday because, you know, I need to buy the mug and stuff. Also, it's 2 AM right now, so tomorrow's not gonna work.
Are you a morning person? What helps you have a good morning? Do you sing annoying songs to your children to wake them up?
*I really don't know what the fill-in-the-blank is. Does anyone know? I could just google it but like I said, it's 2 AM and I need to go to bed.
---
---