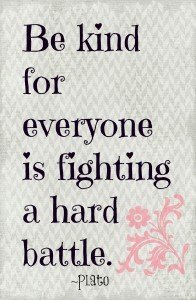 She stood there, decked out from head to toe. The single girl's guide to life was surely hidden within that adorable anthropologie bag slung over her shoulder. She was the picaresque, charming, Pinterest worthy, fashionista.
Perhaps it was the awkward setting. We were, after all, standing side by side in the front row of a rock show. Not really the place to exchange pleasantries, I get it. But nothing deters me. My husband is always lamenting my love for elevator conversations. He says its not the proper place for things like talking or making eye contact.
"Excuse me," I tapped her on her shoulder. Like a frightened hamster she turned, head slightly ducked beneath her french braid.
"I just have to tell you that you look like you stepped off a board on Pinterest!"
Her worried look told me that my compliment was lost on her.
"You do know what Pinterest is–" I needed to know why she looked about to jump out of her skin.
Is it better to have one child?
"Yah, I know what it is," she responded.
"Oh good! You look beautiful.Didn't mean to be awkward–just wanted to tell you."
Slowly, the furrowed brows split apart in surprise. And then a big smile lit her face. She truly was beautiful.
"I'm not hitting on you," I quickly blurted out.
She burst into laughter.
"Oh my gosh! I thought you were telling me I couldn't stand here, and then when you said that thing about Pinterest I thought you were saying I look ridiculous!"
Now my brows were pinching together. "So you just assumed I was being a jerk and thought that about you? That's terrible!"
Still smiling, "Yah! No one's ever said something like that to me! You really think I look pretty?? Thank you so much–you made my day!"
She left the venue feeling pretty good about herself. I left feeling a tad depressed.
We women are just so weird.
We're either a full-of-herself bitch, or a mealy-mouthed scaredy-cat. And I had met yet another scaredy-cat.
I actually don't know very many in the bitch category. I mean, there's the steady stream of self-portraits on Instagram and Facebook that make me think some people might have a tinge more confidence than is necessary, but like Kim Kardashian confident? Nah, really don't know that sort.
But more often than not, I'm met with the woman who doesn't believe she is beautiful. She apologizes all over herself. She treats a compliment as she would a foreign body. A bee to be swatted away before the sting finds it's spot.
No, we're not talking about full-of-herself woman anymore. We're talking about people like you. Like me.
Most days I wonder if I'm doing anything right. Heck, I can't even keep a spool of TP from getting strewn all over the house. I can't get anything done without Barney and his host of overachieving choir kids. And I certainly don't sail through my day feeling like a fairy princess. Well, maybe a little like Cinderella, but only before the Fairy Godmother. And without the slender feet.
Simply put, I need someone to tell me I look pretty. I need someone to say I'm doing a great job, even though I can't keep the toilet paper together. This pretty Pinterest girl reminded me that tired moms aren't the only ones who need to feel affirmed. It took very little for me to "make her day." Just one awkward moment, that's all. For those of you with a hair more finesse, you could probably pull off a compliment without any awkwardness! Think on it.
Go ahead. Make someone's day (said in Sid's voice [Toy Story])