I'm certain that I won't remember everything about parenting my young children, but there are definitely some pivotal moments/days that will go down in the great book of Grandma Hill's Stories.
Yes, I will be Grandma Hill.
Anyways, yesterday was just such a day.
I haven't blogged about this yet because I was still so uncertain about what to do. I didn't want to be in the position of asking for advice when I had such a loud, clamoring intuition ringing in my head. Which is why I refrained from sharing the severity of the problem with my own MOTHER, whose opinion means the world to me.
I had to come to this on my own–ok, with my husband.
With the exception of two days, Coco has had an absolute horrible time at school. As in, every morning she has a meltdown and pretty much an anxiety attack about me leaving her.
The first few days I had to stay for at least two hours in the classroom. I figured it was ok, as the teacher could use more eyes and hands in her classroom. As long as I was present, Coco was fine.
Whenever I tried to leave, she would run out of her classroom blowing past her teacher and dissolve into a crazy slapping rage if anyone tried stop her.
This was not my daughter.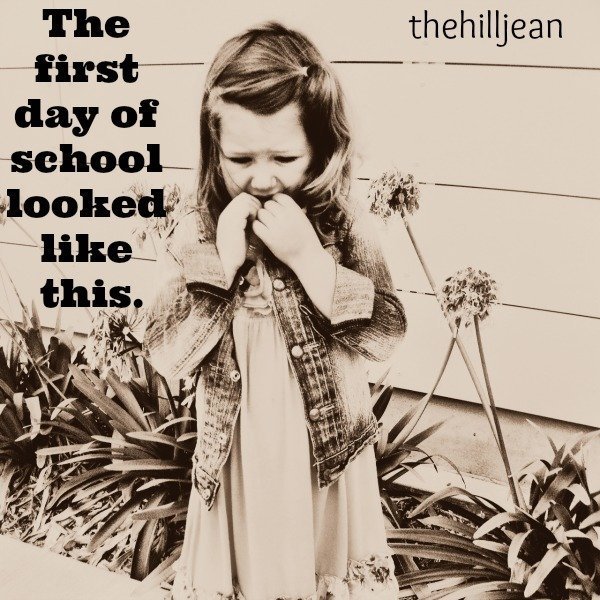 Obviously, she has not been the perfect kid, but I've always been relieved that my girl never became the fit-throwing type. [with the exception of one, full-on fit at a grocery store when she was two.]
Not so, anymore. Her behavior has been somewhere between the Exorcism of Emily Rose and an extremely hungry pregnant woman.
In other words: scary.
All along I had an intuition that it was related to all the recent changes in her little life, especially school. I questioned whether putting her in T-K (a brand new grade) was even wise. But I needed her to go. She needed to be busy, stimulated, and occupied.
I needed it.
But there was this voice. A nagging voice that told me it wasn't the right place or the right time.
Is it better to have one child?
After a huge meltdown on Sunday when we broached the subject of school, we had a big talk. We prayed, we examined our options, and we decided that we should give her a two week trial period. I felt good about it. Maybe she'd acclimate with a little more time?
And then yesterday happened. Meltdown after meltdown. Three hours I was there. Multiple struggles, multiple teachers trying to intervene, and multiple attempts for me to leave her there.
Um, it's really hard to walk away when your child is SLAPPING a complete stranger who is trying to calm her down. Like, seriously? What would YOU do?
The defining moment was when I was told to walk away and let the professionals deal with it.
But…the professionals don't know my daughter. They don't know that she has NEVER done something like this before. That she would normally die of embarrassment if someone outside our family saw her being naughty.
Coco was hanging onto the gate, screaming bloody murder for Mommy.
That's me. The words were like knives. I'm not being dramatic.
Two different teachers tried to calm her down. I kept my head down and walked to the end of the building, where I hid.
I stood there for five minutes. I listened to her scream, "You're the worst teacher EVER!!" Bawling for mommy to take her home.
I started sobbing. It was like watching my kid being tortured. Yah, she was exhibiting horrible behavior, but the fear was real.
Then I saw the principal and everything became so clear.
"Do this, NOW!" I heard that noisy bell ring.
I went to her office (which, by the way, was my first time in a public school principal's office). In tears, I told her how hard the last two weeks have been. I told her I have a sick feeling every time I leave her in the morning.
We talked about her age, the changes in our life, and do you know what that principal said?
She took all my fears–all those intuitions and put them in a nice little Mason jar for me. With chalk paint on it.
"She's not ready," she said.
Here I was about to argue my "crazy" case for pulling her out, and she beat me to it. Then she said something that further blew my mind:
"My own daughter wasn't ready for T-K and I'm the principal of the school. I pulled her out."
Whaaaaa?
I truly believe that it is in the most unconventional places that we hear God's voice. For me, it's been in airport security, during an ultrasound, and on the operating table.
Why can't I freaking come to the miraculous conclusions on the quiet and safe seat of my couch–with my morning Joe? Why do I have to go through such horrendous and exhausting rigamorle to arrive at the right answer?
I think it has something to do with my personality. I have a feeling I would hog the glory. The credit wouldn't go where it should.
That's what I believe, especially after yesterday. I like to think that I know quite a bit. But this was a piece of life that had me stumped. I needed divine intervention. I needed the writing on the wall.
When it's your kid, it's different. The decision is weighed in gold and anchored to the bottom of the sea. If you screw this up, the whole ship sinks. You lose everything. And it is all. your. fault.
Holy cow.
It was easy as pie. Sign a form, take her home. (I kinda sorta skipped the part where I called my husband and asked for his opinion.)
We walked home. She told me that her heart wasn't beating as fast. "Mommy, my heart hurt and was going so fast at school!"
Just kill me again.
We walked home, hand in hand. "I'm sorry I was naughty with the teachers. I was scared."
I opened our door and announced that Coco was no longer a student at our neighborhood elementary school. My husband's response?
"Good! This isn't right!"
When God orchestrates a change, He takes care of every person. We all came to the same conclusion at the same time. I call that grace.
So…
Starting today I'll be doing some homeschool. I'll be working my booty off at making my daughter secure. Making her confident. But the time frame is hers. I'm not pushing it.
I hope to put her in Kindergarten next year. I hope that she is ready. But yesterday I learned that we have to be flexible and gracious as parents. We put her needs above our own. Sure, life would be WAY easier if she was occupied in school five days a week, six hours a day.
Easier on me.
But what about her tender little heart?
The other day she asked Jesus to "light up her heart" and told me she had a new, bright, and shiny heart. It's up to me to make sure that heart sparkles like it should. I can cultivate a place where that heart grows bigger and brighter. And that is the most important thing in our life right now.
We made the right decision. And I am thankful to have such astounding confirmation.
But…yah, I needed a few glasses of wine last night. No shame here. Just a mom trying to figure it out.
Mercies are new every morning. Thank God.
I have some major issues to address. Like slapping people in authority. But more than that, I have to show her that all is ok. That she is safe.
Have you ever had something like this happen with your kids?