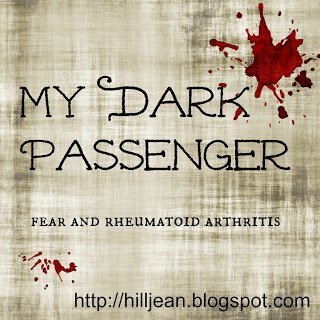 If you watch the show Dexter you know that the protagonist always has a "dark passenger" at his side. Even when he's doing totally mundane and innocent things the passenger whispers commands and waits to pounce on a victim. I kind of have my own dark passenger.
Don't worry. I'm not some psychopath vigilante who chops up the bad guys and throws them into the marina. We don't even live by a marina–my in-laws do, but that would be too much of a commute. And like I said, I don't chop.
No, my dark passenger is still relatively new to my journey through life. New, but significant. I'm talking about my rheumatoid arthritis. I haven't blogged about it in a while and that's mostly because it's been quiet. I've felt pretty good, not excellent, but good enough to drive my kids around, make dinner, and exercise. In other words, I have been able to be a mom. A normal mom.
I can't say its remission. My doctor dashed that hope when he told me the erosions in my bones indicate that I'll never experience a true remission. Oh, and Santa Claus doesn't exist, by the way, so take this shot.
I'm not on medication right now, and that is the subject of much angst for me. You see, even if I'm feeling better right now, the arthritis is still eating me up inside. Bones will continue to erode and even other parts of my body will break down without treatment. The boring end of this story is that my medication is so expensive that just a few months used up all of my insurance package. Until the new insurance term starts, I'll have to pay around $1300 a month for two shots. Ha.
Is it better to have one child?
I've put a seal of duct tape over my dark passenger's mouth. He's not allowed to whisper anything until I have secondary insurance.
It's easy to get used to feeling good. I think we have it written into our nature to want to feel good, and I do right now. But whenever the dark passenger hints at my plight–I fall to pieces.
I go through the checklist in a panic: Was that a spasm in my hand? Are my fingers looking swollen? Why does my knee keep popping out? Do I have a fever? Am I eating? If any one of these symptoms show up I freak out. There is just so much fear associated with the word "flare" for me.
I had a year and a half of horrible pain and multiple surgeries. The memory alone scares the beejeezus out of me. Because it's not just the pain–it's the depression that goes along with it.
I whimper like a puppy who was released from his kennel and then has to go back inside. It's not fun to go back to that kennel once you've experienced freedom. The walls are more claustrophobic, the cage more ominous.
Is a new flare starting? I don't know. I don't think so, but who am I to say? All I know is that I have this dark passenger that will sit next to me my entire life. Sometimes he'll just whisper, other times he'll yell. And I'll wish I did live close to a marina to drop his sorry ass into the water and be free of him forever.
Of course, I can't do that because the "ass" is merely a metaphor. Instead I just pray and have a bunch of other people pray.
Do you have a dark passenger? Do you struggle with fear?
[This is my theme song for my RA. It pretty much sums up the struggle and the victory.]