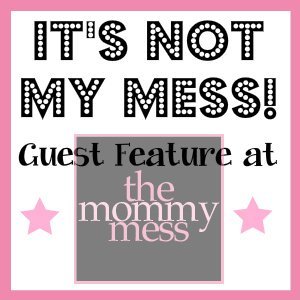 Happy Friday, Guys!
Welp, I have exciting news. I'm guest posting over at The Mommy Mess today! Her theme is "It's Not My Mess, so I of course had a lot to say. I could talk about messes all day long, but when it's all said and done there's just one mess that I'll never, ever, no matter how senile I get, forget.
After I sent her my post this is the message I got back:
"Oh girl, this is so disgusting! But, I love it. Somehow my house doesn't seem so dirty now. Thanks! LOL You really took the mess literally with this post! Great job. :)"
So, I warn you, don't be eating something while you read this post. I have shared the run-down version over here (like right after it happened, and I was still not able to laugh about it) but this is truly the way it's supposed to be told.
I hope y'all enjoy. While you're over there you should totally subscribe to Adrienne's blog and follow her on Facebook and Twitter and stuff ???? Also, if you have YET to do that over here, please hop the heck on it. I'll love you forever, my blog follower you'll be.
Also, if you haven't the Blurb giveaway you gots to do that! You'll have one Christmas present completely covered and knocked out of the park!
Alright. Now scurry! Go read about my disgusting mess!