As moms, we take it for granted that our kids, though brilliant, are always beneath us in intelligence. We know SO much more than them, and sometimes when we're not careful, we patronize them. Ok, fine. Sometimes we patronize them on purpose.
You know you do it.
The little darlings demand so much of us from sun up to sun down and sometimes it just feels good to remember that while they have the upper hand in energy, we got the smarts.
We can laugh behind their backs at their adorable ignorance. It's cute, right?
Well, the other day I did not have the last laugh. I have this eery feeling that my daughter, my four-year-old daughter who cannot even tie her shoes–patronized me. I'm still not quite sure. I would like you to weigh in on this as it is keeping me up at night and causing me to agonize over every word I utter in front of her.
Walking on eggshells indeed.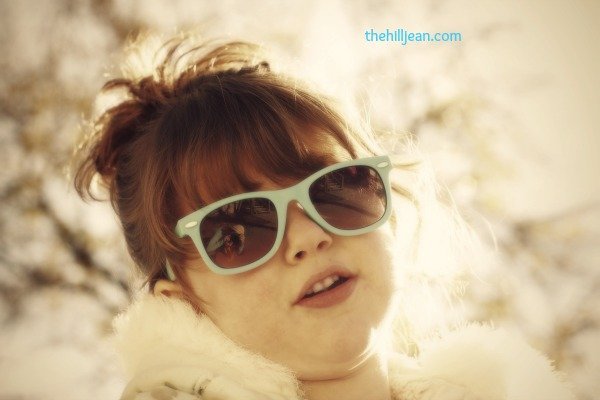 Yesterday, on our way to school we had this conversation:
Me: Coco, please stop fiddling with your door handle. It's dangerous.
Coco: It is? But it's locked, right?
Me: Yes, but sometimes kids mess with the lock and can actually open the door while the car is moving. Know what happens?
Coco looking very suspicious: What?
Is it better to have one child?
Me giving dramatic pause: They fall out. On the road. And get hurt, really bad! So don't mess with the door, ok?
Coco looking very pleased with herself: Um, Mom. I'm wearing a seatbelt. I won't fall out.
Me: Well…yes, that's true. Oh! But you know, the door could slam suddenly and get your fingers!"
Coco quietly : That makes more sense.
Me: What did you just say?
Coco: Never mind.
When I looked back, I saw a hint of a smirk.
****
It happened again later that afternoon.
I picked her up from school and we stopped at my new favorite coffee place (it's a drive-thru!). While the coffee is totally worth it, the location is a bit of a pain to get in and of. Situated right on the corner of a four-way intersection and free-way entrance, I've learned that I have to be strategic if I want to successfully leave this little slice of heaven.
I ventured my car out of the driveway and into the street. The light was red, and I was behind about five cars. It's clear to everyone that I am waiting for it to turn green and right my position to move forward. Suddenly, the driver behind me looks me right in the face and finagles his way around my car to get ahead of me.
Like, we're talking, he has to cross over the double-yellows to maneuver around me.
Totally rude.
I huffed out an angry, "Thanks a lot!" as he scooted on by.
I missed that light, and had to wait for the next one.
Still fuming, I hear a small voice behind me say, "You see, Mama. You just had to wait your turn. Everybody has to wait their turn."
"I did wait my turn."
Coco: I know, and you did a great job.
Me suspicious: I even said thank you, didn't I?
Coco: You sure did. Waiting is hard, but you did it, Mom.
Me: I waited. And I said thank you to that man who I gave my turn to.
Coco: Yes, I did hear you.
Me nervously chuckling: It's important to be polite.
Silence.
Did she just roll her eyes?
What the heck?!
I have NO idea whether or not she 1.) detected my sarcasm and 2.) was being sarcastic with me! One thing is for sure, my daughter is a condescending little lady.
As soon as I get this gigantic beam out of my eye I will let her know that pride cometh before a fall. Just not a fall out of the moving vehicle since she's wearing her seatbelt. Ugh.
What do you think? Was I patronized by my four year old?
***
Linking up over here today!