Hi Guys!
It's Friday–hooray! This means my husband will be home and be the #1 parent for the weekend. Because… this lady? Well, she has no voice. Nada. For the last two days I've been squawking like a dying bird any time I say so much as, "hi." So you can imagine the atrocious sound that comes out when I need to yell at talk to my kids.
Yesterday, Chaucer ran out into the parking lot while we were getting into the car. He just slipped out in a flash and I couldn't see him anywhere. Then, a giant car whizzed by and I threw myself into the middle of the parking lot, flapping my arms and screaming, "Chaucer!!" as loud as my shattered voice would allow.
Whoever was driving the car was a total jerk. They kind of just swerved around me and maintained their ridiculous speed. I know they weren't one of my neighbors because we are all really careful in the parking lot. There are small children everywhere, and we know better. So this person was an intruder.
Turns out, Chaucer was just on the other side of the car. I know he heard his mother screaming like a pterodactyl in a windstorm. Yet he chose to play that sick game that kids love to play. That version of "hide and go seek and not tell mom we're hiding." How I despise that game.
It was like being caught in a nightmare. You know, where you're supposed to DO something and you cannot. You need to scream, but no sound comes out. That's what I felt like as I called out to my son.
Is it better to have one child?
Imagine if that nightmare came to life.
What if you found yourself in a predicament where you had absolutely no power. No voice, no strength, and no ability to change your circumstances. There are people all over this world who are living in that nightmare. A nightmare that is much graver than my laryngitis.
This month is Human Trafficking Awareness Month. We'd like to think that we live in a country where slavery has been eradicated. Well, it hasn't. The sex slave industry is alive and kicking in the good ol' USA. It is estimated that over 100,000 children are trapped in the slave industry in America.
It's right under our noses, be we usually don't even smell it. Those more-than-massage parlors, strip clubs, escort services, heck, Craigslist–they're all a perfect platform to hold victims hostage. Believe it or not, many sex workers are in bondage to an employer or debt, and are degraded and exploited on a daily basis.
Of course we should be appalled. We should be downright outraged that this is happening on our soil.
Someone is speeding in my parking lot and though my voice is fractured I will scream until I know my child is safe. I would do THAT every day, as exhausting as it is.
Will I be the voice for someone trapped in a nightmare? Will I speak for someone who can make no sound?
I hope so–I want to–I need to–I have to.
But what CAN I do?
There is actually quite a lot we can do to participate in this struggle. Of course there many places where you can simply donate funds, and that is needed, God knows. But there are also establishments that simultaneously fill a consumer need and assist a victim in slavery. In other words, you can use the money you were already going to spend and put it to good use.
Today I want to share with you just such a place.

Radiant Cosmetics. Makeup that beautifies more than just your face. Radiant Cosmetics provides top-of-the-line products for the consumer, while raising awareness and funds for human trafficking. I totally recommend you take a look at their site and peruse their products. They are also a great starting reference if you want to learn more about human trafficking and what you can do to help.
The kid is running around in the parking lot, a car is zooming past. Your voice may be small, but you HAVE to do something.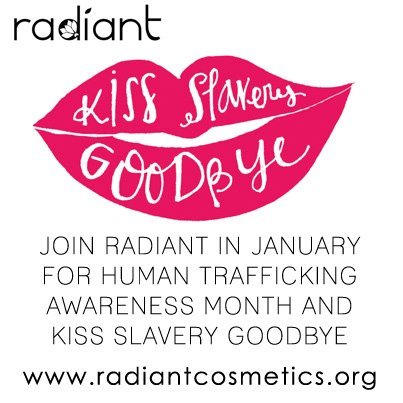 This Monday, join me, Natalia, Brittany, Kelley, and Radiant in a fabulous Twitter party that will raise awareness for human trafficking. There's going to be lots of girl talk, fancy prizes, and new friends to meet! The best part? You can attend while wearing your PJ's. Sweeeeeet.
What the heck is a twitter party? Its a chat between friends on a certain subject using a hashtag [#] to follow along. In this case our twitter party will be about fall decor and our hashtag is #RadiantCosmetics.
How do I participate? Follow on our custom Tweet Grid! [Make sure to add your twitter name in the right hand column.] Or download Tweetdeck and add the hashtag so you can follow along. There will be a few questions to answers and you give your two cents and chat with other people using the same hashtag along the way.
How do I win? You have to RVSP and participate in the chat to win a prize. There are multiple prizes from Radiant and others. Make sure you RSVP in both the rafflecopter and the link up.
Party details:
Monday, January 21, 2013
8:00 PM CT [9:00 ET, 7:00 MT, 6:00 PT] for one hour
We will be talking about all things beauty!
Our hashtag for the evening is #copycatcloset [its long I know.. just copy and paste it into each tweet]
RVSP below and cant wait to party with everyone Monday!
Rafflecopter:
a Rafflecopter giveaway
inlinkz: inlinkz: