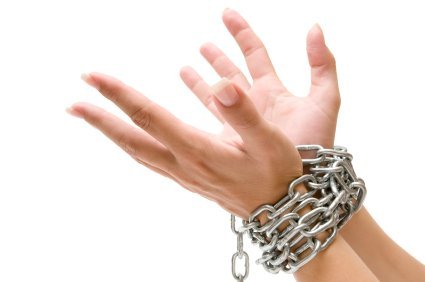 She sat there wailing, weeping as if someone had died. My first instinct was to rush to her and ask how I could help.
But then I remembered where I was.
Slowly, I took her in: around 45 years old, saggy skin, greased back hair, acrylic nails and flashy jewelry.
Track marks on her arms.
Her chains were so much more visible than mine. Her chains have left scars all along her body, rendering her right arm completely useless. She dropped her phone and I realized she had to hold her dead hand with her functioning one to keep it from flopping heavily onto the floor. I quickly jumped up to retrieve her phone.
She was so grateful.
"It's nothing," I said.
"You're so kind, thank you." She replied.
Is it better to have one child?
She oscillated between the horrific sobs to a sort of manic conversationalist–the grieving woman turned chatty Cathy.
I waited quietly for my turn.
How did I get here?
You know how you got here, came the answer.
Finally, I heard my name from an unfamiliar voice. My stomach lurched but I walked all the same.
A kind doctor closed the door of his office and sat at the computer, ready to ask me the questions–the ones I've been so scared to answer. The ones I've been hiding from everyone, including my dear friends and family. Now, to speak words. My chains.
"I'm addicted to vicodin." I told him.
The confession invited a torrent of bitter tears.
We went through my health history–the nine foot surgeries, the two hand surgeries, the RA and fibromyalgia–he said it was no wonder I was addicted. That it wasn't even my fault. I couldn't come off of it on my own, he explained.
Still, I didn't believe him.
There was no excuse. I've known this has been a problem for over a year. God showed it to me and after multiple failed attempts to quit, I gave up. I told God to go away.
I went into remission for my RA. It was clearly time to go off of the pain meds. But I couldn't. My miracle was perverted by my own addiction. Here I was–patented as pain free, yet trapped to pain medication.
I hated myself. Is hate the right word? More like despised. I felt those who loved me would not be able to swallow it. It was too despicable. Me, the wife, mom,"honest" blogger a drug addict. No, too shameful to speak.
Darkness. Total darkness was where I was when I finally decided to get help. It started with an appointment with my regular doctor and I told her I had a problem. Told her to please cut me off. She referred me to the Chemical Dependency Rehabilitation Clinic.
And that's where I found a small, shattered piece of myself, and God, when my own voice submitted to those frightening, terrible words:
I'm addicted.
God met me there with a kindness that astounded me. He picked up the chains and carried my burden. I could taste the freedom, and he promised more.
***
Today is a big deal for me. It's a great and wonderful thing to be able to share with you all, sweet readers, that I am eight days clean and feel amazing. Not only do I feel physical healing, but I am experiencing spiritual and emotional healing as well. Just a short week ago I cringed at the thought of sharing something so dark with my audience.
But no. It's not dark anymore. God has blasted it with marvelous light and I see it for what it is: a miracle. It isn't over yet. This is a process, you see, and the narrative is so much longer than this snippet I've shared today. Everything in its time.
I will be sharing every week how I am doing and go more in depth with the ins and outs of my addiction. I hope to maybe help some of you, who surely are struggling with something–maybe not vicodin–but a dark and odious stronghold.
Love and light. I hope that you will understand that I am so full of joy right now at God's love for me that I cannot contain it. I feel like a crazy huggy happy lady. I have the urge to drive all over California to hug my friends and family who I banished from knowing the truth about me for over a year.
I would hug all you readers, too, if I could. Thank you for letting me share this today and please, if there is anything you feel inclined to share–do.
Confessing is freeing. It spills light into the dark and heals with warmth.
Click here if you are someone looking for help with vicodin addiction recovery. You'll find answers to your questions, community, and the tools you need to finally get clean.