As some of ye old faithful know, I often participate in Mama Kat's Pretty Much World Famous Writer's Workshop. She has great prompts that get me thinking–and that help me try on things I might not have the guts (or inspiration) to write. Today, I'm sharing something different. I'm meshing two of the prompts to give you my Granny's childhood story from her point of view.
My Granny was the youngest daughter of Slovenian immigrants. She grew up in Leadville, Colorado–the highest incorporated city in the U.S. Her childhood was nothing like my own, and I've always wanted to write something based off of her life.
Is it better to have one child?
Here is a little piece of her story.
****
It's morning. The light that pounds in from our window is as gray as my Papa and brothers when they come home from the mine. It's a dirty, cloudy light, as if the sun has been out working with the rest of Leadville.
I wiggle my head off of the pillow and pull the old quilt over my face. I shiver.
Where's Pauline? My toes scrunch in search for my sister's warm body, but she's not there. Her side of the bed is icier than my own. I wonder how fast I can slip into my boots and put on Martin's jacket. Martin always lets me wear his jacket until breakfast, but he needs it when he walks to the mine. By then I'm usually warm. Usually.
I haven't been warm for two weeks
.
I thought she'd get better. I thought she'd be here this Christmas—forever. I know people die. It happens quite often in our little town. The cemetery behind our church is lumpy with them all.
She's there now. Fourteen days—that's how long she's been gone. Is she cold? We dressed her in her best clothes, but my sister took her coat.
I peek out from the blanket and see it, my gift from her. The most beautiful bottle I have ever seen. The wedding day cologne. She used to take out her bottle, close her eyes, and remember the Old Country.
My hand reaches for it now and the cold, familiar shape is like holding her once strong hand. I squeeze out the tears and open the bottle. It's empty—except for that beautiful scent. It must be a wonderful place. Why couldn't they have just stayed there?
I stop the bottle with its lid—keeping the Old Country safe. She said it was important to preserve it. Someday it would die away.
She lays under snow—surely she should have a coat?
I jump out of bed in one quick motion. The boots are cold around my ankles, and Martin's jacket is heavy as it hits my shoulders. I wrap it tight around my body and open the door.
The house is an eerie quiet. I can tell there's no breakfast. No warm smells come from the kitchen, and my brothers' deep voices are not booming around the table, like they usually do.
Where is everybody?
Suddenly, I know. This is so much like the day she died I wonder why I didn't realize it before. I run to Papa's room and see it—like a nightmare, happening again.
There's the doctor, with his sad, disappointed face. He doesn't look surprised at all. My brothers—Frank leaning against the wall, staring at the ground. Lud is crouching down by the bed, hiding his face. And Martin, my favorite. He's sitting on the bed holding Papa's still hands. I've never seen him do that before.
The light in the room is gray like my Papa's lifeless face.
Only Pauline makes noise. She's crying the same, whimpering cry I hear every night. It's the sound I press into my pillow before I fall asleep. I want to go to my pillow now. I want to tear it—to beat it—to become it. I wish I could be anyone but the little girl I am today.
I run to my room before anyone notices me, little Margie. I take off Martin's jacket and put on my own, small coat. I wrap a scarf around my head and pull on my gloves. I am out the door in two seconds.
No one calls for me. No one thinks of me.
Each step out of our yard is heavy, and my toes wriggle inside to pull the snow off of my boots. The rusty gate rudely clanks against me as I push myself out—away from our dead home.
Through our quiet town I run. I don't care if I slip. The wind bites my face and the air freezes in front of me in tiny puffs. My nose is pinched with the tears that are stuck inside of me.
And suddenly, I'm here. I open the gate and feel the freezing cold of the latch through my now warm gloves. The path is filled with snow, but I know the way. The lumps are larger with last night's storm. I slowly make my way through, careful not to step on anyone.
Even though everything is masked in white I know exactly where to find her.
I take off my gloves and coat, and sink into the cold mound. The snow soaks through my nightgown and freezes my skinny legs. My hands, freezing again, dig and dig the snow away.
And there I find her.
Julia Blatnick
Beloved Wife and Mother
1880- 1928
I press my coat on top of the words—stretching it to cover the entire stone.
"For you, Mama," I hear myself say, and my snowy, cold world drizzles in front of me as the tears finally win.
****
My great-grandparents Martin and Julia Blatnick with their first three children, Frank, Julia and Ludwig.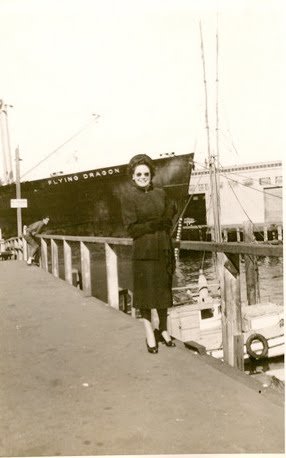 My Granny, Margarette "Margie" Blatnick Hayes