So I've been trying to branch out a bit with some fashiony posts. Maybe you're excited about this. Maybe you're annoyed with this. Either way, it's happening.
Last week I shared how I wore harem pants–judging by the response on harem pants, a good number of you hate them. And thats fine. They are kind of diaper–ish, but have you worn them? Have you worn a diaper recently?
Comfortable! Man! I can't wait to get back in diapers. For now, I'll just settle for harem pants.
Anywho, I'm going to try to do more fashion posts on a weekly basis. I'm excited because Natalia from Ma Nouvelle Mode has organized a fashion challenge called the 7 x 7 Remix.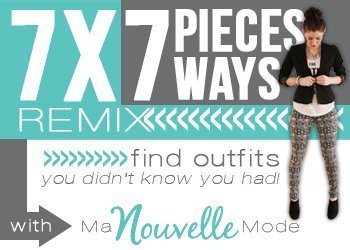 It sounds both holy and cool at the same time.
Find seven pieces in your closet. Assemble them into seven different outfits. This is the kind of stuff your carry-on-luggage dreams about, yo.
I'm doing it. I don't know if I'll be successful, but I'm sure as heck gonna try it out.
Here is a sneak peek at some of the items I'll be "remixing." Oh hey, when you're done here please go to my channel and subscribe!
Join the fun and link up next week! Seriously, it's like shopping from your own closet. Be creative! Be bold! Have fun! Here's the button if you want to participate!
Here is how Natalia remixed seven pieces from her wardrobe!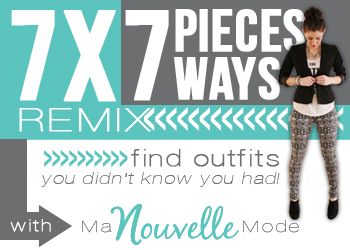 <a href="http://manouvellemode.com" target="_blank"><img src="http://i26.photobucket.com/albums/c142/nlynn6/7x7_zpsa24987e1.jpg" alt="Ma Nouvelle Mode" width="350″ height="150″ /></a>