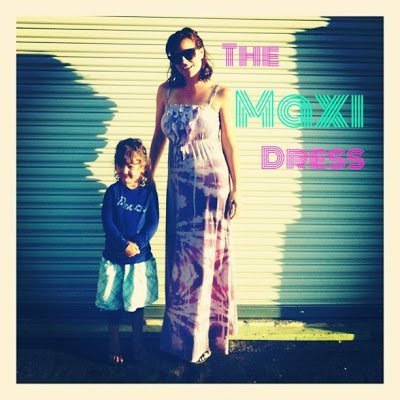 For all my opinions on undershirts and crop tops I'm not a fashion blogger. Frankly, I don't really like the style right now, but since I pretty much buy everything second-hand I'm forced to go with the flow. Yes, I'm probably one or two seasons behind everyone but as long as I don't look like I'm wearing a burrito or an excessive amount of leopard I'm ok with it.
I usually spend about $0-10 on an outfit. I'm gonna let that sink in for a sec.
***
Yes, I said $0. We have free piles in our multiple laundry rooms on campus. We all clean out our closets frequently (since we live in sardine cans) and there is absolutely no shame in taking the free booty. In fact, there is a certain pride in the claim, "I got it in the laundry room."
Is it better to have one child?
It's like hunting; we're proud of our kill, or in this case, road kill. So now you know that I dumpster dive, and I hamper dive. Tee hee. Hamper dive. I cannot even tell you how many outfits I've scored for my family, extended family, and friends in the laundry rooms. I will be so sad when I don't have this treasure trove right outside my door.
Here's a sample of my laundry room wardrobe: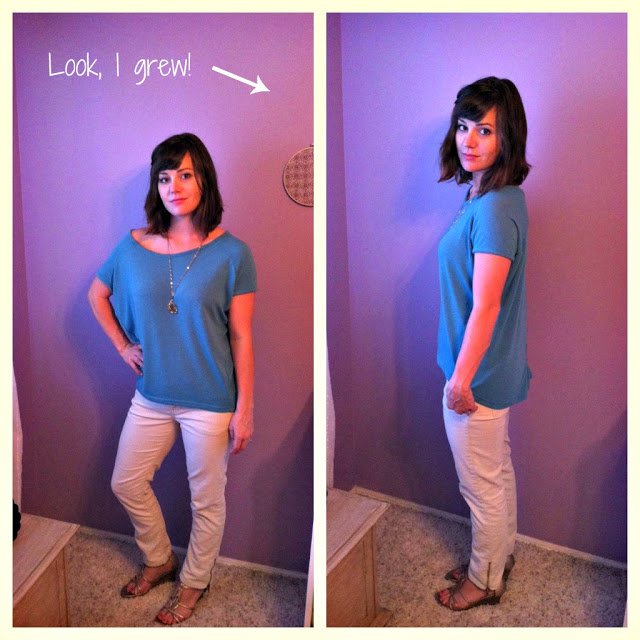 This is an outfit I scored from the laundry room. Don't let my wanna-be-model face fool you: this outfit is COMFY! Well, not the shoes. Those belong to my sis-in-law and I don't know how she wears them for more than four minutes.
As we were in LA the last couple of weeks I didn't have my weekly fix of hamper diving (can you all just make that a thing now?). I was forced – literally, my arm was twisted to go the Santa Monica Goodwill. It was just so awful I had to go there three times. And it was so bad that I spent $20-30 each time. Sheesh. What a drag.
I'm gonna miss that Goodwill. I like to think of it as getting hand-me-downs from Anne Hathaway and Ginnifer Goodwin. Who knows? There was certainly an abundance of designer goods in there. Holy smokes! If I had had more money I would have been able to redo my entire wardrobe. THAT'S the kind of wealth they had going on in there.
Lest I be greedy, let me get back to the point. The point is, I found a golden nugget. And that is a word I despise, but I think it elucidates why I'm even writing this post in the first place. For a nugget.
This golden ticket, I mean nugget was the maxi dress. I have wanted one for quite some time. I'll admit, when it first came out a few years ago I thought it was just a bad idea. I was certain that I, at least, WOULD look like a burrito. You know, all lumpy and folded at the bottom (because I don't really DO heals. So where would all that extra fabric go?)
It's taken me a long time to work up the nerve to buy one, and I suppose I made the leap because it was $7 and felt as if I was wearing a nightgown. I simply LOVE this dress! Did I mention it's like a nightgown? A nightgown made out of cool clouds and silk, but cotton all the same. It's the dress for world peace.
Guys, I figured it out. If everyone just wore a maxi dress (guys included) we would all be so much happier and free. Something about wearing that dress makes me want to walk on a moonlit beach or take a picnic in the arboretum or dance with my hubby while we put away dishes. I guess I feel charming and uber comfortable AND I feel like a lady. I don't get to feel like a lady very often. But this dress makes me remember I'm not only the wife and mom, but a lady, and an individual at that. A lady frolicking around in a butterfly cape.
Yes! You must go get one.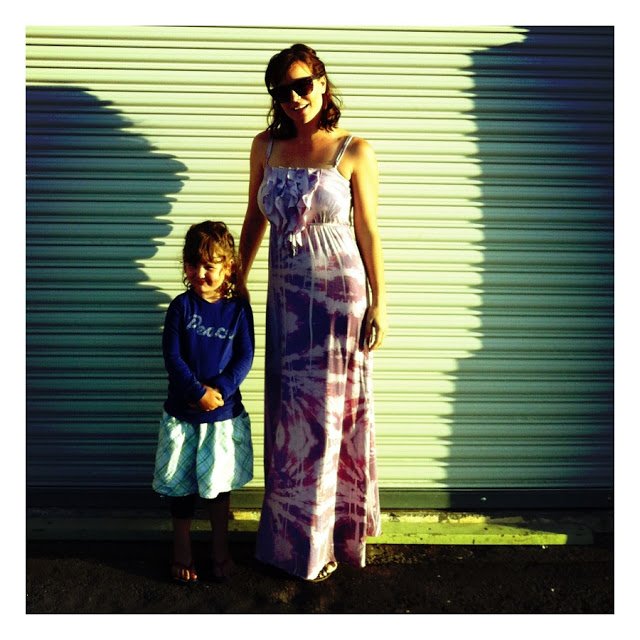 Look at how uncomfortable Coco looks in this picture. I felt awkward standing there by myself so I had her pose next to me. I think she could sense the awkwardness of the situation. Thanks for saving me here, sweetie. Way to make Mom look like an even bigger nerd.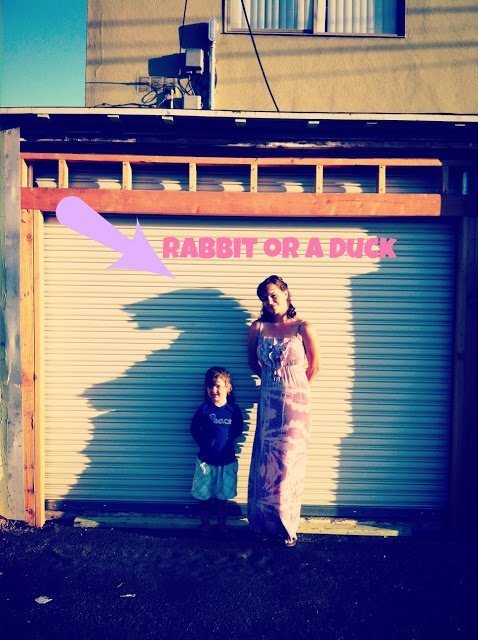 The shadow in this one is way more interesting than the actual photo. I"d love to hear your interpretations of the shadow. I think it makes me look like I have the world's worst boobs.
So yah, I don't have the really pretty put-together photos that you 'll see on fashion blogs. We're making do with the good old iPhone. Do you have a maxi dress? Do you love it? What is the best item you've ever found at a thrift store?