I stood in line sweating. My basket full of goodies weighed down by the one really important piece. Do I buy it? Do I shackle myself to this hideous thing?
"I'm buying this for my daughter. She's gonna wear it every day and I will hate it." I said to the cashier. She just laughed.
I carried my prize home and blew open the doors with one dramatic sweep.
"Coco, I have a present for you!"
I laid the gift in her arms while she kept her eyes shut tight. When she opened them her joy was something akin to a bride discovering The Dress. I knew I did the right thing.
We couldn't get it on fast enough. Bedecked in pink from head to toe, she marched outside with the grace of a dowager queen. Neighbors from every corner craned their necks to see the Steel Magnolia parading around the playground.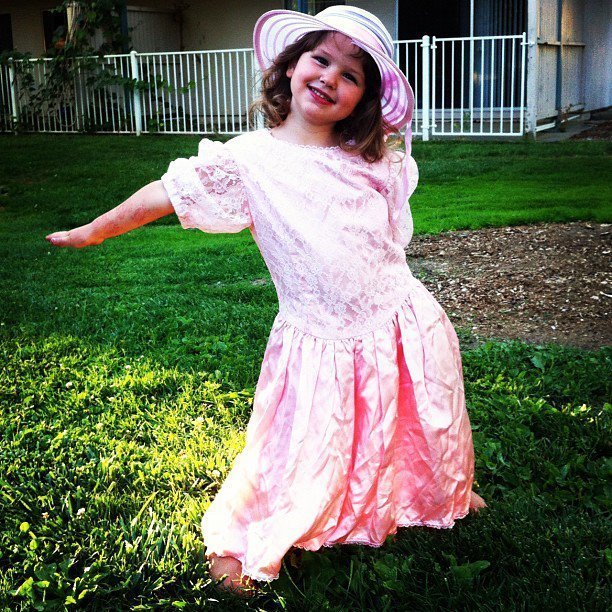 Her first stop was her BFF's house. In about twelve years, when they're both teenagers, they'll have the finesse to mask their jealousy as happiness for their friend. Not so for the three year olds. While Ava was delighted to see the pink vision on her doorstep, the wonder was quickly replaced with her desire to wear the dress.
"You can wear it tomorrow," Coco promised. That never happened.
I navigated my gloating diva away from her sobbing friend, muttering apologies for the damage we had caused.
On the playground, Coco let her dress have its effect on everyone. With a tad more "finesse" an older girl (probably about 7 years old) informed Coco that the dress was too big for her and was actually her own size. Coco stood her ground, arguing that the dress fit perfectly. It didn't, and yes, it probably would fit the seven year old much better, but I came to her defense anyways. I heard a few reverberating "it's too big" after I walked away, but I doubt it did anything to sway my daughter.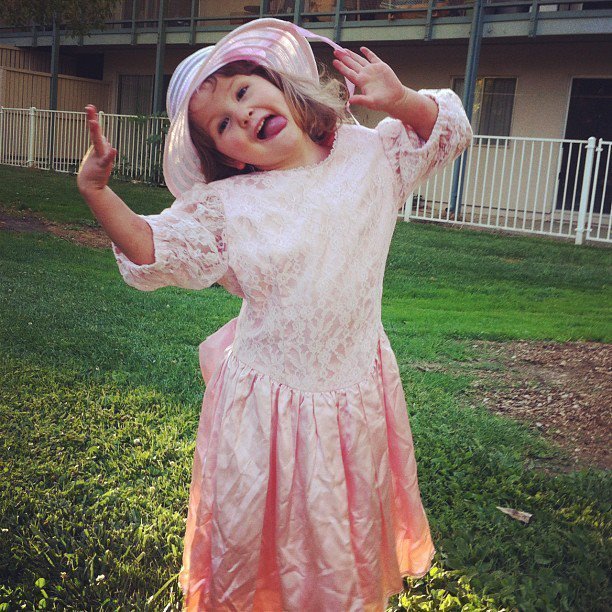 As promised, she's worn it every day. There have been several nights where she insists on wearing it over her pajamas, her hat smooched to the pillow while she sleeps.
It's funny to me that she has attached to this dress in this way. She has other dress up clothes–even some replications of Disney princesses. But this is The Dress for her.