It's fall.
I have a Pinterest account.
So I had to.
I had to try my own little hand at this new art form. Food form. Whatever.
It's been a dream of mine, you see. Ever since I realized that Mason jars were a thing. That realization simultaneously occurred when I found out that I am part of a cult. A cult of pumpkin worshippers.
Pinterest!
Screw Match.com! Pinterest totally matches you up with long-lost cults and estranged Mason jar fanatics. Match made in heaven? Hell, yes.
I had to see if these Pinterest legends were true. I needed to know if I could, in fact, bake a pumpkin loaf in a Mason jar.
Guess what??
I did!!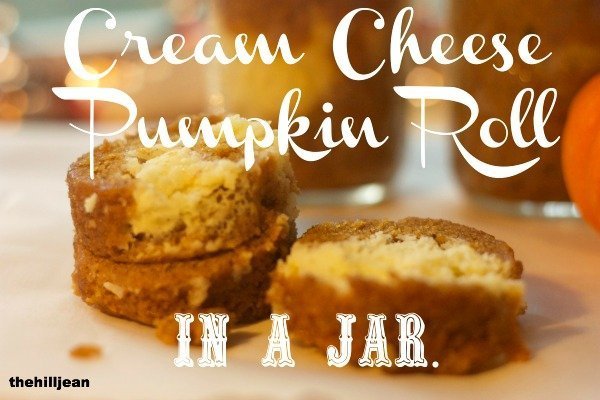 The verdict is in, folks. A pumpkin roll baked in a jar IS phenomenal! I'm serious, yo! Why? Because it's [insert gross word now] MOIST. Yes.
I said it.
That sucker is moist. With a capital M.
And? You can eat it out of the jar just like you would a pint of Ben and Jerry's. You don't plan on eating all of it. But if it happens, it happens.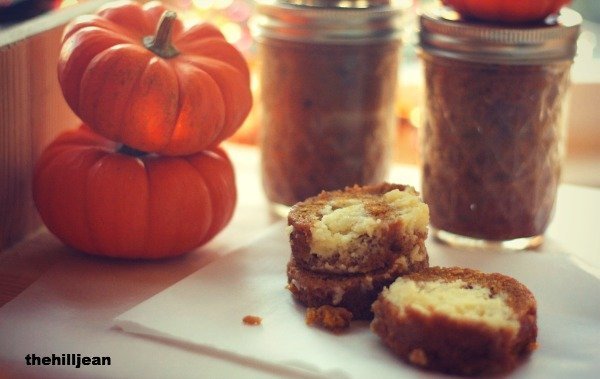 Or, you can slice it up and pretend you'll only eat a few slices. Whatevs.
The deets:
I got the recipe right here. Here's the only thing you need to know about baking in jars: leave room for the bread to expand.
*cough
I didn't do that so I ended up with some really goofy looking jars. I just lopped off the top and it was no biggie, but next time I'll only fill it halfway.
That's right. Just fill it halfway full.
I put a scoop of pumpkin batter in first, and then topped it with the cream cheese filling. It all gets distributed pretty well as it bakes, but I thought this way looked pretty.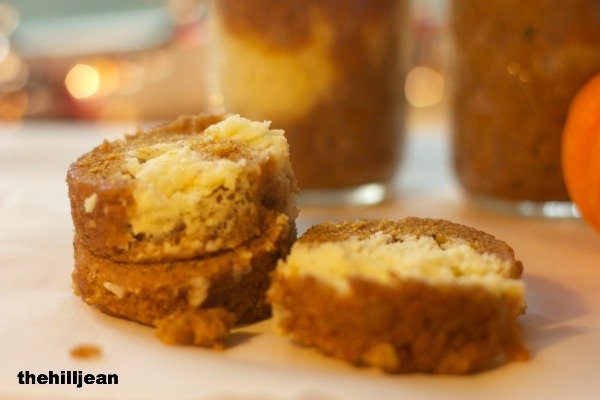 Also? You can freeze these mofos and they turn out perfect. I might just have to start baking everything in jars now.
That's right. I'm looking at you, banana bread.
Have you ever baked anything in a jar?