"A recipe that when all types of wrong" is what I am going to tell you about today. But first, know this: right and wrong sometimes dance pretty close together.
Can I get an amen?
So. This recipe started with good intentions. I needed a quick pot-luck dish. It needed to be "harvesty." Most of my neighbors brought wholesome harvest food. Like butternut squash and asparagus.
Alas. I knew I should have bought that butternut squash! All I had that was harvesty was some candy corn. And an imagination. And an illegal love for sugar. And a need for something gluten free. Don't ask! I promise I'll inform you one of these days…
The recipe went wrong as soon as I started making it. Oh, I should probably tell you what I made. Um, Snickerdoodle Chex Mix.
Here's what went wrong: I started eating it as soon as I began the "creating" process. Those little cinnamon chex thingies are murderous sons of witches.
It really went downhill when I drizzled the butter, cinnamon, and sugar on the popcorn. Lord have mercy.
And then I added candy corn. And I was done for.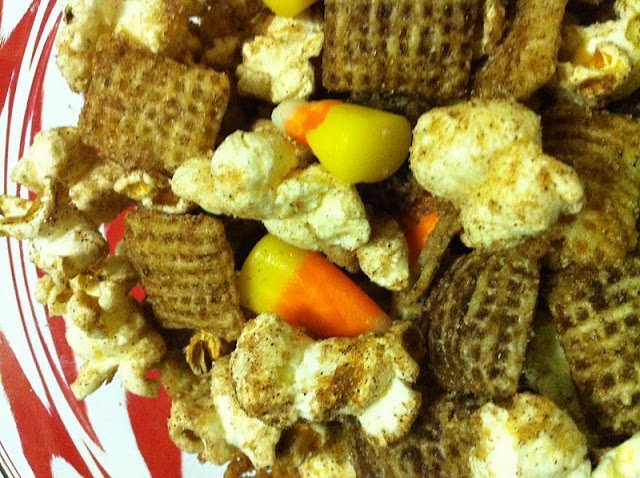 Behold.
I took it to my potluck. But I made way too much. Even though my kindly neighbors devoured over half of the giant bowl, I still came home with some…Half if you're a math person.
And I there I was. Alone with my solitude…and a giant bowl of all that is unholy.
I didn't eat all of it. The stomach ache came in at a timely moment, and prevented further damage.
Have you ever had a recipe go downhill like that? I mean, some wouldn't say that. No, they would measure the success by how quick you start dipping your fingers into it. Maybe I'm just a sick mind, and cannot help such thinking.
All I know is, I am NOT going to be alone with a bowl like that EVER again. Did you hear me?? However, I will also say this, you have GOT to try it! It'll knock your socks off and bloat your belly out faster than you could question Nancy Grace's expiration date on Dancing With The Stars.
I just don't like to see her dance. She's better behind a desk. Yelling.
But don't worry. At the end of the day, it's gluten free. And still terrible for you. [We're not talking about Nancy Grace anymore btw]. But just focus on the fact that it's gluten free. Mkay?
I'm sorry. Or, you're welcome. Take your pick.