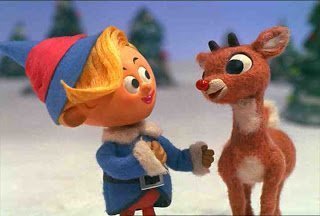 Oh by gosh by…what?
I'm just gonna start out by saying that a.) I know it's August, b.) I realize that Christmas is four months away, and c.) Coco does not.
Unfortunately, my almost three year old daughter likes to watch the same movie over and over again.
Fortunately, the "repeat" button only needs to be pushed for about two weeks before she's sick of it.
Unfortunately, the "repeat" button only needs to be pushed twice before I'm sick of it.
Fortunately, we kicked Barney to the curb six months ago (and all the king's horses and all the king's men will never put Barney together again).
Unfortunately, she is really digging Rudolph the Red Nosed Reindeer (1964) right now.
Fortunately, I used to love this film.
Unfortunately, now I don't.
Is it better to have one child?
Fortunately, I'm done saying fortunately and unfortunately, and am wondering why I unfortunately starting saying fortunately.
Fortunatelyunfortunatelyfortunatelyunfortunatelyfortunatelyunfortunatelyfortunatelyunfortunatelyblahh
Back to my beef with Rudolph. I'm gonna try to say this without saying either of the aforementioned words ever again.
This is really a sad matter, now that I think about it. The film has been a recurring Christmas tradition for both Matt and I, and we were the ones that introduced it to Coco. But, after seeing it like five zillion times in the last few weeks, I've come to the realization that Rudolph The Red Nosed Reindeer is a depressing movie.
Before I tell you why, though, let me just list a few things that I do like about it.
1.) Burl Ives. Enough said.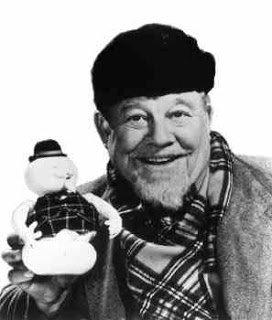 2.) The amazing clay and felt animation. Duh.
3.) The elves' clothes–mostly because the reappear in Elf and that is one of my all time favoritest Christmas flicks.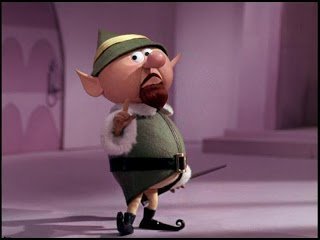 Have I buttered you up enough to receive the bad news?
1.) Rudolph's dad is a jerk. As soon as Rudolph is born, Donner yells, "His nose blinks like a blinkin beacon!"
I suppose he would have been just as disturbed if his infant reindeer had come out with a club hoof or a cleft snout, huh? Jerk.
2.) Santa is a jerk. That's right, Santa is a jerk. He is just as prejudiced as his snobby reindeer. What the heck? Since when is Santa biased? (Excluding the whole Naughty and Nice thing, of course).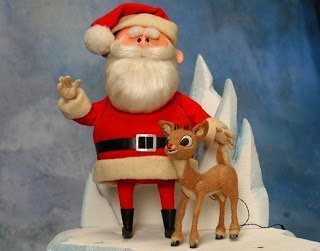 Not only is he mean to Rudolph—you should see the way he sulks and then walks out on the elves during choir practice.
3.) Everyone's stressed out, and really, it's no wonder. Santa's a jerk, the reindeer are jerks, and the Elf Boss Man is a jerk. The film is just full of jerks. And this is my main problem with it. I literally get stressed out when I see it.
In case your questioning my harsh judgment, may I remind you of the Island of Misfit Toys? You know, the place where all the broken or defected toys go. It's so sad. The poor toys sit around a fire "dreaming" of next Christmas when Santa will come and take them away from their sad prison.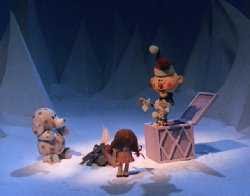 And he never shows up. It's so depressing. Eventually, they get out of there–thanks to Rudolph, but if it weren't for him, there would have been no change.
I know, I know. It all works out in the end. Then one foggy Christmas Eve, Santa came to say, "Rudolph with your nose so bright…"
But now that you know Santa, you realize that he's just using Rudolph. Woopdeedoo, Rudolph, your job title is about to be replaced by a flashlight.
Ugh.
I really don't like that movie anymore. And you shouldn't either.
The end.
P.S. I apologize for getting any Christmas songs stuck in your head.
P.S.S. Unfortunately it's the consequence of talking about anything related to Burl Ives. Or Reindeer.
P.S.S.S. This might be my most annoying post ever. Fortunately I'll never do it again.