Um, I'm sorry I don't have cute pumpkin patch photos to share with you. I had planned pumpkin patch photos. It was just a little wish. A little want, on my part. Not too much to ask, right?
I have no pumpkin patch photos. I did not get my wish or my want this last week.
You know what I did get? Crap.
Literally…crap. Human waste. And lots of it. I am going to give you the play by play of my weekend. Follow along, and as you read, think things like, "But she's such a wonderful person–why does this have to happen to her?"
It makes me feel better if I know you all are out there thinking such thoughts. You can laugh too, if you must. But I don't want to hear about it.
Thursday: Start an 8 day detox where all I eat is veggies and a nutritional drink (purpose of cleanse is to help boost my immune system to fight my RA–not a crazy Hollywood diet, folks).
Friday: Start to hate my life because I'm starving and I want coffee.
Friday night: In-laws show up for a fun visit. We all go out to eat. They get burgers at our favorite burger joint. I eat cucumbers and spinach. I hate my life again.
Midnight: Get woken up by Coco.
Is it better to have one child?
"Mommy…? BLECHHHH!!!!" The sound of Coco puking. The FEEL of Coco puking–on my FACE.*
12 AM-6 AM: Coco pukes off and on…throw-up is everywhere. Matt and I clean up with paper towels and flush them down the toilet.
Saturday morning: Get up and feel like the wrath of God. I've lost 3.5 pounds and want to puke and eat an elephant at the same time. Coco stops puking.
We open the freezer and realize that the door had been open all night–all of our meat has been defrosted. Great…
Saturday afternoon: I finally get in the shower. It does not drain. Toilet starts to fill up with water and we can't get it to flush.
Plumber comes and says we've backed it up with all the paper towels.
Woops.
Saturday afternoon to evening: Plumber works on toilet and bathtub. I call my mom and whine about my day and how starving I am. I overhear my dad ordering a Smith's cookie–my favorite bakery and food in the world. I start to cry.
6:00 PM: Plumber pulls the toilet out.
6:02 PM: My entire bathroom explodes with sewage. Yes, even the bathtub.
Sewage sweeps into my room, the hallway, and the kids room. Lots of stuff gets ruined.
6:30 PM: Plumber confirms we can't stay in our apt. Our line might be broken–we might need to move apartments.
Holy Cow I Can No Longer Be Starving.
8:00 PM: I ditch my cleanse and have a protein burger at In n Out.
10:30 PM: The school puts us up in a dorm room. Crazy college kids are running around having a drunken dance party in the hallway. Matt and I are outraged. We are not bringing our sick child here.
11:00 PM: Father-in-law scores the very last hotel room in town. Praise God.
Sunday: Long headache of a day waiting on people to tell us whether or not we're moving. We get no answer. Inlaws take the kiddos to LA and Matt and I get another night at the hotel.
Monday: We find out that the line is not broken and we can stay in our apartment. I drill the custodial team and have them come a fourth time to scrub my bathroom.
Monday-Tuesday: Matt and I clean the heck out of our apartment. We clean as if our children will be licking every square inch of our home. It's the cleanest it's ever been.
Wednesday morning: I fly out to LA to meet up with my kiddos. I miss them so much, but I am so thankful that they were not around for all the work we had to do. I am also thankful I got three totally unforeseen date nights with my hubs!
We feel as though we lead a crazy life.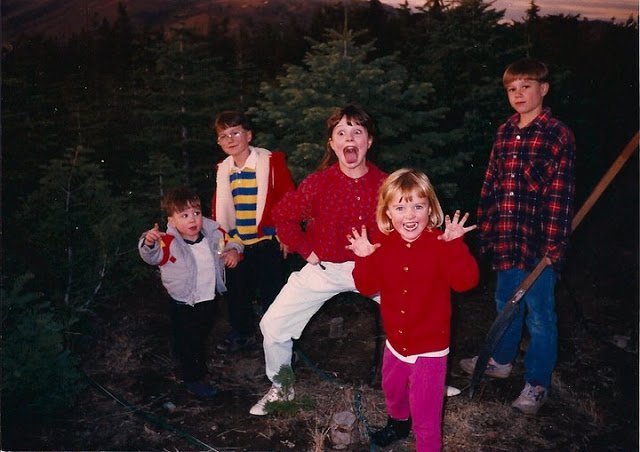 Yah. I'm the one in the middle…in white pants.
I don't really know that my life could have gone any other way. I was sort of cut out for weirdness.