I don't know why we do it. Why we have no problem handing our children over to a strange man in a costume every year at Christmas.
Little wonder that they never "cooperate" for the photo. But we kinda like that too, don't we?
I did.
We went to a Christmas party for our apartment community and they had a Santa there. He was an awesome Santa–I could totally believe he's the real one.
But that didn't matter to my kids. Coco wouldn't touch him with a ten foot pole. She hid under a table and steered clear of the big man in the red coat.
I was sure that Chaucer would love him. I thought they'd be kindred spirits–seeing as Chaucer will probably be a Santa Claus one day. Boy was I wrong.
Santa was really nice and cooperated "with" Chaucer. We got the most wonderful photo I've taken all year. Seriously, this is a gem.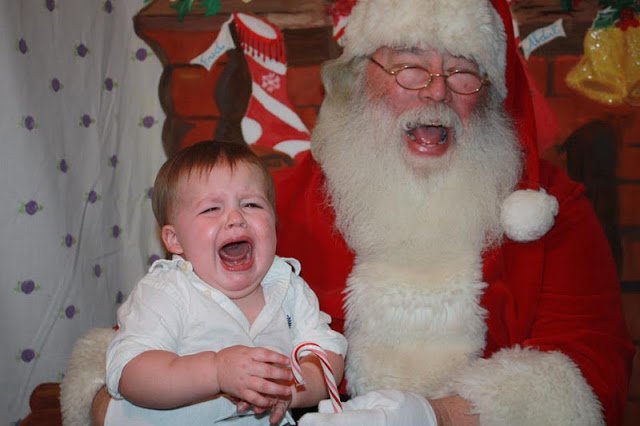 And I need your help. It NEEDS a brilliant caption. It's the kind of photo that should be floating around in the humor section of Pinterest. So tell me, what would does this photo say to you?