What can a person expect with a diagnosis like rheumatoid arthritis?
Today I am sharing something more dark and difficult about this disease. I hope it informs people a little better about what this RA is and what it's like to live with it. That said, I think it can be read from the perspective of almost any autoimmune disease that causes pain.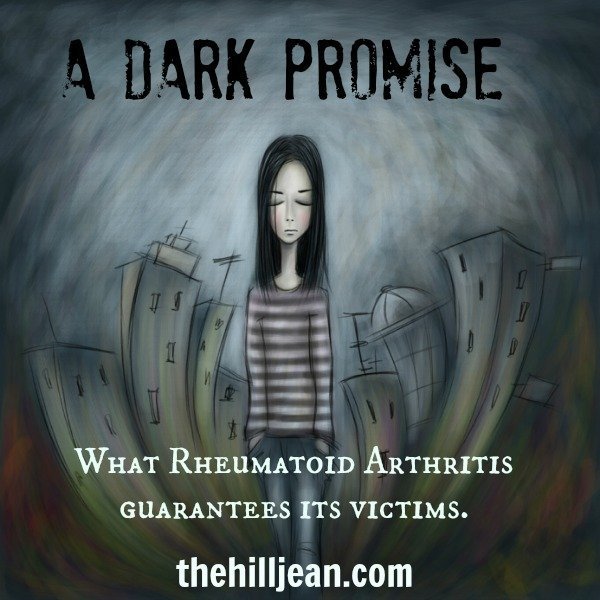 My Promise To You
I promise to greet you as you wake, and tuck you into bed each night.
I promise to always be new to you. You'll never get used to me, and yet, you'll always be tired of me.
I promise scores of medical bills. I promise referrals and labs and surgeries…I might not be your fault, but you'll be charged as if I am.
I promise well-meaning advice—"omega three fatty acids," "holistic healing," "yoga" and "gluten free." Sometimes you'll hang on with hope to the revelation unfolding before you; sometimes you'll defend yourself with confidence that's lacking; sometimes you'll be quiet–and wait for the subject to change. The statement "You don't understand," banging against clenched teeth.
I promise medication. They promise its efficacy. I promise side effects. They promise they'll be worth it. I promise questioning your decision to take it. A panicked hesitation before each injection–a searing pain as it courses through your stomach or thigh.
I promise a tug-of-war battle with depression. Whether its from the meds or the pain or the reality that is now your life, I promise that it will nag and pick at your frail happiness. Some days it might win. You may spend a birthday in bed–nursing your sorrow and swollen joints. A bathtub filled with epsom salt and tears.
I promise you pain. Pain and pAiN and pain. Your lifelong companion, to have and to hold. Like a trained army that works as one, your body will gather its forces and attack. Pain like a sea with ebbs and flows. Pain that swells and bursts—crashing on bones and spitting salty tears on your face.
I promise misunderstanding. "But you don't look sick," "My grandma has arthritis," and "At least it's not cancer" washing you with bitterness and guilt.
I promise forever–a lifetime. Sometimes remission, sometimes reprieve–but I'll be lurking and waiting in the shadows of your sunny days.