Everyone has the signal for the beginning of fall. The biggest harbinger is of course the Pumpkin Spice Latte. I think for many of us the "opening day" for this delicious drink is a holiday in itself.
I'm not going to talk about Pumpkin Spice Latte Day though. It's a great day, don't get me wrong, but I have my own indicator of the blessed season.
My pumpkin mugs.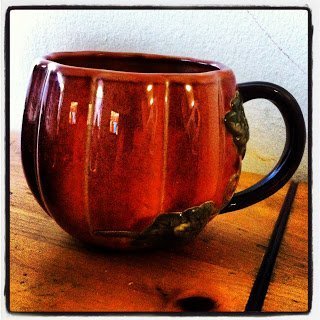 I bought these suckers (I have two of them) years ago from Starbucks. They are the most perfect mugs you could ever hold because they mean that fall is here.
They're kind of a tad bittersweet though. My best friend and I would share a pot of coffee between these two mugs and craft up a storm together. Not as in "witchcraft" crafting, as in wreath-making and hair-accessory-making type of "craft."
Not that you'd think we were dropping spider legs and sparrow brains into a smoking cauldron in hopes to eliminate true love from the world forever. Muahahahaha!!!! But just in case that crossed your mind for some reason.
Back to my mugs and friend. WAAAAHHH!! I had to go and move all far away and the second mug sits empty…
Until Matt uses it and says something totaly insensitive like, "Oh, I love this mug." And I'm all, "You have no idea."