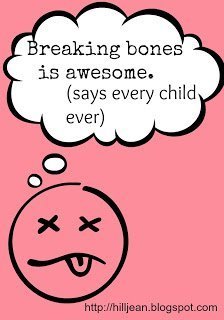 This one time I broke my arm.
I was trying to copy my friend, my older, taller friend, who could jump from boulder to tree-branch in one quick motion. Like a blessed monkey, she could suspend her body, grasp the tree, and swing back and forth.
It looked like so much fun. Surely I could do it.
But actually, I could not. I jumped, grabbed for the tree, and slip! My fingers slid off the branch as my body kept soaring forward. And then down. Down, down, down. Until thwack! I landed on my elbow.
Oh merciful heavens. How that hurt. I had been in and out of the emergency room my entire life (total of about 11 years) but never had I felt such pain as this. A cold, knife-like spasm searing through my elbow and rushing up and down my entire arm. Ouchiemama.
We were at the Wallace's house, and they just so happened to live next door to an EMT. No one said anything about how it would be more to my advantage if they lived next to an orthopedic surgeon who specialized in elbows. No. Instead they focused on the fact that he had "some medical background."
He might as well have been a phlebotomist. He knew nothing about bones.
Is it better to have one child?
With beer-soaked breath he assured me (and the large crowd gathered) that I was fine. Perhaps a sprain, but nothing to rush to the emergency room for. My parents were satisfied with his answer, never mind how much the drama-queen-eleven-year-old protested.
I didn't sleep a wink that night. Ok, maybe a few winks. But I lay awake on my bed (most of the night) crying, cursing the EMT with every non-four letter word I could think of. While cussing was certainly a sin, wishing someone dead was not. In my book.
The next morning I lamented my troubles to my mother. As we had the assurance of an EMT she didn't see it necessary to take me in for further assessment. And I can't say that I blame her. I know Mom was just trying to avoid the ER and it's egregious expenses. I find myself in similar dilemmas all the time. Does my child have pneumonia or is it just allergies? 9 times out of 10 it's allergies. But that one time will bite you in the butt.
Fortunately, my brother had already broken his leg and was due for a cast change. Sweet! My mom hauled us down to the big city and promised she'd speak up for me to the doctor.
Throughout that entire 45 minute drive I prayed long and hard that my arm would actually be broken. "Please, please, please, God, let it be broken. I need this." Either my arm was broken, or I was the biggest baby around. I'd never hear the end of it if it wasn't broken. Please, please.
Vindication. Ahh, sweet, sweet validation.
Yes, it was in fact broken. This was perhaps the first time in my life Mom was wrong. It was a momentous occasion–a glorious victory.
"You mean you had to go through an entire night with this arm and no one even knew?" The nurse clucked sympathetically as she wrapped me in my purple cast.
I tried my best to look the part. After all, this was the closest I'd ever get to that Walk To Remember moment with the blue ball gown and angel singing. Ya know? We all want that moment where we wow everyone with our secret burden, our secret beauty, and yes, our secret courage.
I felt very important when I showed up at school the next day. I sported my purple cast–from shoulder to wrist–with pride. "Oh? Would you care to sign it? Yes, I happen to have a giant Sharpie right here."
Before long, my cast was full of well-wishes, signatures, and Stussy signs.
Confession: the ink didn't show up so well on my deep purple cast, so I went over everybody's signature and drawings with another pen–just to make sure it was visible. Back then, popularity was measured by what color your rubber-bands on your braces were and how many signatures you got on your cast. Oh wait, isn't that still the case? Gosh I feel old.
I broke my arm. I got to say "I told you so." I got lots of attention.
You could say it was the best thing that happened to me in 6th grade. Plus, I still get to lord this over my dear husband, who has yet to break anything. Knock on wood.
Have you ever broken anything? What color of cast did you choose? Did you agonize over whether or not the signatures were visible?
****Linking up today with Mama's Losin It! Head over to her hilarious website for inspiration, funny stories, and just about the best of everything blogging related.
P.S. Because My Life Is Fascinating has a Facebook now. Finally. Go over and like it. It'll be like you signed my cast!