So…today's the big day. Feels like the first day of adulthood, kinda. Yes, apparently getting married, having kids, paying bills, and carpooling are not the real gateway to adulthood.
I feel grown up because I'm flying all by my big self, grabbing a taxi (this is the scariest part) and checking into a hotel. And THEN…meeting a bunch of people who are doing what I'm doing with my life. The people who have chosen what "they want to be when they grown up." Writers. Bloggers. Social media mavens. I'm so excited.
I had my very first "blogger event" the other night and it gave me just a sweet little taste of what this weekend will be like. I went to a SITS Girls event to learn about the latest carseat from Graco.
And I'm gonna tell you about it. Cause this is a sponsored post–isn't that cool? Guys, it's like I'm a grownup!
Switching gears…now.
Is it better to have one child?

In my opinion, the worst thing about having a kid is the whole carseat conundrum. Ok, ok. Nursing is hard, terrible twos suck, and oh where oh where do we send them to preschool?!
But before you ask any of these questions you ask yourself, what carseat is best? And you know what? I've never really been satisfied with any of the carseats we've purchased.
Because they're heavy. Or they don't fit into the shopping cart. Or I can only use ONE stroller with it. Or they are a pain in the bum to get in and out of the car. Or a pain in the bum to buckle. Or they're huge. Or they're ugly. Or they have goldfish plastered to the seat. Ok, the fossilized goldfishes are more a maintenance problem than a manufacturer malfunction.
I believe the new Graco Snugride Click Connect 40 may just be the most perfectest carseat out there! This one will last your child from infancy to toddlerhood. Or, 4 lbs. to 4o lbs. Isn't that awesome?! I got to see a demonstration (it was so exciting I could hardly contain myself) on how the carseat works.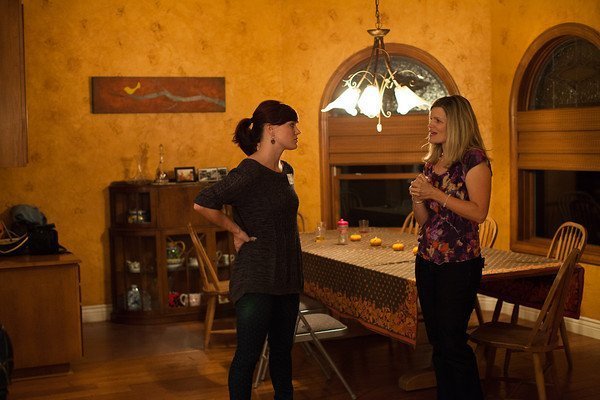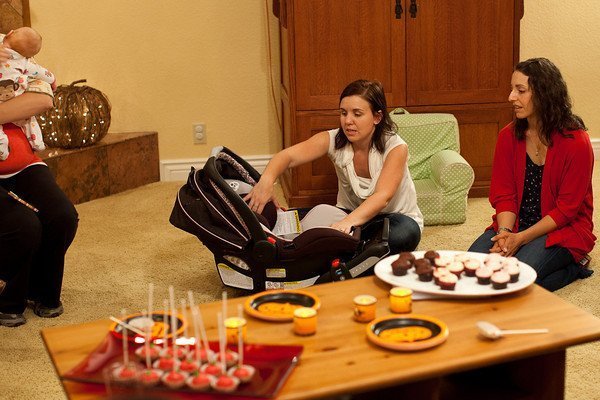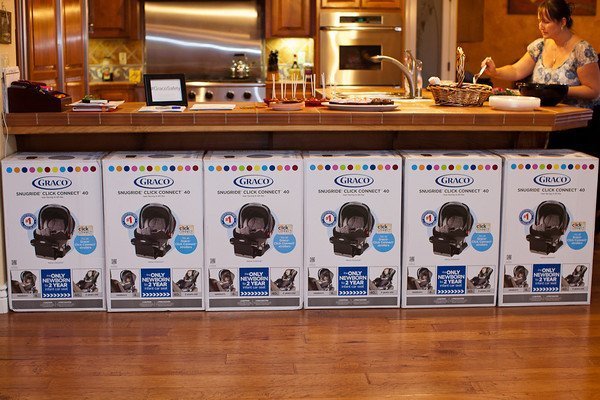 It's pretty cinchy as far as carseats go. It's not super heavy or bulky–this I really liked. It has all these cool little pillows and such for your teensy infant to stay cosy. And then you take the pillows out as your child grows. Every thing comes off so you can wash out the vomit, poop, and goldfish. Yay!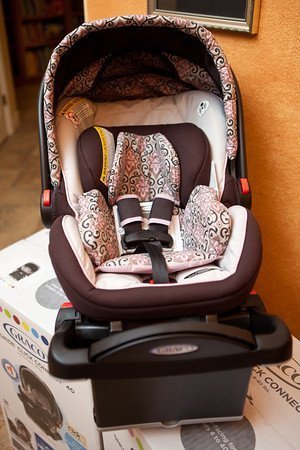 I think what I liked best (besides the fact that it will last two years) is the "clicking" feature. Huh? You say. Well, it has this nice, loud click when it's been properly attached to it's base. This is great cause there's no guesswork involved. You don't have to check a zillion times to make sure your kid won't fly out should you go too fast over a speed bump or something. You shouldn't do that, by the way.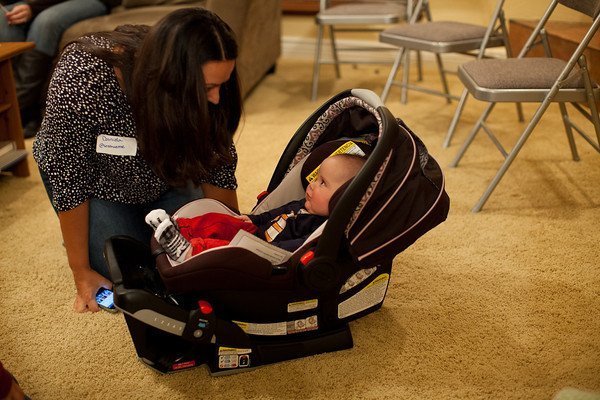 Here's the official thingamajig I'm supposed to tell you:
The Graco SnugRide® Click Connect™ 40 – the first and only newborn to two-year infant car seat that actually grows with your baby from four pounds all the way up to 40 pounds. The car seat is designed for a parent on the go. The infant car seat can be easily removed from the base and used as a carrier when the infant is small, providing portability and convenience so you can easily move your infant in and out of the car without disturbing them.

The American Academy of Pediatrics recently made the recommendation to keep all children in rear-facing car seats until the age of 2. Graco set out to make this product so parents can keep infants rear facing longer while still keeping them comfortable.

This is a sponsored post written by me on behalf of Graco. The opinions and text are all mine.

'Twas a fun evening hanging out with fellow SITSahs! The carseat is so great it almost makes me want to pop out another baby! Almost…

I probably won't be blogging this weekend but if you want to keep up with my being an adult you can follow on Facebook, The Twitter, or my Instagram name is Hilljean