When I first started blogging–years ago–I was keenly aware of the smallness of my own voice. I would hit "publish" and send my words off into the vast sea of cyberspace, hoping for a comment or two from Mom and a friend.
I was so small. Tiny. Quiet. Who would ever hear me?
Today I consider myself a professional blogger. I make money doing this. Not a ton, but enough to make a difference in our lifestyle. Enough to take some pride in my work and splurge now and then on expensive hair products.
I just came back from my first BlogHer, and as this is quite the milestone in the life of a blogger, I have to share some of it with you. And yes, that was a run-on sentence.
People said it would be overwhelming and exhausting. It was both of those things.
I was afraid that I'd feel small–that my voice would be shushed in the midst of so many louder and larger voices.
Is it better to have one child?
Know what I found out? That in this giant sea of bloggers, every voice can still be heard. Sure, when you put 5000 women in the same room it might sound a bit like exorcising demons out of a Foster Farms chicken factory…but the point is, we'll hear you.
It was humbling to get to hug some of the people who have cheered me on in my struggle with vicodin addiction. It was incredible to meet "famous" bloggers and confirm that yes, they are just normal, sweet people.
Like I've found at other conferences, the relational element of this career is phenomenal.
"I GET to be here! I GET to be friends with these people!" I said that to myself probably a thousand times. Because really, without blogging, I would never even know them.
I have friends–heart friends through blogging. Friends that will cry with me, laugh with me, and cheer me on in every little success I find. I went to dinner with a group of such people and would you believe it if I told you we had a Shaky Face contest and then had a group weep sesh over our love for each other?
Yes, that happened.
I heard that some folks think BlogHer is clickish. That it's just too much. I disagree. I think there's room for everyone. There are enough listeners there to hear your voice. If you go wanting to make a connection–you will make it. No matter how "small" you think you are.
If there is one thing I absolutely LOVE about this career it is that you get ahead by helping others. Is there any other field like that? Blogging is collaborative. It's a conversation. A dialogue. You HAVE to talk to people. You HAVE to connect.
So if you're on the fence about starting a blog because you think the sea is too full of fish, well, jump on in! Don't let the fact that it's Shark Week deter you. It's scary, yes, but it's also wonderful. I cannot believe the kind of opportunities that are available in this field.
For example, just a year ago I roomed with two complete strangers, Natalia and Brittany. Brittany couldn't be there this year cause she just had a darling little baby (named PIPPA–how cute is that??) but Natalia and I roomed together again. Um, and Natalia SPOKE at Blogher. I got to sit in and feel like a proud mama hen (chicken reference, again).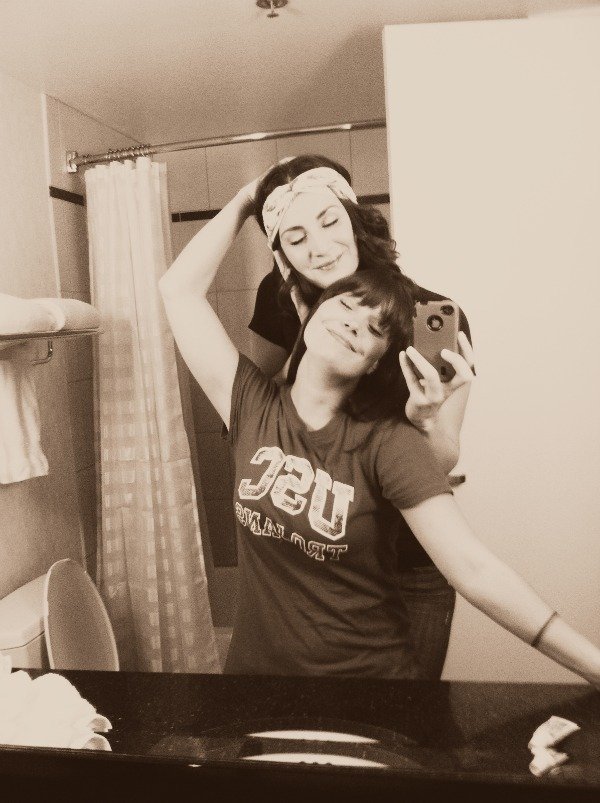 Will I do BlogHer again? You betcha! But I will NOT forget comfortable shoes next time. No sireeebob. Thanks to Erin and Ellen from Sisterhood of the Sensible Moms for hooking me up with these puppies.