Guys, Facebook has gotten really boring. Do I depart or stick around—I think about this way too often during the day. Here's my problem with Facebook these days.
1. Apparently, most of my friends are either the parents I babysat for, or the children I babysat. That's right, Facebook is making me feel very old. And I'm not. Yet.
Old friends, I miss you guys. Most of you have left Facebook already because you're cooler than I. I keep waiting for you to come back. Some of you do, for a period, and then with a puff you vanish.
2. People have really boring status updates. Remember the good old days when people were always saying interesting stuff? Heck, I used to think in status updates. And they were good.
Sorry folks, while I might be glad you're life is "blessed," I don't get on Facebook to hear about it. I am not that worried about your allergies. And I'm terribly tired about reading your references to the people that make your life miserable.
Unless you tell me who they are, I don't care that you're mad at them. I'm sick of sitting in front of my computer, scrolling through your history, and racking my brain to figure out who the heck you are angry with. Why do I care? I don't know. Maybe because every freaking time I log into Facebook I'm reminded that though we are "friends" I have no clue what is going on with your life. So why are we friends again?
3. I don't need to keep tabs on your relationship status. I mean I do, but I don't want it to be through Facebook.
I'd rather experience that awkward "ahhh" when I see you next time. Frankly, it makes for better conversation than, "Did you see that so-and-so changed their status from 'in a relationship' to 'it's complicated? I've been looking through their pictures and I can't figure it out. What do you think?"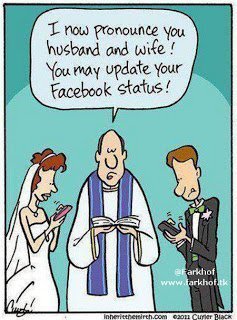 4. I'm sick of you "liking" my stuff. What happened to all the fun comments you used to leave?
If we're such great friends, I would hope, at the very least, that you'd "like" the adorable picture of my son climbing a rope wall. He's 21 months. And climbing a rope wall. Heck yah, you better like it. What I want to hear is, "You're child is so advanced!" or "He looks just like you!" or
"Never seen a cuter kid." Could you just take the time to write those five words? I counted. Each of those sentences took five words. Easy peasy
5. I would like you to stop posting pictures of memes you found on
Pinterest
to express your general feeling for the moment. I assume it's for the moment, because you post a zillion per day. This goes back to the whole mystery shrouding that person that's pissing you off. The memes or for them, right? Cause they're certainly not for me. I just don't get them. I almost feel like they're directed at me….are they? I'm getting a complex.
Is it better to have one child?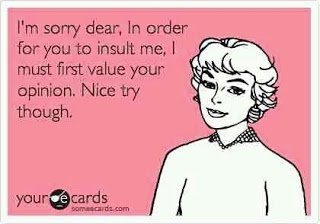 WHO is this for???
What about you? Are you sick of Facebook? Have you left or plan to leave?