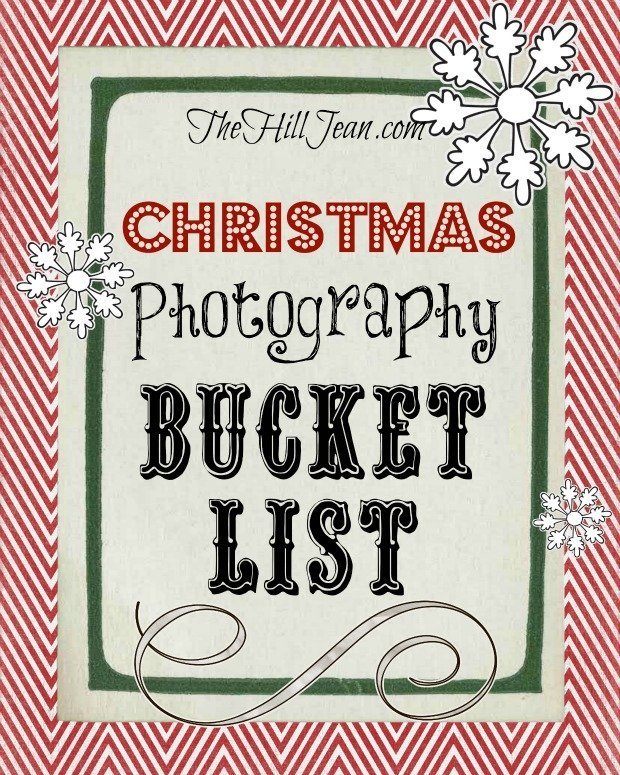 Guys, I'm warning you, this Christmas I'm going NUTS with posts! I am so excited because I'm lined up for a few guest posts at some really awesome sites and *wink, wink* we'll be talking about Christmas over there! So if you're a Scrooge or Grinch, consider yourself warned.
If you're like me, and love you some Christmas cards, then it's time you start thinking about them. Because really, by the time you figure out your picture, create the print, order it, have it shipped, and then actually get them back in the mail–well, it's probably the week before Christmas and that's the last thing you want to be worried with.
Last year we did something way cute (in my humble opinion–that isn't very humble) and opted for a cutesy, oh-so-Pinteresty chalkboard paint theme.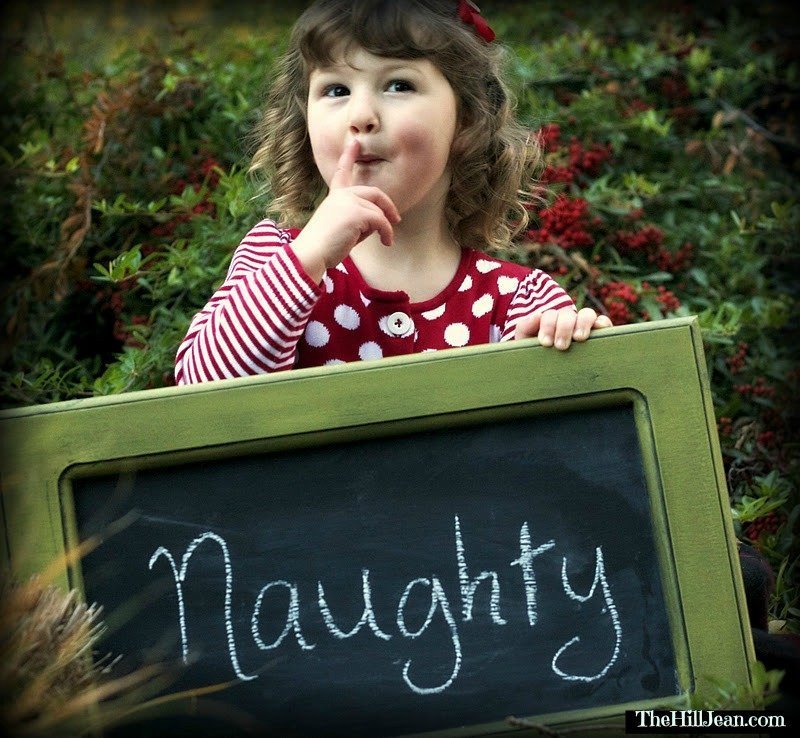 And then this.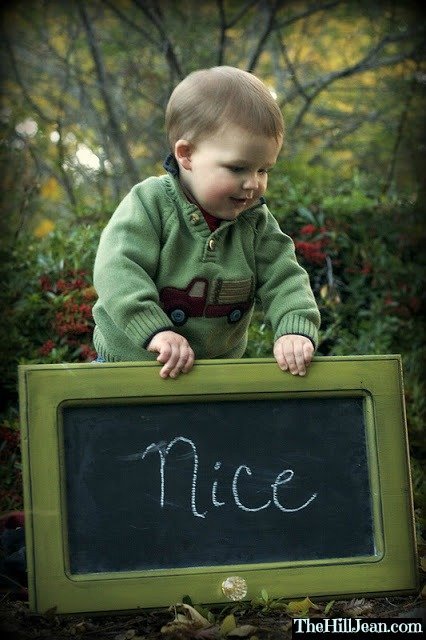 I have no idea why the one of Coco is HUMONGOUS and Chaucer's is itty bitty. Oh well.
I'm not quite sure what we'll be sending out this year…maybe our Awkward Family Photos? I'm still thinking about it. So, if you're stumped I've got the perfect listity list for you!
Is it better to have one child?
Without further ado, here are 10 Unique Christmas Card Ideas
1.) A Gingerbread Massacre. Take pictures of your adorable family assembling a Gingerbread family and
then…the aftermath.
2.) A Mall Picture. No, this isn't what you think. I'm not talking about going to The Picture People or Sears (nothing against them) and having them do all the work. I'm talking about getting your family together in the very middle of the mall hullabalo, shopping bags in arms, holding a sign that says, "Are we having fun yet?" or "Christmas in America," or something sarcastic like that. I think it would be spectacular.
3.) The Christmas Lot. Have I told you lately that I love Christmas tree lots? I actually wanted to get married in one because I had a December wedding.Unfortunately, Pinterest wasn't around and I didn't have enough testimonial "pins" to prove that it would in fact work. So, one day I was walking along, you know dilly dallying at the Christmas tree lot and a wedding was taking place.
So I jumped the bride and pummeled her to the ground. After she apologized for stealing my dream wedding she asked how she could make it up to me.
I made her buy me the most expensive tree in there!
That wasn't a true story. But if it was it would be one of those "and that's how Grandma Hill" got us the largest, most beautiful Christmas tree in the whole entire world.
4.) Hilarious picture with Santa.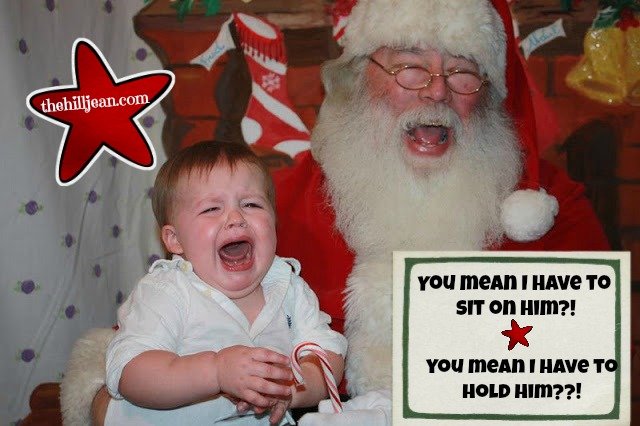 This can't be one where both your kids look ecstatic to sit with him. Those usually aren't funny. What you need to do in that situation is tell Santa to whisper to her that he knows she's been really awful all year. And then snap that. I recommend this trump card only in the most dire of sorts.
5.) Photobombed by the Elf on the Shelf. And this is him, hanging out with me while I write this post. Creeper.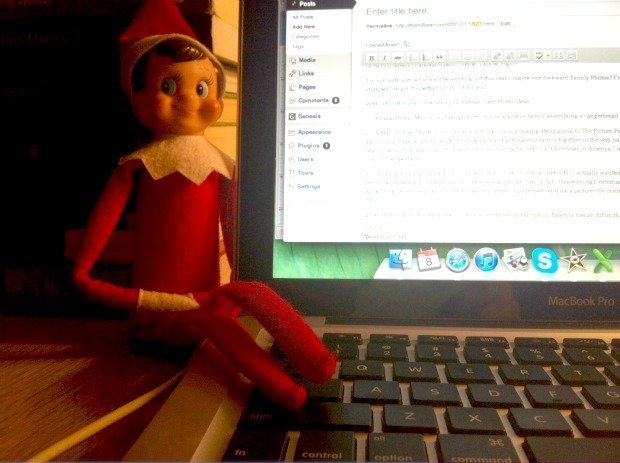 Ok, so by now, every second family in America has an Elf on the Shelf. In order for this to truly be pulled off you'll have to plan a session with a photographer and bring along Mr. Elf. (thats what we call him). I think this arrangement would work bet if you just had him bomb one, take all the others for "serious.
6.) Ice Skating with a muff. I've always wanted to do that–you know like Joe in Little Women. Yes. Have your family dress in their fanciest ensemble, buy some ridiculous stocking hats and wear them. The girls should be in a dress with a beret or something and have her hands delicately laced through the muff.
See? See how picaresque that would be?….photobombed again by the Elf.
7.) Wearing hideously tacky Christmas sweaters ????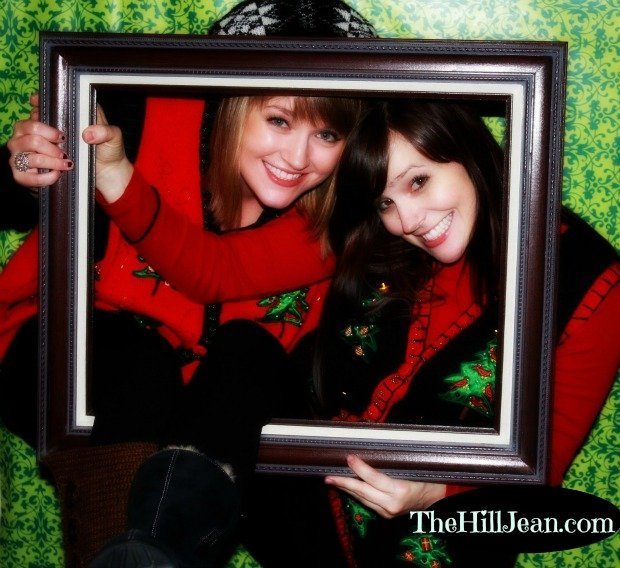 8.) The whole family wrapping presents. I don't know what this would like in your house, but over here? MADNESS. I have to wrap when my kids are asleep otherwise they're running and jumping over couch all the while unravelling a large luxury brand roll of Christmas paper. My kids also like to put tape all over their faces. And bows? Belong on you head, boobs, and butt.
So yah, that's what our picture would look like. Fun, huh??
9.) If you want to look kinda snooty, get the red Starbucks holiday cups–don't really fill them. Then grab every phone or iPad you have and gather around a fireplace. Now, the objective here is to look snooty, disconnected, and sort of modern family christmas. But you MUST all wear Santa hats, to give that nice touch of sweetness that you know is there ????
10.) Awkward family photo! It's harder than you think.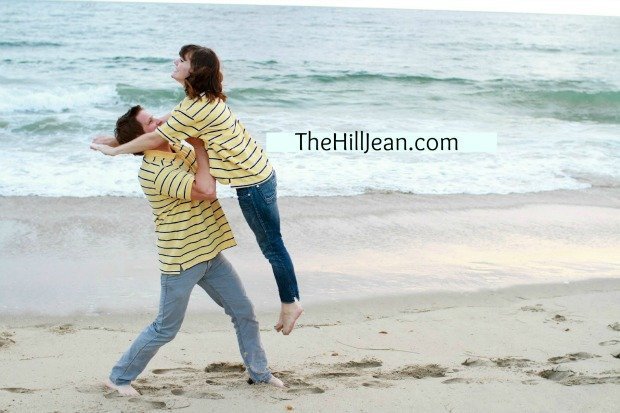 If you're here from Finding The Funny you already are quite primed and prepped for funny posts. I would love to see your best Christmas photos–or worst, depending on how you look at it ????
I want you to pick one of these prompts and stage the photo. Of course you are free to do as many as you like! The point is that you will use one of these as a Christmas card. Come on! Step outside of the box this year! Everyone (myself included)) always takes the manicured Christmas photo. But what if we all committed to sharing a FUNNY Christmas card this year? We could be the change, guys. Be. The. Change.
Maybe you don't want to share a photo. That's fine. I wanna hear a funny Christmas story. What was the worst gift you ever got? A Christmas baking disaster? The worst Christmas sweater or dress you had to wear. A Christmas you'll never forget.
It doesn't matter what it is, as long as it's Christmas and funny or terrible we will love you forever!!