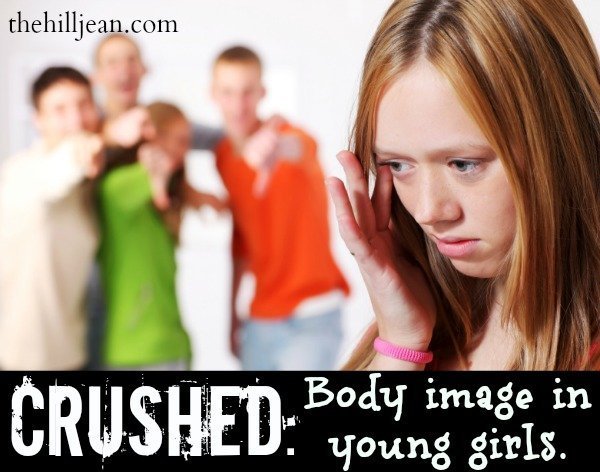 The only thing I have ever successfully sewn is a jumper I made for myself in 6th grade. For weeks, I labored diligently over some blue and white checked fabric. My patient sewing teacher, Mrs. Robinson, coached my clumsy hands to success. It was nothing short of a miracle. That I have never repeated such success testifies the fact.
At twelve years old, I felt pure elation that I could create something wearable! I was eager to show my handiwork to my peers.
A pattern of pink flowers was woven throughout the checks, and I carefully matched a coordinating pink Hanes teeshirt to wear underneath. What better shoes to complete my look than my trusty old hiking boots? Sort of a business-casual approach. Pink socks, a pink scrunchy, and some pink nail polish completed my look.
On that big day, I felt pretty. I liked my appearance. Not even the faintest cloud of uncertainty threatened to shadow my glow. I realize now how rare and splendid such a feeling is for a young girl. For a teenage girl. For a woman.
When do we ever just enjoy our appearance without an obligatory, "Are you sure?" or "If only…" or "I just wish I had…" None of that nonsense tainted twelve-year-old me.
The time and effort invested in my ensemble lent me a well-earned, solid wave of confidence.
How I looked was something that I had planned and put together. By myself. With Mrs. Robinson. I was so proud.
I spent a lovely day telling my friends that yes, I made my dress with Mrs. Robinson, and yes, I would be making more maybe with Mrs. Robinson.
Is it better to have one child?
The daydreaming seamstress: with a dresser full of Hanes teeshirts, the possibilities were endless. Ideas exploded in my brain, and looked something like the cover of a Babysitter's Club paperback.
After school my mom took us to get an ice-cream cone at Thrifty's. I was the last one to get my cone, and therefore the last kid to get to the van.
Cone in hand, I plucked my checkered skirt and shimmied through the parking lot, kicking my clunky heals like a merry clodhopper.
That's when I heard them–the cruel strangers who started it all.
Sometimes I wonder what quality of confidence I might have enjoyed and maintained had I not heard them. I spent my entire adolescence despising my appearance–and I can remember the very moment my self-loathing began.
"Wow. That's about the homeliest girl I've ever seen."
He jerked his head in my direction, and his eyes crawled that ankle-length jumper from top to bottom, and then back again. I accounted for every last dreadful check in the time it took to assess me. He was probably in his early twenties. What business he had checking out a twelve year old I do not know.
My boots felt like lead on that asphalt, and I struggled to take another step.
The other guy just laughed and agreed with something like "Yikes!" They disappeared into the store, clueless that they had just crushed a young girl. A girl on the brink of becoming a young woman. A girl who, up until that moment, felt pretty and confident.
Crushed–shattered–decimated, in one casual blow.
Somehow, I managed to move myself forward and take a seat in the van amongst my noisy siblings. Nobody had the slightest clue that their sister was completely devastated. My ice cream tasted salty underneath the pent up tears, but I waited until I got home to fully release them.
As soon as I shut my bedroom door I ripped the odious thing off, hoping to snap the buttons in my fury. I cursed my new skill and Mrs. Robinson's vigilance.
Not a single button budged.
I wanted to throw the hideous contraption away, but there was no way it would go unnoticed. I had made too much of a show out of it. If I wanted to keep my secret I had to keep up the act. One thing was certain: no one would know of this.
Embarrassment. Shame. Revulsion. I felt all those things and for what? I had done nothing wrong, but it was too despicable for me to say out loud.
Isn't that always the way with these stories? Somebody kills your dream and it's your fault. Ugh.
In my life I've heard some doozies. I don't consider myself to be a very sensitive person, but I've certainly had my share of hurt feelings and hurt pride.
Yet, that comment thrown outside of Thrifty's remains the worst in my life.
In a brief sentence, that guy trampled all over me. It was because he was an adult and a stranger that gave weight to his words. Sure, it would have hurt if one of my friends said it, but I would have fought back. And won. This though, was beyond me. They weren't trying to hurt me. I don't think they wanted me to hear them. It had to be true, and that's what hurt.
I'll never forget that feeling of having the wind in your sails completely withdrawn. Talk about a downer.
In the next couple of weeks I want to talk more in depth about self image and how we handle it in our children. I really hope y'all will open up and share your experiences too. I know we have all heard those crushing words in some form or fashion. If you haven't, well, you're extremely fortunate and probably physically perfect. And you probably don't read this blog ????
I'll be asking this question on Facebook as well, so feel free to answer in either forum:
At what point in your life did self image become a struggle? Would you share the words that crushed you?
Ok, now after such a bummer, you can go read about nice words here!!