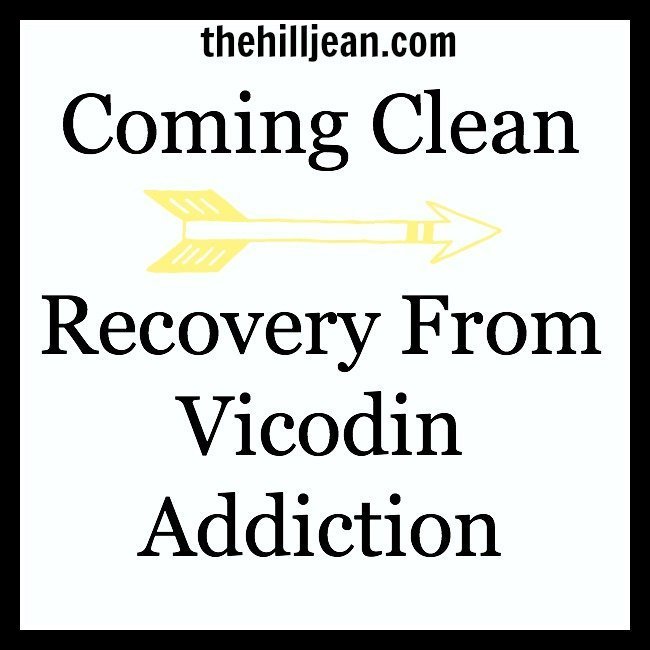 Let's talk about vicodin addiction recovery. Why?
A few weeks ago I came out with my darkest, most ugly, most embarrassing secret. I shared it with the world. I don't know what I expected from such a revelation, but the outcome was better than anything I could have hoped for.
Yes, it was excruciating. I can compare it to labor in how painful it was to deliver such news to all of you. But, with the pain came new life. I firmly believe that spilling my guts to the world sped up my recovery by 90%.
It was wonderful to be surrounded by so much love and grace from friends, family, and followers. I expect many of you want more details about my recovery and so today I'm sharing yet again.
One month clean, guys.
I truly feel like a different person…no, not a different person. I feel like the real me. That person trapped in addiction wasn't who I was created me to be. What a relief to drop that dead weight.
One of the questions that I keep hearing is, "What led you to finally go in and get help?"
Is it better to have one child?
The catalyst? The breaking point? What should we call it?
Huh.
Well, I felt cracked. Like all my seams were busting open and I could no longer hold myself together. Bilbo Baggins described the weight of the ring as rendering him "thin like butter scraped over too much bread."
Whose analogy do you like better? Mine or J.R.R. Tolkien?
Things that used to make me light up inside could barely generate a flicker from me. Laughter has always been a huge part of who I am. My name literally means "laughing one." I was the kid who got in trouble for making everyone laugh in class. Laughter is what kindled my relationship with my husband. I was attracted to him because he made me laugh. (And he was hot).
When I was on Vicodin, I found it difficult to laugh. Laughter that used to come so freely was blocked by a thick and numbing cloud.
That's one of the many things doctors won't tell you about pain killers when they first prescribe them. They promise to numb the pain, and it does. But no one ever said a thing about how it would numb my very nature. No one told me my thoughts would grow cloudy, my perception distorted, and my laughter squelched.
Would I have gone down that road if they had? Who knows. I didn't go looking for this addiction. It wasn't a recreational drug–I didn't take it to get high. I took it to battle very real pain in my body.
Somewhere along the way, it turned on me. What started as pain management became life management. Would you cringe if I told you that I needed two pills and three cups of coffee to get up in the morning? Just a month ago.
I would wake up in pain and seek the only other feeling I could attain: numbness. Yes, the roaring pain in my body would subside, but it felt like I swallowed a piece of myself with each pill that went down my throat.
Now? I'm awake BEFORE the coffee. I don't take pills–just vitamins (and ibuprofin). I burst out laughing for no apparent reason. My senses are acute. I see things, feel things, and even taste things so much better than before! Seriously, the whole tasting thing is getting me into trouble. Food has never been better! I am me, and I appreciate ME so much more! It's FUN to feel good. Oh, and I don't have pain. Yah, thats the craziest part.
I know we've all got our stuff. That's what people keep telling me, and from my little existence on this earth I can whole-heartedly agree.
Oh, there are those people I look at in total wonder—pondering how they are so damned perfect. What darkness has to be in their hearts, I think to myself. From over here it looks all butterflies and rainbows, but facades work that way.
We all need saving. We all drag around something ugly and heavy; a tumor that ought to be extracted. I needed someone to take it out for me. I cried out to my God and he gave me a way. The route was so much gentler than anything I expected it to be.
Yes, detox is a bitch, but when you have a Savior, and the support of everyone you love, it's manageable. It's enlightening. It's freeing.
If there is anything I can encourage you with it is this: be honest. With yourself, with God, with others. Healing is nurtured by truth. The truth will become your best friend once you expose it. But if you try and hide it, well, you'll be shackled to it. Here is another great resource if you're looking for help with vicodin addiction recovery.
I cherish your comments. They warm my heart (except for the occasional mean ones, you guys make my heart go all shrivelly, so keep to yo'selves).
Hugs to everyone!