I grew up in a large family of six kids. While we weren't necessarily "poor," we were definitely not rich. There were certain years that were harder than others.
I remember my mom gently preparing us for a Christmas that wasn't padded with a myriad of gifts. I'm sure her task wasn't easy–after all, we lived next door to the two kids who counted and reported each and every one of their thirty-eight gifts. Each.
But Christmas was always magical. No matter how dire the finances–gifts appeared. Stockings were stuffed. And Santa always came. Looking back now, I realize that the "magic" happened because people cared about us. They collaborated.
I'll never forget the look on my mom's face when a check came in the mail. When a basket of gifts arrived on our doorstep. THAT, my friends, is how magic happens in a world that is not made of fairy tales.
Now, who here would like to be a fairy godmother? I'd like to be Cinderella, but my feet are too awkward. Therefore, I shall be the plump and ever-happy fairy-godmother. And you can, too! Don't worry, if you want to be a tight-ass fairy godmother that is fine too.
Here's what you need to do: dig through your closets. Or rather, your kids' closets. You know that fancy little Christmas number your daughter wore last year to the Christmas Eve service? I'm betting it doesn't fit her anymore.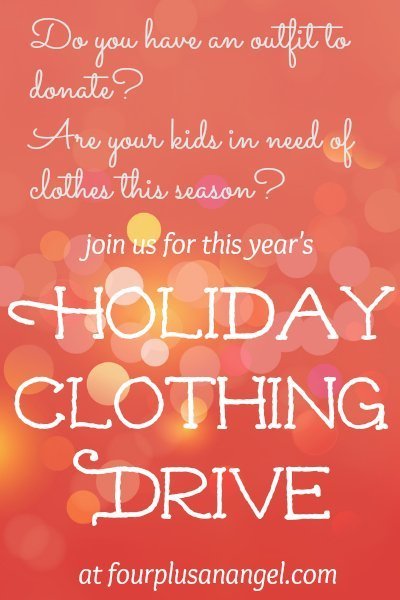 Well, it could fit another little girl this year and blow her away with Christmas magic.
There is a mom out there telling her daughter she can't afford a new Christmas dress for her. Well, guess what? I'm betting you or someone you know can provide that dress for her.
It's easy! My friend over at Four Plus an Angel has put together a Holiday Clothing Drive for families in need of clothes. It's simple, all you have to do is fill out this form:
Holiday Clothing Drive