It's December!
You guys, this is my favorite month of year! So much goodness packed into one month.
First, my birthday is tomorrow. It's ok, if you forgot to send me a gift via mail there are always amazon gift cards.
Second, my anniversary is in two weeks, and for some reason my little brother wants to share the anniversary weekend. Therefore, a wedding!
Third, duh.
It's Christmas!
It's a crazy month–packed with excitement. I don't want to let it pass me by. I want to savor moments with my family–my husband–my friends.
I'd like to share some family activities for December that can either be tailored into one-on-one dates or enjoyed by the whole family.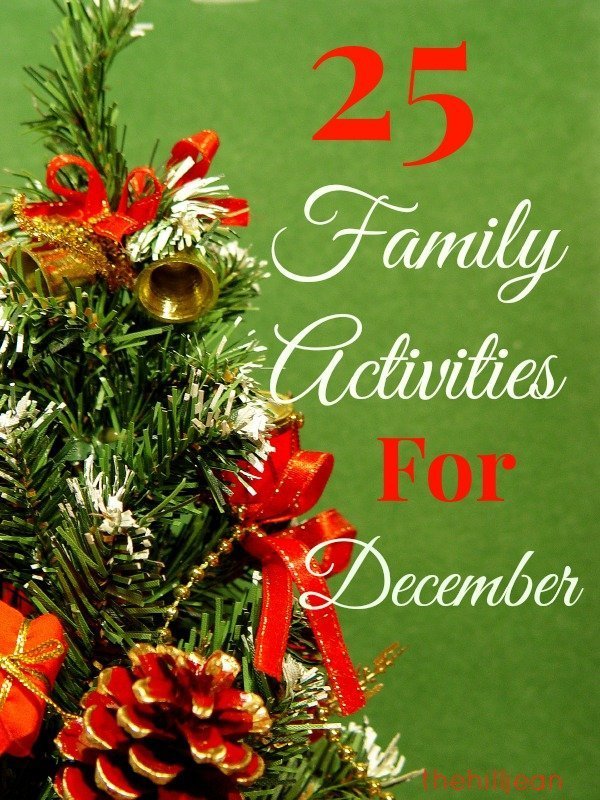 1.) Go see Frozen. I have not seen it yet, but I hear it's awesome. It's on our list of things to do–once we get paid ????
2.) Go to the snow. Ok, so maybe you live in Florida. Find a place with fake snow. I know someone who actually bought a snow machine so that her kids could always have a white Christmas. She's my favorite.
3.) Make fancy popcorn and watch a Christmas movie…or better yet, have a Christmas movie marathon!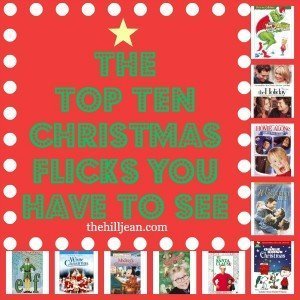 Is it better to have one child?
(Oh, and if you need a recipe for "fancy popcorn" check out my Christmas Popcorn!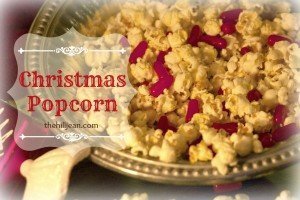 4.) Go on a hike. Hikes are magical. I got to go on one this last weekend with two sweet friends. Just getting out and about recharged my attitude. This is especially nice when all you can think about is your lack of money and the pressure of commercialized Christmas.
Can I get an amen?
5.) Make an advent calendar. These can be as simple or elaborate as you like, and just because December already started doesn't mean you're too late to do one now. Here are twenty different options for Advent Calendars.
6.) Make spice ornaments. This is something I plan on doing this week. These can be used to decorate the tree or even function as gift tags.
7.) Take awkward Christmas photos. I love awkward. I love Christmas. Combined, these elements are a match made in heaven. (click on the photo to view post)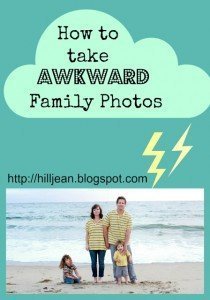 8.) Do good. Whether it's finding all the bell ringers in town and dropping money in the bucket, or giving a volunteering at a soup kitchen, do good.
9.) Go ice-skating. Even though you can do this any old time of the year, ice skating at Christmas is something special. Wear scarves and beanies–go find your inner figure skater. Or hockey player. Whatevs.
10.) Write a really funny Christmas Letter. You know those letters that basically tell of all the successes of a family? Yeah, why not write one that is both realistic and funny? Heck, you can fabricate your foibles if it makes someone laugh. I do it all the time…kidding.
11.) Make a gingerbread house! Ours always turn out terrible, but we have a blast making them.
12.) Have a Christmas dance party. The music is phenomenal. We all know you want to get down with Jessica Simpson's Santa Baby.
13.) Go see a live performance of The Christmas Carol. I love this story so much. I think it really captures Christmas so well. I mean, God bless us everyone for Pete's sake!
14.) Go Christmas light viewing. I don't know what to call it. Just bundle up, pack a carafe of hot cocoa (spiked, if need be) and go visit the pretty houses with the pretty lights with the not so pretty electric bills.
15.) Find (or make) a fire pit and roast smores. I think we'll be roasting smores on the beach this year ????
16.) Go sledding. No. no. no. I don't want to hear that you don't have snow. I say you improvise.
a. Take sleds (or boogy boards) to the beach dunes and "sled" in the sand.
b. Use a kiddie pool or actual sleds and go down a slope of wet leaves. Or grass. Or mud. Whatevs.
c. Don't have a hill? Find some stairs. Go down on a piece of cardboard. Trust me, it's fun.
17.) Cook a traditional feast from a culture you don't know. Want some inspiration? Try an Ethiopian feast. I have an Ethiopian friend and I reeeeeeeaaaaaalllllllyyyyy dig the food she makes. It's so fun to try something new. Here's a menu for you: Ethiopian feast.
18.) Make Christmas candy. I have wonderful memories of making candy with my Aunt Gloria. She even had a candy thermometer! So find a bunch of yummy candy recipes and try to not make yourself sick while making them ????
19.) Host a game night. The other night my family had a BLAST playing Things. Holy cow that is a funny game. No, this game is not suitable for young children. Unless you have a very clean mind.
20.) Go hot-tubbing. This is something for the adult (or almost adult crowd). The fun part is sneaking into places you shouldn't be-like hotels. Extra points if its residential. Too many people in the hot tub? There's an easy way to clear it.
21.) Go on a photo scavenger hunt! Whether it be Nativity scenes, Disney montages, or just plain old Santa Claus, set a goal and see if you can get X amount of photos in X amount of time.
Need some ideas? Here's a photography bucket list for Christmas photos: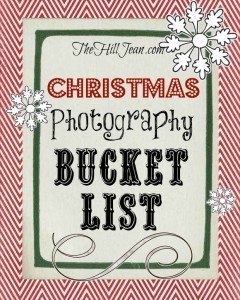 22.) Go to an elderly home and hang out. I'll never forget the feeling I had when I watched my Grandma (who had passed away) in a home video of a nativity scene put on by her nursing home. It was precious. I could hear her voice ring out above the others. She was an angel. Literally. That was her role. It doesn't matter what stage in life you're in, people enjoy tradition and playing a part in it.
This year I want to try and take my children (well, maybe just Coco) to a nursing residence and see if we can shine some light.
23.) Watch a performance of the nativity. No matter how clumsy, there is something so sweet about seeing little kids reenact Christ's birth.
24.) Decorate a tree for the birds. You know, peanut-butter-birdseed-ornaments and the like. Note: this will likely attract critters, so if you don't like critters–don't decorate for them.
25.) Go shopping. Ok, I ran out of ideas. But hey, you probably have some shopping to do this month, right? Why not make it a fun date rather than a stressful ordeal.
Do you have any family traditions you like to do in December? I'd love to hear!
Also, if you're looking for things to do specifically with kids The Mommy Mess has a great list too! Just click the photo ????