I guess I'm what you would call a veteran mom. I already had two kids and learned the ropes before this third baby. Right?
Meh.
While I am definitely more comfortable with some things, like breastfeeding, I am just as much of a newbie when it comes to understanding this new little creature in our home.
Every day is an adventure with him. Not like an Indiana Jones adventure where I am running from snakes and swapping sand for diamonds. Not like that.
It's like a love adventure, you know? I guess you could relate it to that phase in dating where you're already in-love but each day that love grows more and more. You wait for that ever-expanding balloon of love to pop, but it doesn't. It just gets bigger.
The adventure is the love, yo. I added the "yo" so it wouldn't sound so sappy. But if I'm being honest, this love I have for my new baby is crazy sweet. I learn something new about him every day, and that is the adventure.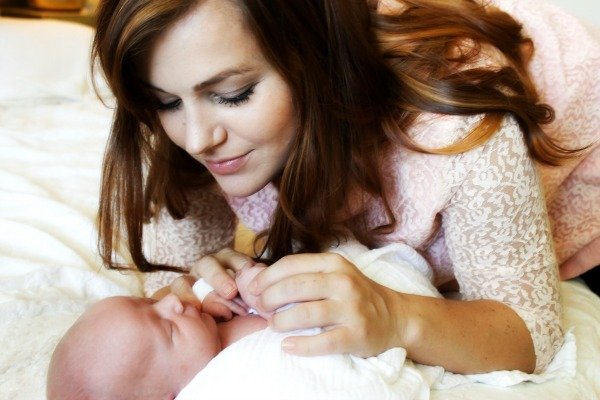 He likes to pause while he's nursing to look up and smile. It's a slow, luxurious smile that he beams up at me. Like he has all the time in the world and he wants me to know how important I am to him. Sometimes it's the only 'thank you' I get from my offspring in one day. But man does it go far!
When I bathe him he holds onto one of my fingers throughout the entire process. I don't think he's scared, but he's definitely not used to the water. He blinks at all the curious sensations of water and soap and washcloth, holding onto me like I'm a life-raft. And when I slip his little hooded towel over his head and mop the water off of his face he just stares at me in wonder.
I think it's safe to say that each day is an adventure for him as well.
He's learning things. Learning to recognize the voices of his family members. Learning to find Mom's face in a room of people. Learning to express his joy and satisfaction with sweet little coos and chuckles.
He's my last baby. My last parenting adventure (knock on wood, throw salt over shoulder), and I want the best for him. I have to work fiercely to protect him from all the germs and craziness that his doting siblings bring to him like shiny presents.
"Mommy, Tenny's sucking on my finger! He likes my finger!"
Is it better to have one child?
Talk about a wash of dread pouring over me.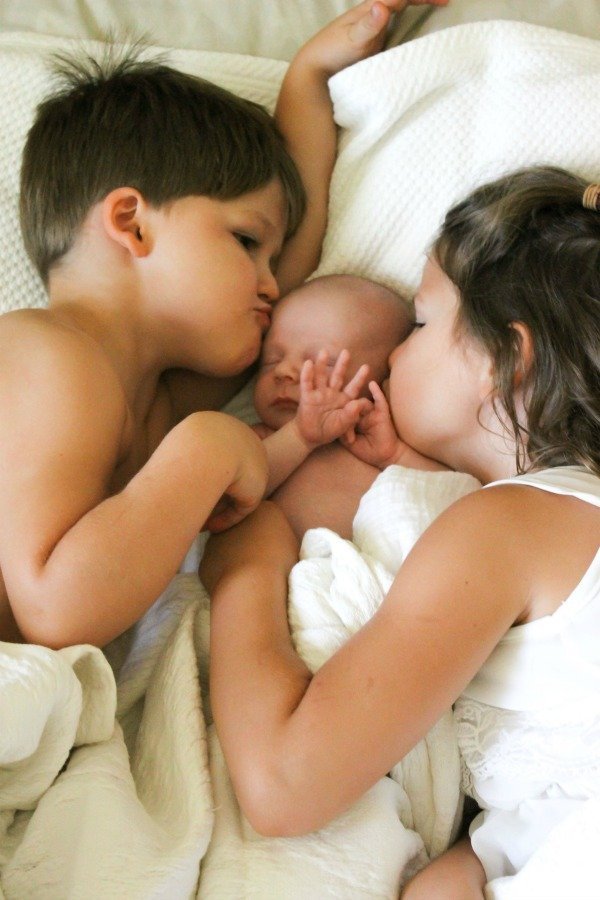 And that's just ONE of the little Indiana Jones crazy obstacles that come my way in a typical day with Tenny.
While it would be super cool to wear a hat, and brandish a bull whip in those instances where Tenny's health is threatened—it's just not quite the arsenal I need. Plus, it would scare the bajeezus out of my children. And husband.
Instead, I have some handy tools.
Like Babyganics Foaming Hand Sanitizer and some lip balm.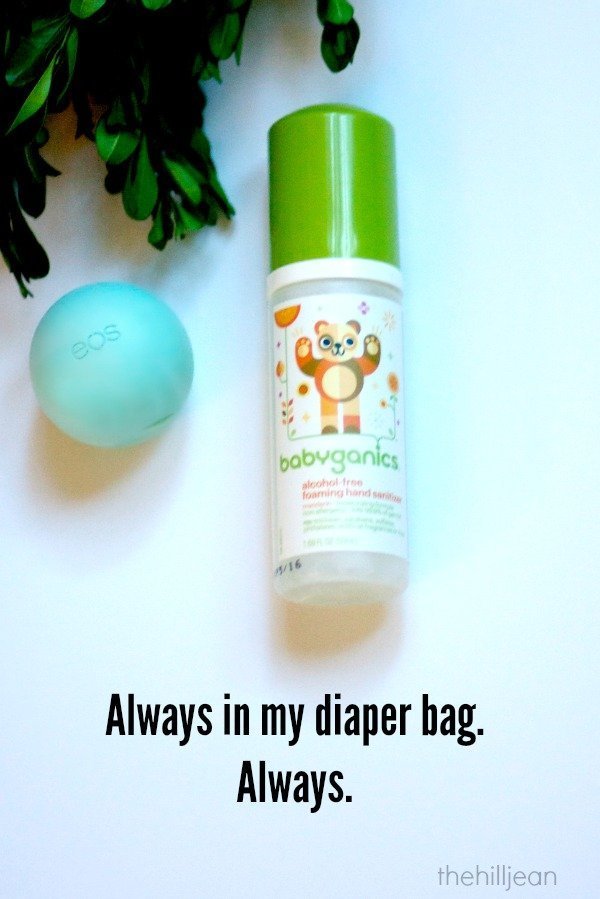 Ok, the lip balm isn't for anyone but me and my chapstick addiction. But the hand sanitizer is for my entire family. And this is my preferred choice because it doesn't smell like a bunch of alcohol coming your way. The fragrance is light and the foam absorbs pronto!
Sometimes those fingers wind up inside his mouth or on his pacifier before I can clean them.
So, I like to use Babyganics Face, Hand & Baby Wipes to keep Tenny clean between baths.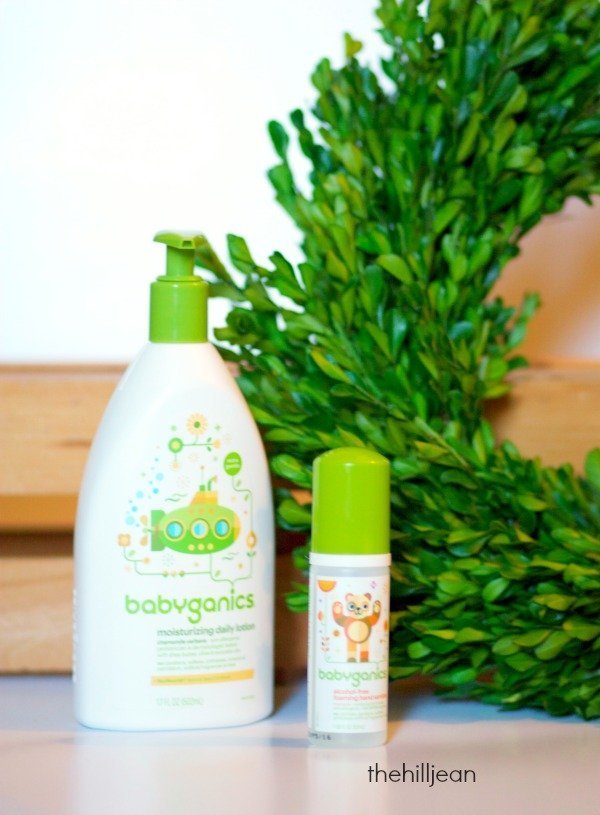 I've actually used these on my own face to see how they hold up for makeup removal. Yes, its kind of a trick I pull when I don't want to wash my face.
I just use baby wipes. Blink, blink. Don't tell the beauty bloggers.
The Babyganics wipes are gentle and don't leave the skin smelling like some science experiment with baby powder.
Speaking of smelling nice, I really like the Moisturizing Daily Lotion in Chamomile Verbena. There is no parabens, sulfates, phthalates, mineral oil, or artificial nonsense inside it.
I'm pretty picky about what I put on these delicious little legs, and this stuff meets my standards.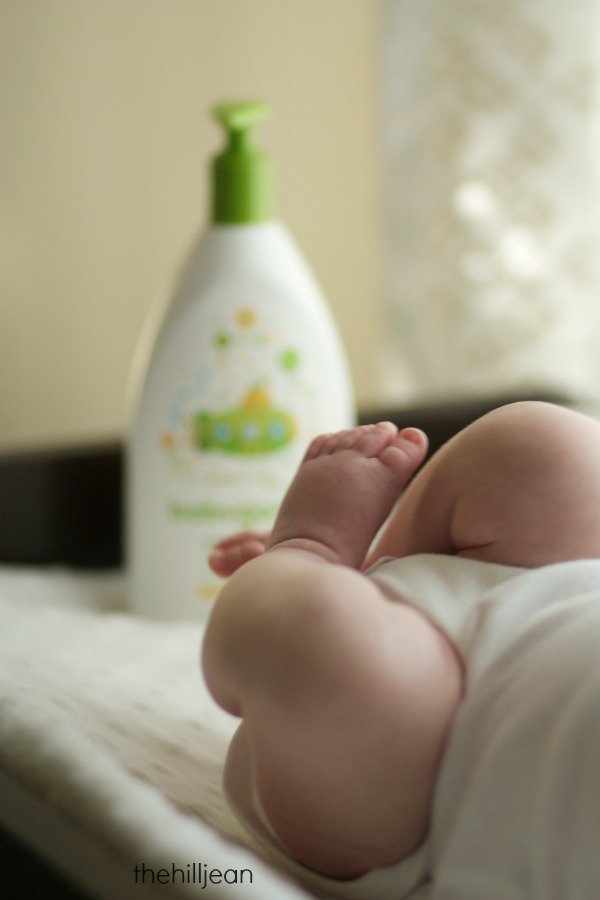 The adventure I'm on with this third baby is sweet, and I want to make sure it stays that way. I realize I cannot control everything (and wow, does that drive me nuts) but I do feel good about keeping the house, and critters children clean and germ free. I guess you could say that's one trick this veteran mom stands by.
***
Whether you're a veteran or a newbie–what do you do to ensure that your child's adventure in life goes as smoothly as possible?
Leave a comment for a chance to win a $100 Visa Gift Card
Sweepstakes Rules:
No duplicate comments.
You may receive (2) total entries by selecting from the following entry methods:
1. Leave a comment in response to the sweepstakes prompt on this post
2. Tweet (public message) about this promotion; including exactly the following unique term in your tweet message: "#SweepstakesEntry"; and leave the URL to that tweet in a comment on this post
3. Blog about this promotion, including a disclosure that you are receiving a sweepstakes entry in exchange for writing the blog post, and leave the URL to that post in a comment on this post
4. For those with no Twitter or blog, read the official rules to learn about an alternate form of entry.
This giveaway is open to US Residents age 18 or older. Winners will be selected via random draw, and will be notified by e-mail. The notification email will come directly from BlogHer via the sweeps@blogher email address. You will have 72 hours to respond; otherwise a new winner will be selected.
The Official Rules are available here.
This sweepstakes runs from 10/16/2014 – 11/15/2014.
Be sure to visit the Babyganics brand page on BlogHer.com where you can read other bloggers' posts!