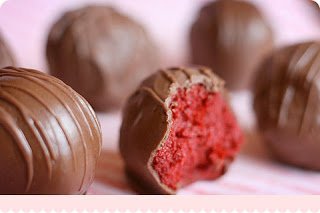 This is not original at all. I completely, unashamedly cite this idea from two different places–both worth checking out if you haven't already! Anyways, if you know me at all you should know that I am a sucker for sweets. You know how people say, "I've got a sweet tooth"? Well, I'm pretty sure that when God made me He supplied me with four sweet teeth, or something outrageous like that. It is literally the thorn, dare I say fang in my flesh. Ahhh! Thats what comes of studying Dracula narratives for two months–sorry to digress. That being said, the internet has provided me with a whole new array of temptations. That kind of sounds bad…I am totally talking about food here, for all you dirty minds. And the fact that I just said that makes me the one with a dirty mind cause if you didn't already think it, but I did, then I've just revealed my dirty mind. Ok, enough of that. I'm in a mood. I am literally brain dead right now, and all I can think about are these sweet lil' Grapes of Fat (get it?)
I am always thinking of fun party ideas. Not that I host a bunch of parties, I never do. But if I could, I would plan them all the time. So this is one of those ideas to tuck away for a party, baby shower, wedding, or maybe just when you're in the mood to hop off the healthy bandwagon and embrace sugar. I usually do this whenever I go up to Tehachapi. Being around my sweet fam makes me want to eat sweets ???? I first found this at
The Pioneer Woman
, and then I saw that she referenced the real mastermind
Bakerella
, as the source for all this wonderfulness.
If you ask Matt, he will tell you that the top box cake is Funfetti. In fact, when we were planning our wedding he
really
wanted our baker to make a Funfetti wedding cake. It was very important to both of us that our cake taste good. If I were to do my wedding over again, I would probably change a bunch of things (simply because of my changes in taste) but my cake would remain the same. Chocolate cake with mini-chocolate chips, fudge filling, and fudge icing. It wasn't a white cake–it was a piece of fudgy art. Loved it! And when we got back from our honeymoon, we finished off the leftovers that Leann hadn't gotten to yet ????
Sweet memories, but back to Funfetti. I made these little bombs with Funfetti cake, and Funfetti frosting. Wonderful! But my mind is exploding with possibilities–think: carrot cake with cream cheese frosting, cherry-chip with cherry frosting, spice-cake, pineapple cake, coconut cake….the list is endless!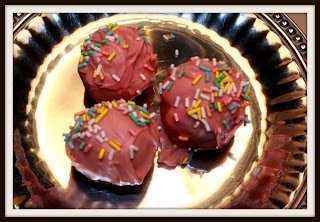 (these are the ones I made)
And the reason I'm posting this as my thrifty idea is because, if you want something special for a party/shower, this would be such a cheap, adorable option. Also, if someone gave these to me as a Christmas gift or thank you gift, they would be entered in the hall of fame gift-givers in my book.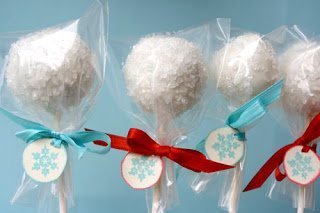 How cute are these? (from Bakerella)
There's all these other ideas for displaying them, but I'll just let you peruse Bakerella for that. Anyways, they taste delicious, and even though they are like a triple whammy of sugar evil, they are small. So you can eat four and feel terrible, or one and just a wee bit bad ????