I remember that when I started potty-training and set the precedence of rewarding Coco for doing her business I worried that I would have to give her M'n'M's until kindergarten. I wasn't sure when the process would cease to be a reward program and evolve into a private matter. I doubt that anybody really remembers the transition, and if you do, shame on your parents for keeping you in diapers for so long!
Anyways.
The other day I realized we had made serious headway.
Maybe too much.
I might have created an anal retentive child. Dear Lord.
This is the breakdown of our transition into "private matters":
Coco: "I need to go potty!!!"
Me: "Ok, run, run, run!"
We both frantically ran to the bathroom and I plopped her on the toilet.
Coco: "Go away."
Me: "Ok, let me know when I need to wipe you."
Coco: "Go away."
Since privacy is something she has recently instigated, I try to respect it and always go in the hallway 'til she calls me.
"Wipe me!"
I walk into the bathroom.
"I go poop. Don't look at it!"
Me: "Ok, I'm not gonna look."
Coco: "Don't look at it!"
Me: "I'm not!"
Geez. When did she get so anal? She's starting to resemble a certain uncle (who shall remain unnamed) who hasn't seen his poop since he was like 9.
Wipe–wipe.
I pull up her miniature panties and jeans, and straighten her top. She looks at me with a dead-pan, sixteen-year-old expression.
Me: "Good job, Coco!"
Coco: "Don't tell me that."
Me: Duhhhhhh…?
**********************************************************************************
She wasn't being disrespectful. She actually had a sweet voice when she uttered those words. She was growing up, that's what she was doing. She made the transition.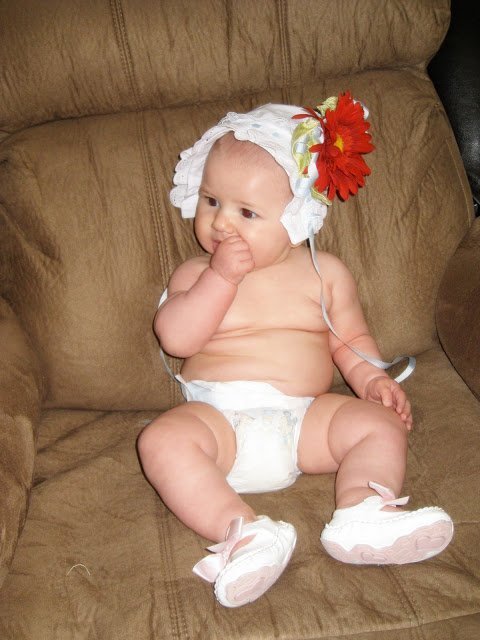 Coco at about five months
Coco at two years and five months.
Ok, so maybe she has a bit of an attitude too. I suppose what I'm trying to get across is that she has developed a sense of privacy–awareness. It's an interesting thing to see that happen.