A letter to the Easter Bunny from my two year old daughter's perspective…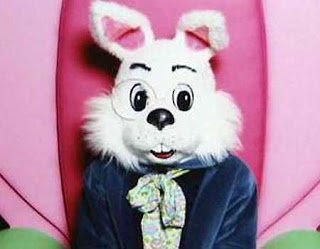 Dear Easter Bunny,
Everything was fine until I saw you. I was happily leaving the Disney store, my favorite place in the world so far. And, Mommy and Daddy told me we were gonna get a cookie. I was thinking about that cookie when I saw you.
You look a lot bigger in person.
How come you're so much smaller in my books at home?
You're even bigger than my Daddy!
I didn't know you were going to be so big.
And I know from Santa Claus that you want me to sit on your lap.
I DONT WANT TO SIT ON YOUR LAP!
Your whiskers are long. I can see them from here. They look like long spiders.
You're wearing a bright purple vest. I was thinking you should go with the more pastel scheme? You know, perhaps read a bit of Beatrice Potter for reference?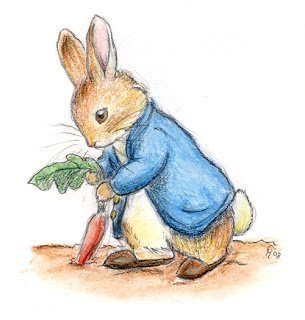 You don't look like you've ever read The Tale of Peter Rabbit.
I don't care if you'll give me candy. I wont sit on your lap.
Please don't come on Easter.
And please don't come if I'm naughty (Daddy mentioned something about you returning? You won't, right?)
My Grandma told me that you're high in the sky. I wasn't aware that bunnies can fly, but if Santa can get up there I'm sure you can too.
So please stay there.
I hate the mall now because of you.
I don't want to sit in your lap.
As sincerely as I can possibly be,
Coco
---
---