Yesterday I woke up at 6:40 AM without the sound of the alarm. Isn't that impressive? Oh wait, I remember why I woke up. Chaucer came bounding into my bedroom crying and singing Barney and begging me to let him wash the dishes.
It was a nice little ice bucket dunk into the morning thingamajig that I spoke of earlier (as in a week ago). And I must say, I was quite the pistol yesterday. I worked out, I did laundry, I changed sheets, I washed an incredible amount of dishes leftover from our labor day celebrations. What else? Oh, here's the clincher, I took BOTH kids to the store BY MY SELF. This is always a huge deal round here.
In a word, yesterday was a success. And if I'm being honest with ya'll (which apparently I am) it was the first *ahem* success since I posted about my morning person metamorphosis. Yep, there's a reason I hadn't given you an "update." It's called sleeping in.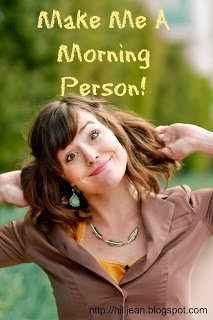 I've figured out what I have to do the night before in order to get up like I'm supposed to. Money Saving Mom talks about making a list of Evening Must Do's. Here's my list of priorities (they'll obviously vary from night to night, but there are definitely a few constants):
Is it better to have one child?
1.) Make coffee the night before. This is huge, folks. One of these days when we're rich and famous I'm gonna go to the Walmart and buy me a fancy machine with an alarm on it. That way, my coffee will wake up before me!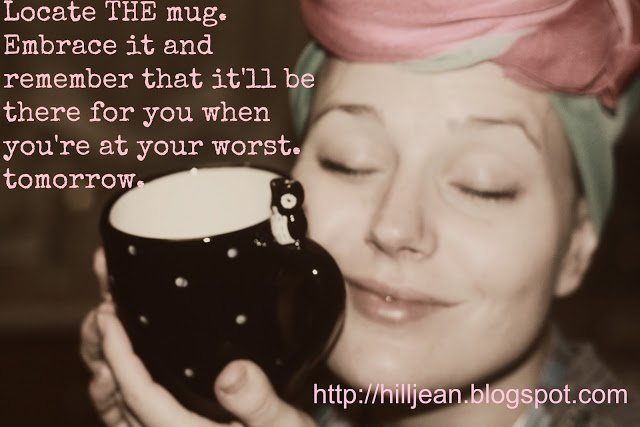 2.) Clean my kitchen. This has always been a no-brainer but sometimes I skip it. And when I do I want to hide under the covers til my fairy godmother, or better yet my mother-in-law shows up and cleans it for me.
3.) The other thing that makes mornings more tolerable is folded laundry. I hate laundry. I hate it with every fiber of my being. It's about the most demotivating thing in the world to wake up and still need to fold laundry.
4.) Pick up the kids room. In a perfect world, they would be doing this every night before they go to bed. And sometimes the stars aline and everything happens like it should. But even then it doesn't look as nice as when I do it.
5.) Try to wear a turban. Now, I can't say if this will be a nightly priority. We'll see. But I happened to receive a prize in the mail today! I won a sarong from a giveaway on themommymess.com. Naturally I had to see if it would also function as a turban. And whadya know? It did!
FYI sarongs are sexy. I don't know if I'll have the guts to wear it out because I look like a goddess in it and I don't know how comfortable I am with people worshipping me. I think the turban might be a safer option, ya know, to keep folks from idolatry. We all have our burdens.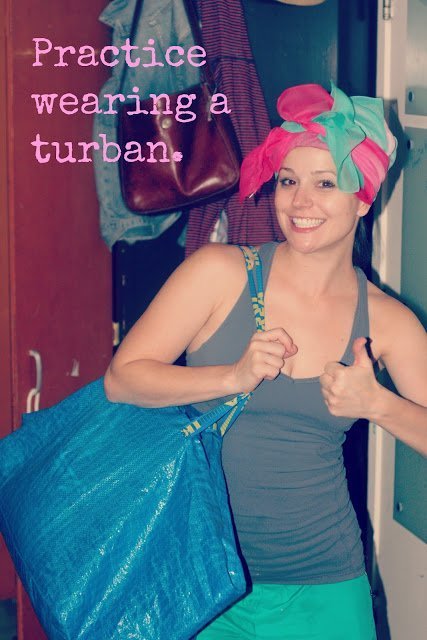 This is my laundry bag. You should have seen the look of disapproval on my hubs face. He thinks I'm so weird.
Welp, I must say, my five priorities DID in fact help me get up again today. What helps you get up in the morning? And don't say it's waking up at 4:30 to work out. That's NOT going to happen over here. ????