Last week, I shared my special advice on what to say to people that comment on your parenting. I equipped you with a handful of one-liners that would simultaneously shut the trap and drop the jaw. Huh? How is that even possible?
Don't worry about it.
If you missed it, go back and read it! Yes, I even suggest using nicotine withdrawal as an excuse. For your kid. Uh huh.
This week, the beauteous Mama Kat asked another thought provoking question: What is MY pet peeve about other people's parenting?
I could talk about the people that think God has revealed to them the ONLY way to parent, cause that annoys the crap out of me. But I'd rather go with a jucier peeve. And that is a gross expression. Juicer peeve.
I must confess it was inspired by watching a little too much TLC. That's a confession because I'm pretty ashamed of it.
I'm gonna talk about Pageant Moms. And yes, I realize I may offend some people, but I figure I've already blown it with last week's post, so what the hay. Also, I don't think Pageant Moms have the time to blog…
Is it better to have one child?
???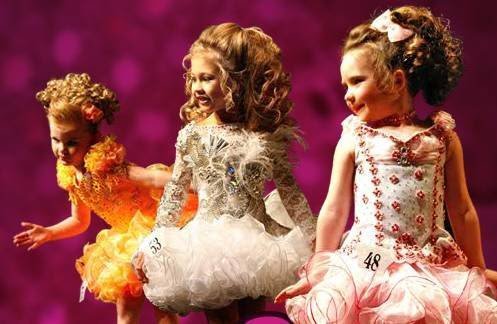 Photo found here. Nice little article on the sexual exploitation of children in pageants.
?? Here's my beef with Pageant Moms:
1.) Just because you're all fat and frumpy now doesn't mean you need to parade your child in front of other psychotic mothers and arbitrary judges to validate the fact that you DID produce a beautiful creature. Lose the sweats, hit the gym, and let your kid be a kid. Not a Barbie. What's that? But you like Barbie clothes? Fine. Wear them yourself. Your not-yet-potty-trained-BABY should be wearing rompers and onesies. Not ballgowns, bikinis, and stilettos.
2.) I don't care if this goes into a "college fund." By the time she's of age for college she's going to be such a bimbo that she'll be beyond repair. And don't tell me you're trying to boost her confidence. Getting judged for how she looks in a bathing suit at age 10 is NOT going to encourage ANY confidence.
3.) Your kid is hungry. Feed them.
4.) Your child needs training for using the potty, holding a spoon, and sharing. NOT fake smiling, waving, and shaking her booty.
5.) Um, it's not "talent" when you're standing in the back doing the same stupid dance that she's doing on stage.
6.) Thank you for teaching your two year old to be a Mean Girl. The world definitely needs more of them.
7.) And how about we DONT spray tan your 4 year old? Why don't you just shower her with pesticide while you're at it. Ya know, to get the bugs off. Creep.
8.) This isn't going to help her "talk about Jesus to people" someday (yes, I heard someone use that as an excuse once). In fact, its probably not going to help her talk about anything with anyone someday. Except maybe the best way to lose 5 pounds in one day. Or something.
9.) So she didn't win a gigantic crown. Don't get all pissy at them or other people because of it. If you would have just put her in soccer she wouldn't have had this problem. Put your two year old in a sport that allows EVERYONE to get a trophy. This is not the time to be competetive.
10.) They are KIDS. Not seals that jump through hoops. Not poodles that need pedicures. Not adults that need diets. Kids. Let her be the one that plays dress up. Let her put cowboy boots with a Cinderella nightgown. Let her be in the sun without thinking about tanning. Leave her eyebrows alone. She has the rest of her life to worry about plucking and waxing. Let her see things without false eyelashes obscuring her view. Let her see the world as her oyster, not her competition goshdangit.
Ugh. I honestly harbor so much anger at people that choose to exploit their children. I don't mind sounding self-righteous about this because I believe 100% that this is WRONG. Exploitation bleeds into other realms like sports, music, acting, academics…as parents we need to be conscious about this trend and avoid it at all costs.
Ok, done with my soapbox. Head over to Mama Kat's and read her pet peeve. Also, Amanda at Parenting By Dummies has a spot-on list as well!