I wrote this post almost two years ago, and this trend is STILL happening. So I've updated this one a bit and hope you'll enjoy. If nothing else, read through the comments. I swear I did not write them all, they just didn't transfer properly when I moved to wordpress. Some people get their panties in a twist over this subject. It's so fun.
I just hope they don't get twisted in your short shorts. That would be quite difficult to unwind.
Here's the short answer:
Don't do it.
The other day I went shopping (for the first time in ages, apparently), and I was alarmed by the new trend that's broken out like pimples on the sales racks.
Is it better to have one child?
Cropped shirts. Boxy, cut-off, slouchy necked tee-shirts of 80's fame.
The first thing I felt was betrayal. I thought people read my blog. Didn't I outline quite clearly how to look like a diva? Geez.
I'm just confused. I don't know who the targeted consumer is for this product. It seems like it's being produced for a large number of people (judging by the eleventy-million out there), and yet, I feel so left out. But not hurt. It's like I wasn't invited to someone's trumpet recital. I am disturbed that they didn't ask me, but relieved that I don't have to go.
That was a tangent.
What was I saying? Oh yes, that cropped shirts are horrible.
I'm gonna make this easy for you. I shall feed you a short list of reasons why not to wear this short shirt. Pun intended.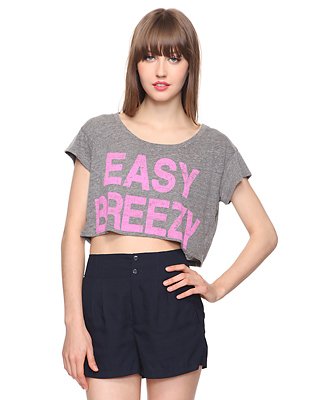 Reasons not to wear the "Boxy Top" or "Cropped Top"
1.) If the word "box" is used to describe it, you probably shouldn't adorn your body with it. While boxes can be used to make some pretty snazzy Halloween costumes, they're generally not seen as flattering or even acceptable attire.
2.) Unless you're a giant, the waist is not an area you want to "shorten." I would think this is common knowledge by now.
3.) These shirts are a cop-out for both casual and sexy categories.
Pick one. Either wear the full length tee-shirt, or wear a tube top. Take your pick. But don't dance around on the fence like you're Jennifer Aniston. Because let's face it: she would look great in a burlap sack, and she has the presence to pull it off. But it still doesn't mean that she should.
4.) There really are no great solutions for the "bottom" portion of this "outfit." Go ahead. Google it. See what you find. I'll do you the favor of giving you a few links that "show" you how to work this outfit. But in my opinion, pencil skirts and balloon pants have their own score of problems that further complicate the shirt. Go to Fabsugar to see how "brilliant" their pairings are. The New York Times even gives some advice, stipulating that the top be worn "below or to the belly-button" in order to avoid the exposure of unsightly love-handles. Just don't raise your hand, bend over, or hug anyone in this shirt. Unless you're this gal, who probably hasn't had a love handle since she was five months old.
The New York Times
5.) You know that old adage "dress for your body type"? Well, this shirt does not really work well with any body type. If you are endowed with a large bosom this shirt will make you appear larger. And boxier.
If you are smaller up top this shirt will give you a more child-like appearance. Maybe even boyish. And if you're into that sort of thing, that's fine, I suppose. But there are other, more flattering ways to achieve this.
I will concede that there is one "positive" feature to this new trend. For example, it's the perfect DIY project when you have nothing to wear. Simply browse through your husband's (or anyone else that won't miss it) drawer and locate an old tee-shirt. And then cut away. Ta da! You're suddenly sporting the latest look on the runway.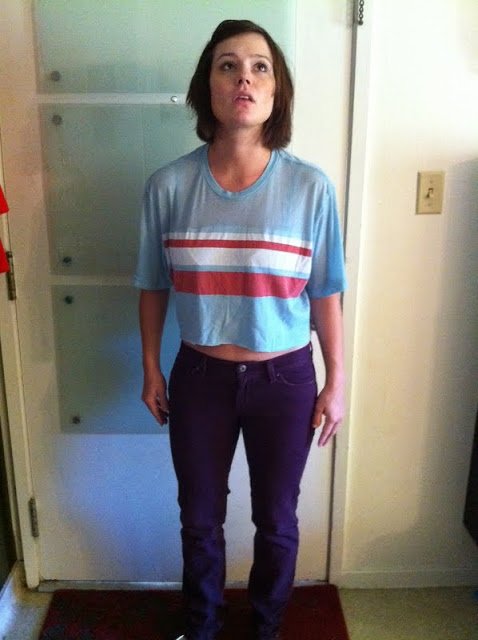 Me doing a horrible job modeling. I was trying to look like the girl in the first picture.
Now, please, don't everybody go do this at once. I was merely illustrating how ridiculous it is to go and actually SPEND MONEY on this type of shirt.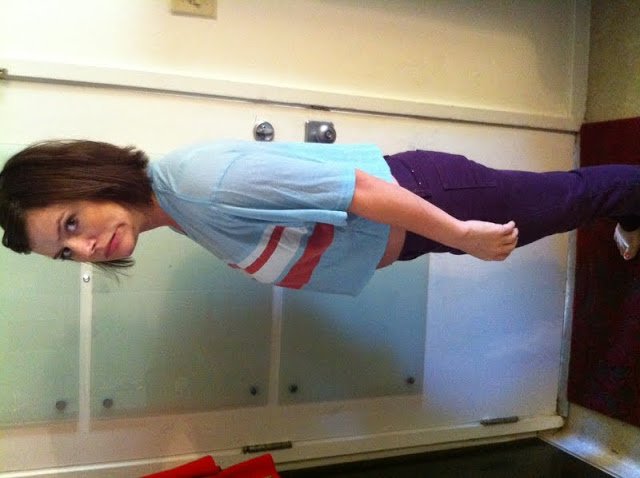 I'm only sharing this picture because I care about my readers…And I really do love you guys, but I bet I'm gonna regret this someday. Like tomorrow. Yeeks this is awful!
I don't think that it will last long. It's a fad; a "challenge" for fashionable people to look attractive while wearing something hideous. I'm sure it's achievable. I just know it's not for me. I mean, I TRIED! I even wore my best American Apparel-esque purple pants (that were actually from Ann Taylor a few years ago) and I still failed.
But that's my point: it's a fashion fail to try and get away with this.
Also, be aware that some are saying that this trend is migrating to men's apparel as well. When this happens just head for the hills, ladies. The end is near.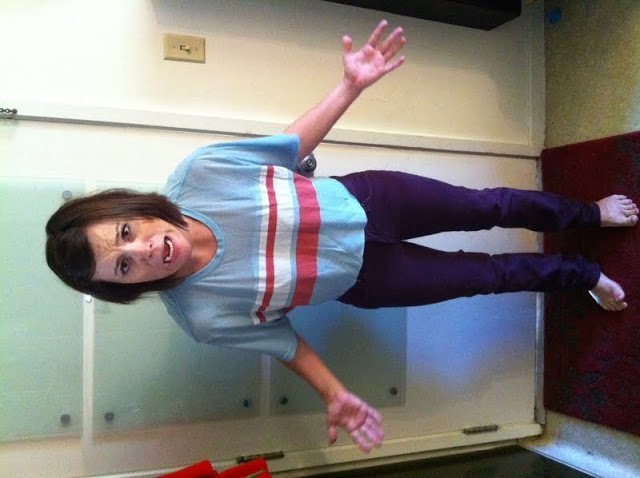 ***
Almost two years later and this trend continues to haunt me…only it got worse. Now we have cropped shorts to pair with the hideous top.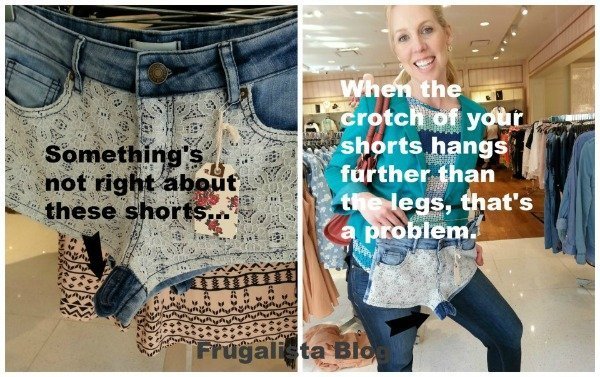 Geez Louise. You guys, we are facing a freaking CRISIS this summer. We need to talk about this! Prepare! Scavenge for longer shorts.