A few weeks ago, Matt and I got to get away on a date while his parents watched our kiddos. We sat beside a firepit at one of our favorite restaurants in Davis. I don't think either of us cares much about the food, but sitting beside a blazing fire and sipping a glass of wine is a great way to spend an evening. Dontcha think?
Anyways, while we were sitting there (with about six other people) I overheard a conversation between two young women. I gathered that one of them—the one that did most of the talking—was a teacher. She was going on and on about how "busy" and "crazy" her life is. How "hopefully things will settle down in a few months," and how things would be "easier once a routine took over."
I'm pretty sure she was talking about her classroom, but I couldn't help but smirk at the similarities between her hopes and mine—a year ago.
A year ago I had a brand new baby, a new home, and my husband had a new school and job. All I wanted was normalcy. I wanted things to settle down. I wanted a routine. I held onto the hope that things would calm down in a few months.
As I listened to this busy bee of a women express her heart's desire—that life would slow down—I came to this brilliant conclusion: she doesn't wish any such thing.
She doesn't, and neither do I. Because the day things are "normal" and set by a constant "routine" is the day we're in a nursing home and someone else is in charge.
I remember my days in college. Flitting around between classes, my job, the dorm, the caf. I'd go home on the weekends sometimes, my then boyfriend would visit me. Life was measured in classes, papers, phone calls and dates. My life was crazy. It was full. There was no breathing room.
Even though I was better dressed those days (minus the freshman year where all I wore was tee-shirts) I was no busier then than I am today. I could be home all day long—never leave this 632 square feet box, and my day can be called crazy.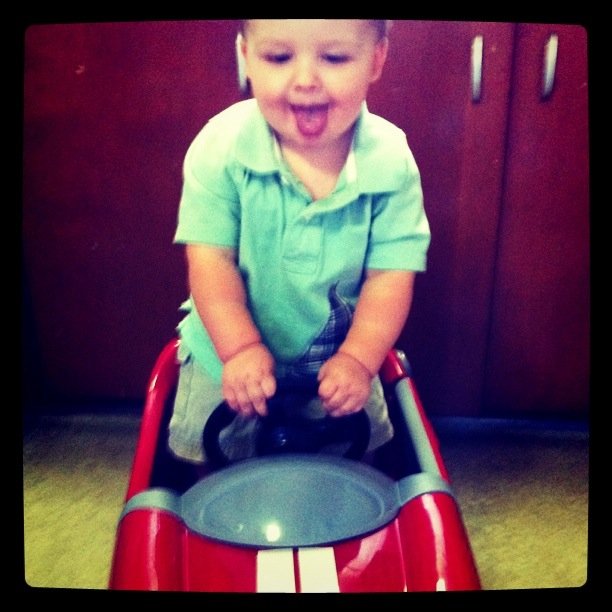 Is it better to have one child?
And yah, we have a routine—more or less. It's not anything worth sharing with you—it varies depending on my health. Some days I'm on fire and Wonder Woman has nothing on me. Other days I want to dig a hole and crawl in. Someone put a flower pot over my head.
Alright, I'm circling back to my point. My point is—don't get your hopes up too much—my point is that I have no idea why we keep saying we want life to calm down and that everything will be better once we have a routine.
Goshdangit. Stop saying that. Marx said that religion was the opiate of the masses.
The idea of normalcy is the true opiate. It's an empty promise…a pipe dream. Someday I might be sitting in my nursing home (Coco, you better NOT) and I'll be tapping away on my iPad. I should have one by then. My life will be full of bingo, bowel movements, and pudding.
And it will be crazy! And I of course mean that in two ways. 1. Senility, and 2. I'm gonna be a busy bee.