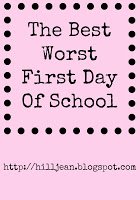 I never had reason to be nervous for my first day of school. I was always surrounded, for better or worse, by family and people I grew up with. Mom was just a quick walk down the hall and recess always provided more family time than I ever wanted.
That was, until, I switched schools. At quite possibly the worst time in adolescence (besides 7th grade of course) I had to move to the town next door and start from scratch. I entered my sophomore year of high school with a barely grown-out Faith Hill pixie cut and all things new.
Now, there was one bright, glimmering piece of sunshiney hope in the midst of this most evil of high school plights. I had one contact. Over the summer I providentially sat on a bus beside a girl that went to my new school. I was sure she was God's gift to me that summer.
Turns out, she was really God's gift to my brother as she ended up marrying him, but that's another story. It has quite the meet-cute if you get what I'm saying. And yah, she's God's gift to me too, my brother just stole her ????
Back to my first day of new high school.
Is it better to have one child?
My back-to-school shopping consisted of raiding the woman's clearance section at JC Penny's. I went out on a very large, straggly limb and wore a spaghetti strap top. Have no fear, I modestly cloaked my shoulders in a denim short-sleeve button-up. I left it unbuttoned. Sexy and I know it? No. Not even close.
As soon as my mom's minivan sped away my guts turned to liquid. I spent my first five minutes at my new campus desperately searching for a bathroom. Preferably, a bathroom with a secret exit that would take me anywhere but back to this scary school.
When it was time to face the music that was a raucous chorus of high schoolers reuniting from summer vacation, I froze. Well, everything froze except my guts. What the heck was I wearing? Why did I ever cut my hair? Why did I let my parents move 45 minutes away from everything I knew and held dear?
This was no grand adventure. This was a nightmare. And I was about to poop my pants.
Two vivacious girls in matching school-spirity teeshirts came bounding up to me. They were friendly as could be and eager to meet the obvious newbie. (Jaqcui, this was you and Jules by the way). I tried to answer back, but nothing was working right. My tongue was somehow stuck to the roof of my mouth, and I felt that my whole face was twitching like a dying cricket. And those damned guts…
To this day I hope that I responded with at least my name. I'm not sure if anything came out of my frozen cotton mouth.
I think I made a thousand promises to God if he would just let me disappear. I just couldn't do it. I was a small-town girl and had no place in this big ol' private school. While I was contemplating a vow of life-long celibacy, the skies parted and my friend from the bus floated forward.
Thank God.
"Hey Hillary!" she chirped. She remembers my name.

"I've been looking everywhere for you!" Hopefully everywhere but that bathroom I just demolished.

And with that, she led me to her cohort of friends and I became one of the gang.
It was the best worst first day of school.

Do you have a memorable first day of school? Did you have to move mid-high school like me? Did God part the skies and send you a curly haired future sister-in-law?