Good Morning, Friends.
This week is loaded with firsts. And might I say, some significant firsts.
1.) My kids Halloween costumes will coordinate. This hasn't happened before, and I doubt it will happen ever again. But this week, for the first time ever, they will.
2.) I will volunteer at a school Halloween party. For the first time ever, I will bring two dozen unfrosted pumpkin-shaped cookies for a gaggle of preschoolers.
3.) I will go to a rheumatologist at Kaiser. I've been to rheumys before, but this week, for the first time ever, I'm seeing one at Kaiser. [and hopefully walking away with meds!]
4.)I will board a plane by myself and fly to Chicago. I've flown alone before, but never to Chicago. But this week, for the first time ever, I will. And I will take my trusty tablet of lorazepam with me!
5.) For the first time ever, I will meet bloggy friends face to face. Like Keely Flynn from Lollygag Blog. Woohoo!!
6.) For the first time ever, this week I will be sharing a room with two bloggy friends Brittany from Naturally Estes and Natalia from Ma Nouvelle Mode. That's right. Roommates who have never met face to face. Bring it.
7.) For the first time ever, I will be going on a trip that is exclusively for me and my dreams. It's not just a fun trip to see family, or a girls weekend with friends. It's a serious milestone, because it takes how I see myself to the next level. I hope to leave with a greater understanding of the business of blogging and how I can get closer to my dream job (sssh, its kind of a secret).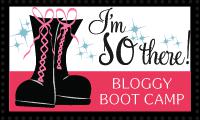 8.) I will hand out professional business cards for the first time ever in Chicago.
9.) I will be an independent woman for two days in The Windy City.
10.For the first time ever, this week, I get to go Christmas shopping on the Magnificent Mile.
Ok, before you turn completely green with envy let me stop you!
Guys, this opportunity to do all of this is really because of your faithful support as readers. You guys are like the bees knees for always coming back to me and finding me on Pinterest, Facebook, The Tweet Street and all that jazz. You guys made it possible for piddly old me to make enough money to act like a professional (haha that you'd like to see) by going to a professional conference. I hope I learn how to make more money. We could use it. For realz.
But I hope more than anything they give me some lovely tips on how to keep my readers happy and make the space better for them. For realz.
Have you got any firsts this week?