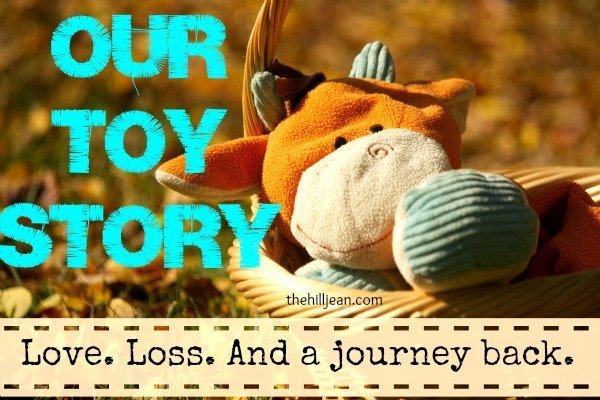 I come from a long line of blankie lovers.
My ratty pink one was the perfect accompaniment for the thumb-sucking and hair-twirling I enjoyed as a youth. Nothing better than a stinky thumb, a soggy blanket, and a gnarly rat-tail.
Ah. That tender, springtide of my life.
My youngest brother was the most passionate of blankie lovers. His was the beloved "Nigh Night." This is the brother that I got to be little momma to, so I remember Nigh Night clear as day, no pun intended. The kid would never part with his stinky blanket. It had a unique odor. One that's hard to forget and uncomfortable to describe. So I'll just leave you with that.
When Nigh Night became a clear and present strangling mechanism (the thing looked more like a giant cobweb than an actual blanket) mom found a worthy successor.
Little A.J. scorned The Pretender and wouldn't go near it until our mom attached a remnant of The Old One. It was the only way to convince little A.J. of its lineage.
Before long, Nigh Night The Second became just as dangerously tattered as it's predecessor.
When I first had Coco, I waited eagerly for her to attach to something–a blanket, a stuffed animal–whatever. But the kid was self-sufficient. Now, this might weird you out (it certainly did me) that since infancy Coco has been attached to her belly button. Oh yes, I know you are too, but Coco is "attached" in an emotional sense to that strange little sink.
As a baby and toddler, whenever she was tired she immediately went for her belly button. We would have to put her in pajamas where the thing was accessible. If she was sick, sad, or generally miserable she fiddled with her belly button.
To this day, her belly button gives her some sense of comfort. I don't even think she is aware of what she's doing. And she's not as weird about it now as she was when she was little. But if she doesn't feel good or she's really tired, chances are she's gonna want to hold her belly button.
Now, Chaucer on the other hand, is a little more orthodox. Thank God. He's got his weird points too–but I was delighted to find that my baby boy had a penchant for a little lamb gifted by my author boss. At just three months old, my son attached to "Lambie. He had to have him to fall asleep and was content in his swing or jumper if Lambie was near.
Is it better to have one child?
Somewhere along the way we lost Lambie. But as he was still really little, we easily replaced it with another plush toy.
And then on his first birthday, "Baby" became Chaucer's constant companion.
My friend Amber picked out Baby and I couldn't have done a better job myself. There was never a replacement after Baby entered our lives. We learned the hard way that no other plush toy would do. Baby was a member of our family, usually accompanied by "Pat" the pacifier.
If he hurt himself–he'd want Baby.
If he was sad–he'd want Baby.
Tired–Baby.
Scared–Baby.
We should have bought a back-up Baby. Everyone told us to, and because it was a somewhat popular toy I figured we'd always have time.
But several weeks ago, we lost him. I have no clue where he could be. I retraced every step, searched lost and found, visited every place we went on the day he left us. Nothing.
No Baby.
It was a very rough week spent searching for Chaucer's most beloved toy. I was sure he would turn up. Each night there were tears. Sometimes my own, because I'll confess, for as much as Chaucer loved Baby I loved him too. I wanted Baby to be that thing we keep forever–a piece of his childhood.
We searched the internet and found the only available replacements on Ebay. There were only a few, and all on the East Coast. Meaning, we'd have to wait a while to get him. But then, somehow, my MIL located one in Sacramento. We purchased the thing, and I emailed the seller begging to pick it up first thing in the morning.
Thank God she was another mom to a little kid. We talked on the phone and she was more than happy to accommodate our wish.
All four of us piled in the car to retrieve Baby. We told Chaucer that Baby had been at the doctor getting all fixed up. He could hardly contain himself on the drive there.
I actually hugged that blessed woman who sold us Baby The Second.
"Thank you, thank you, thank you!" I gushed.
Chaucer's response was a tad different. "Baby needs to be dirty. I want him dirty."
We all laughed.
"Not a problem, my dear boy. A day with you and he'll be just as you like him."
He was a little timid of his new-old friend at first. And then, after about ten minutes I watched him reconnect.
GAHHHHH!!!!!!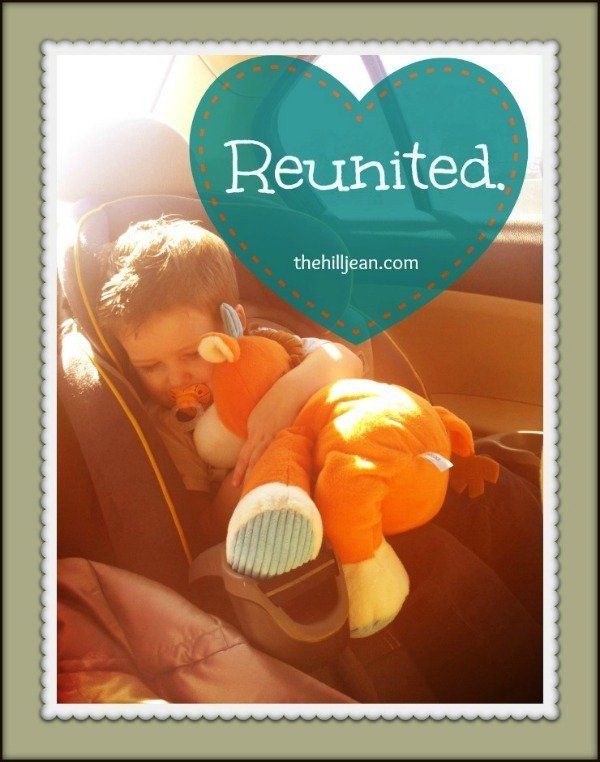 Absolutely exquisite. Dazzling. Love in the raw.
I know it's just a toy, but Baby is an integral part of Chaucer's development as a person, and none of us were ready to see him go. Watching him find his darling toy was like witnessing the reunion of long-lost friends.
He just kept hugging him. Kissing him. Talking to him.
At one point I heard him say, "I missed you, Baby. I wuv you."
Even Coco was ecstatic for her little brother. She kept oohing and aahhing over Baby's spruced up appearance. When we asked where we should eat lunch Coco quipped, "Chaucer get's to pick! Today is his special day!"
Ok, so maybe that was just as dazzling to hear.
I am so thankful we were able to find that replacement and that Chaucer is with his special buddy again.
So, I wanna hear from you. Did you have a blanket or toy that you attached to as a child? Or what about your kids? Anyone out there with another belly-button worshipper?