Hey hey hey! Guess what? Guess what?
Today, on this most Fascinating of Fridays, I have a GUEST BLOGGER for you. That's right. I'm that cool now…Finally cool enough to have someone else write for me. This is what important people do: they get someone else to do their work for them. And then they take the credit.
This means I am important—Yay!
So, I'd like you to meet my friend KLZ from Taming Insanity. She's smart, sassy and sarcastic. And—she's pregnant with her number two! This means that whatever insanity she was trying to tame beforehand is probably out the window these days.
Ok, enough from me. I am important today so I'm having KLZ do my work. But I have a request from you, sweet readers. Ready? Check out her blog, follow her, and pump this almost-insane-pregnant momma UP!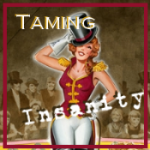 A Baby Makes the Marriage
The absolutely hilarious and honest HillJean asked me to write a post on pregnancy. Now, let me be honest: I'm pregnant. So her request made complete sense.
This is…sort of a pregnancy post. It's also a marriage post. And a parenting post.
We recently went to Las Vegas for a wedding. In the 10 days preceding our trip, our toddler became increasingly distraught. He wouldn't sleep. He cried whenever I left him. He told me he didn't think I was going to come back.
It was especially heartbreaking to me that he wept at bedtime because he was afraid I wouldn't be there when he woke up. Because in a few days, I WOULDN'T be there when he woke up.
He was a mess. Which, in turn, made me a mess. Plus, I'm pregnant and thus a natural mess. It was an ugly situation. In my house, crying feeds on itself. Is that true in all houses? In any case, the Weepie Monster was running rampant in our house.
This, of course, was no help to my natural tendency to make an ass of myself. Seriously, watch this unspooling:
Friday night, I was up the bulk of the night crying and fretting about leaving my baby. Which meant I staggered through Saturday until we went to Target. Target, while normally my safe haven, was a landmine that day as I brilliantly lost my wallet. In the parking lot. Super awesome. I scoured the parking lot and found nothing. Since I was getting on a plane in 4 days and had no ID, credit cards or lip gloss, I may have freaked. I collapsed Saturday night without finishing the work I needed to do.
Sunday I awoke determined to fix the wallet situation and lighten my emotional load. I took Alex to the park. Where I let him go down a slightly damp slide prompting him to come hurtling into my pregnant body. I hit the ground so hard I had mulch embedded in my thigh. I staggered home with my sobbing toddler on my hip and collapsed into a weeping heap on my couch.
Where my husband swooped in and saved the day, in so very many ways. As he drove us to lunch after he'd calmed us both down, I asked him if he still loved me. He said he loved me more every day. Still feeling petulant and insane (thank you pregnancy hormones!) I asked him WHY he loved me.
He laughed. Replied, "Because you're just the right amount of crazy for me."
Without a toddler or a pregnancy to show me how crazy I could truly be, I never would have found out how frustrating or beautiful marriage could be. And there's nothing more romantic than that.
As a side note, I woke up Monday morning with a foolproof plan to quell my crazy: we would take the toddler with us to Vegas. My husband didn't bat an eye. And you know what? It worked. I'm now as sane as I ever was.