Huh.
From the very moment I received my diagnosis of rheumatoid arthritis I carried my illness with my identity.
I am ill. I will always be ill. I am living in illness.
People who do not live with something like an autoimmune disease don't get it. They don't understand that RA, Lupus, and Crohns are in fact so dynamic that they can change your identity. Illness transforms an individual from carefree and lighthearted to fearful and depressed. Illness has the power to make a young person old–not just in their mentality, but in their actual bones. Do you know what it is like to be 26 years old and have the bones of a 90 year old?
I do.
Perhaps the most devastating power of disease is the robbing of pleasure.
Oh you love to run? Sorry, that's not the best exercise for someone like you. You're a gifted painter? No, your hands cannot properly hold a brush anymore. You love to hold and nurse your baby? Sorry, those hands cannot hold him, and your medication is inappropriate for breastfeeding.
Is it better to have one child?
You see how bitterness seeps in like that? Pleasure–stolen. What makes it worse is being surrounded by people doing what you loved, but are unable to do.
There was a time, a recent time, when it hurt to see Pinterest's "inspirational/motivational" pictures of fit women in hot shorts, plastered with quotes about hard work, dedication, and being "clean." The root of the message is that health is a choice. Not everyone has that choice, though.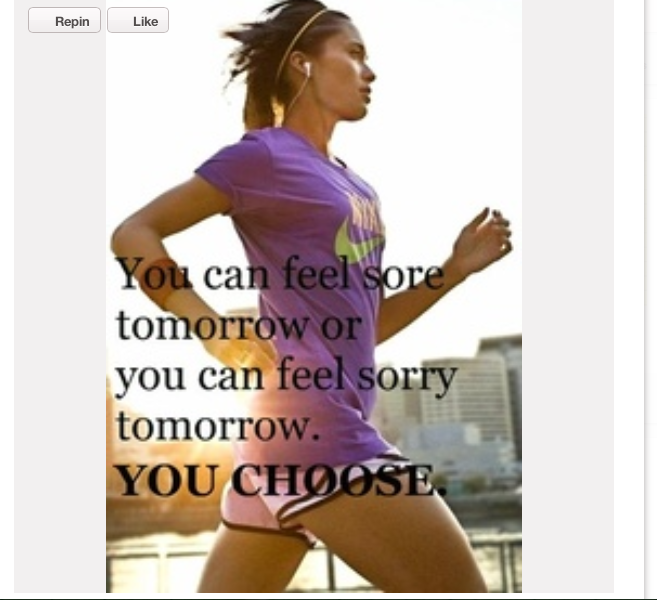 Now, for the record, I think that working out, eating healthy, and setting goals are all wonderful things. But let me tell you this, when you're trapped in a body that isn't functioning the way you want it to, and the future is full of pain and debilitation those supposedly inspirational photos are actually quite crushing.
Caught in the throes of pain and defeat, a person with chronic illness will look at the above photo and think, "Tomorrow I will be sore and sorry…sorry that this is my body. So shut the heck up."
For the last two years this has been my mindset. At first I thought about my illness constantly. I seemed unable to escape it even in my sleep. Gradually, I adjusted to and it became more organic to my nature. I'm just a sick person who will never get better, is how I thought of myself.
And then, quite recently, I started not thinking about it as much. It's actually been a good six months that I haven't woken up with swollen hands. I've been able to wear my wedding ring for the first time in over a year and a half.
A few weeks ago, I went in for routine RA testing. The results were emailed to me and I couldn't believe it, so I emailed the doctor with some follow-up questions. I didn't tell anyone, not even my husband, fearing it was just a big misunderstanding.
The doctor again confirmed the results. No misunderstanding. Good news.
I am in remission.
Remission.
I am not ill. I won't always be ill. I am not a person living in illness. Anymore.
Just as I would repeat my diagnosis in those early days, so I am repeating this unbelievable good news.
Me? In remission?
Several months ago I was told that I would never go into remission because I have erosions on my bones. Something about a recent study, blah blah blah medical terminology. Translation: you're stuck with this thing.
So this news that I at first did not believe is in fact a miracle.
In the face of that odious recent study I say this: oh yah? Well, I believe in miracles. Jesus did this, I know it. Where do I feel it? In my bones. And I am so, so very thankful.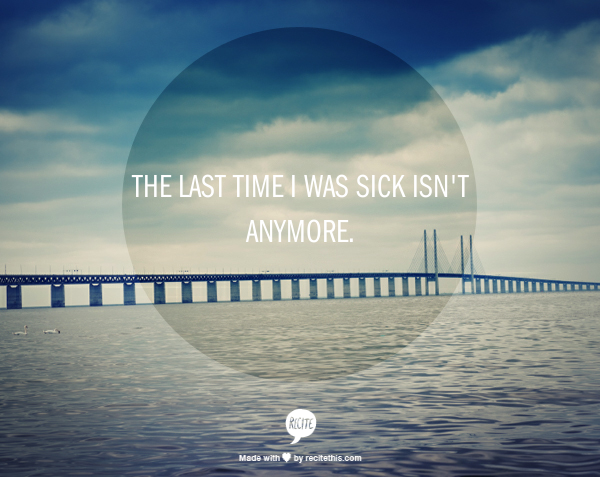 All praise to God.
***