What do airplanes, doctor's offices and the beauty salon all have in common?
PEOPLE Magazine.
While I'm not much of a magazine subscriber, I do like to peruse the pages of some colorful magazine spreads. Something about the simple act of flipping through the pictures and advertisements just relaxes me. It's sort of a mindless activity, right?
So when I find myself waiting for forty minutes to see the doctor, I claim all available copies of PEOPLE Magazine.
Why PEOPLE Magazine?
Simply because its always chock full of great photos! My favorite editions are after award ceremonies. Like the Red Carpet edition.
Sigh.
I would love to just be one of those people on the red carpet–no awards necessary–just give me a gown and all the fixens. The only experience I've ever had that is close to red carpet treatment was my wedding. And I ate that up with a silver spoon. I do not plan on getting married again, so that's that. No more fancy events.
Is it better to have one child?
Most of us ordinary folk we have about three shots at dressing like royalty: prom, prom, and our wedding day.
I'm not talking about you hoity-toity folks. I'm talking about your average, run-of-the-mill American family. We simply do not have that many events in life that allow for dressing extravagantly. And this is a shame.
Instead, we live vicariously through them folks on the silver screen.
This year, I'm living vicariously through Anne Hathaway. Because of what she did in Les Miserables, I've got her back. And since we both have daughters name Cosette we have a bond. Never mind that it was fictional for her.
I loved what she wore to the Golden Globes.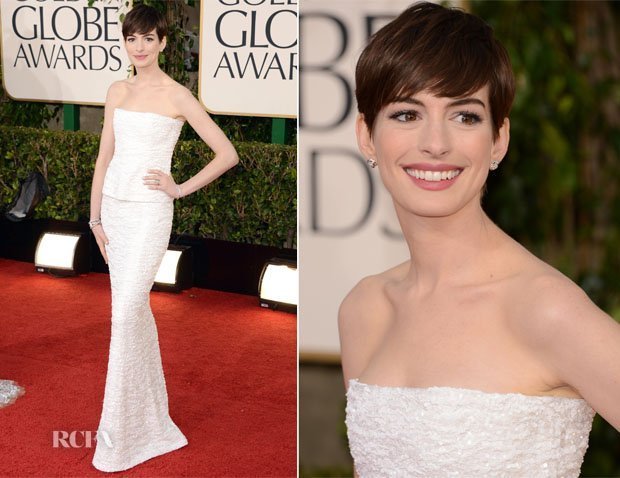 I think she just looks so sweet and elegant. I love that she is pale and can pull off the white gown. When I was getting married I was so ashamed of my pale complexion that I subjected myself to weekly visits to the tanning salon. While I achieved the look I wanted, now I wish I hadn't. I think there is something to be said for a woman who is beautiful in her own skin.
I also loved what Michelle Dockery wore. Sheesh. That gal is gorgeous! And guess what? She's also a wee bit pale. Take that, tan people!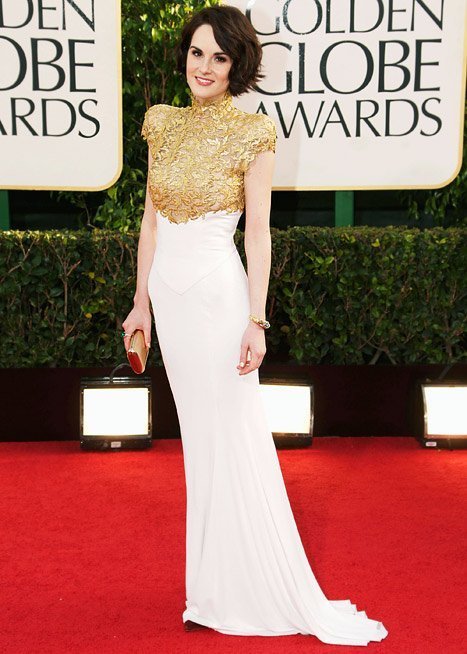 Now, people were all over Lucy Liu for her Grandma's-drapes ensemble, but if I'm honest with myself, I kinda liked it. Before you throw rocks at me, let me explain. I think she looks like a little Madame Alexander doll, like if they made an Asian Scarlett O'Hara.
Now do you see? Charming, isn't it?
Here's my theory: she is always wearing really boring, neutral tones in Elementary (which by the way is a FANTASTIC show). Maybe she was ready to burst through Joan Watson's winter wear with some spring cheer.
I'm looking forward to seeing what these beautiful ladies will wear for the Oscars this Sunday night! But even more than that, I can't wait to see PEOPLE Magazine 2013 Oscars Double Issue! This year I'm treating myself to my own copy ???? If you wanna get your own copy and not wait to find the tattered, germ-covered one at the dentist's office, they go on sale March 1st and are available only until March 18th.
So, in honor of the PEOPLE Magazine 2013 Oscars Double Issue, I'm giving away a $20 Target gift card. All you have to do is answer this question in the comments:
Which stars/celebs do you want to see on the cover of this year's PEOPLE Magazine 2013 Oscars Double Issue Campaign?
Test your PEOPLE Trivia skills for a chance to win something daily!
Enter each week for a chance to win one of hundreds of rewards cards!
Click the link to play now!
Now, answer the question! That's all you have to do. Who do you want to see on the cover of this year's PEOPLE Magazine 2013 Oscars Double Issue? Go!